Imagine a place where time slows down and relaxation takes over.  A place where you are forced (in the nicest possible way) to reconnect with nature.  If that place you imagine had a name, it might very well be called 'Abruzzo', a hidden European gem nested in the heart of Italy. 
With high mountain plateaus, rolling hills, hidden forests and pristine beaches, the region is the (almost) undiscovered secret known by just a lucky few, and perfect for the ultimate relaxing Abruzzo holiday.
This post may contain affiliate links to things like hotels, tours or products.  These help us earn a small commission at no additional charge to you and help keep the lights on at Destination Someplace.
Where is Abruzzo
Abruzzo is one of the twenty regions of Italy and is located centrally, approximately 70 miles to the east of Rome. Its eastern border is curtailed by the Adriatic Sea, and if Italy is 'boot-shaped', then Abruzzo is located near the back of the 'knee'. The historic city of L'Aquila is the regional capital of Abruzzo.
Although located roughly in the middle of the Italian peninsula, Abruzzo counts itself as one of Southern Italy's main geographical regions. With a relatively modest population, the region is divided into four regional provinces and has a rich culture profoundly influenced by other surrounding states, including Marche, Lazio, and Molise.
Landscape and Wildlife
Facing the Adriatic Sea, Abruzzo boasts a beautiful coastline dotted with cool, stylish beach resorts. The region's unique geographical location within Italy allows for a remarkably diverse environment.
In Abruzzo you will not only find stunning shorelines but also charming mountain landscapes, glaciers (Abruzzo is home to Europe's southernmost glaciers) hills and countryside.
Given that the Apennine mountain range cuts through the heart of Abruzzo it is no surprise that nearly two-thirds of the region is mountainous and encompasses the tallest peak of the Italian peninsula – the Corno Grande at 2912m.  This rugged landscape makes it a magnet for skiing, climbing and hiking enthusiasts.
Sprinkled amongst the breathtaking hills and mountains of Abruzzo are dozens of medieval castles, ancient villages and monasteries. If you are planning a visit to Abruzzo, you will find can search for accommodation here.
In addition to this amazing blend of environmental features, Abruzzo is known as the greenest region in Europe. Over a third of its territory is in fact occupied by protected areas and national parks, turning the region into a true wildlife sanctuary, home to rare species of lynx, wild boar, wolves and bears with massive importance on a European and global level.
It has been reported that the region hosts a whopping 75% of Europe's living species, and many of them are indigenous to this particular area, and only found in the region.
The Culture of Abruzzo
Abruzzo might be roughly located slightly below the central Italian belt, but its identity is strongly considered southern, and, like in many other southern regions, family identity is very strong…and great local cuisine is an absolute must-try!
Many influential people have expressed their awe and appreciation when faced with the charming natural beauty of the region, but perhaps nobody managed to describe its unique soul better than notorious Italian journalist Primo Levi, who described the region as "Strong and Gentle". These two apparently discordant adjectives fully represent the spirit of Abruzzo, a region where beautiful contrasts coexist and thrive in a spectacular way.
The Regions of Abruzzo
The Abruzzo region is divided into four distinct provinces (provincie): L'Aquila, Teramo, Chieti and Pescara (the capitals of these provinces being the towns of the same names). These four provinces are further divided into 305 communes (or municipalities). Here's the lowdown for when you are planning your Abruzzo holiday.
L'Aquila: Nestled in between the mountains, L'Aquila is the least densely populated of all provinces in Abruzzo, but it is also the largest, occupying roughly half of the land of the region, particularly its western part. The province is perhaps the most attractive for tourists looking to dive deep into the history and culture of Abruzzo. There are many stunning buildings and remnants of other eras, including castles, fortresses, hill towns and beautiful churches that are extremely well-preserved. In the year 2009, the capital city of the province suffered from a devastating earthquake of 6.3 magnitude, which had a ripple effect throughout central Italy.
Teramo:  The province of Teramo boasts a fascinating history and a stunning landscape, located between the Adriatic Sea and the Apennine Mountains, with some beautiful hills and valleys, often renowned for the production of highly prized local wines and extra virgin olive oil. People looking to experience the best of local food and tour the vineyards will have a wonderful time sampling great products, such as wines from the Montepulciano and Trebbiano grapes.
Pescara:  This province of Abruzzo was an absolutely vital trading haven between the Romans and the Balkans, due to its strategic position on the Adriatic Sea. However, barbarian hordes nearly destroyed the province's capital city, which slowly came back to life in a much humbler form. Originally known as Aternum, the town was later renamed Pescara, due to its rebirth as a fishermen village. It did not take long before Pescara became an important strategic location yet again, seeing numerous invasions throughout history – which brought cultural influences from various sources. The city also experienced another downfall, as bombers managed to destroy large areas of the city during WWII.
The province of Pescara remains interesting for its many historical centres (Penne, Loreto Aprutino, Sant'Angelo) and its proximity to many national parks, such as the Majella, which makes it one of the key regions of Abruzzo.
Chieti: This is the easternmost province in Abruzzo, and it touches the Adriatic Sea to the northeast. The area was largely rural during the 50s and in later decades, but much of the agricultural work has fallen steadily over the years, offset, to a degree by the growth of the service sectors. In the main city of the province, Chieti, you will find stunning examples of Gothic architecture, such as the local cathedral. This province is also well known for Vasto, a beach town with a rich and interesting historical centre, showcasing the vast and diverse history of this land.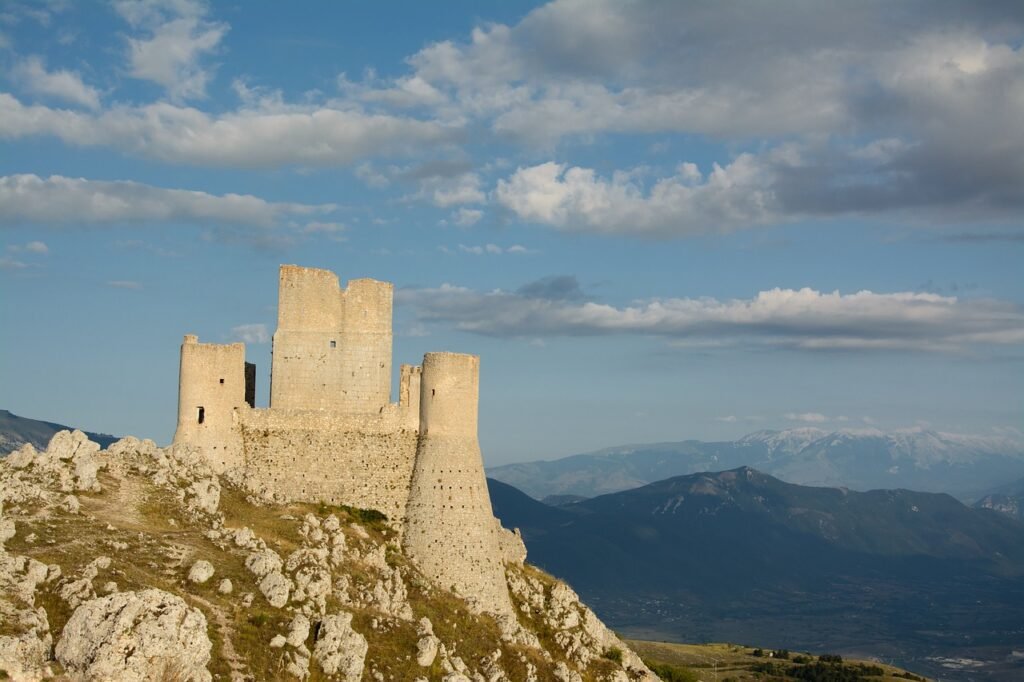 Where to stay on an Abruzzo Holiday
Here are a few accommodation options for an Abruzzo holiday.
If the beach is your thing then a couple of places worth considering are the Aurum Suites which is a five-minute walk from the beach in the resort town of Pescara, or close to the castle in the town of Ortona there is Angolo 54.
For stays in the national parks, you might try something like an Agriturismo (farm or county house stay) such as the Agriturismo Poggio Alle Serre, or in the south of the region, the Agriturismo Maneggio Vallecupa.
Getting to Abruzzo
Abruzzo is fairly easy to reach via the major public transport systems.
By Air: The city of Pescara is home to Abruzzo International Airport, which is a great way to fly directly into the region. This is a fairly low-key airport, and the advantage is that it is served by low-cost carriers and airlines that offer direct flights from major European destinations, including Barcelona, London, Paris, Oslo, Prague and many more. Abruzzo International Airport is particularly easy to reach from London, UK, thanks to regular flights from Stansted Airport to the region. You can also to get to Abruzzo by flying into one of the Rome airports and accessing one of the regular buses into the region direct from the airport or, of course, hiring a car.
We would recommend using Skyscanner to find flights into Abruzzo and if you are flexible when you go/return using the 'search by month' tool to find the most economical flights.
By Train: Main cities and towns in the region are comfortably reachable by train from main hubs such as Rome, Naples, Milan and many other cities around Italy.  Italy has a fast and efficient railway network, and Abruzzo is easily accessible from most parts of Italy as well as the rest of Europe.  Check out trains to Abruzzo here.
By Bus: Abruzzo is also easy to reach by bus, we would recommend Flixbus, a European company serving the vast majority of mainland Europe that offers cost-effective options to get to Abruzzo.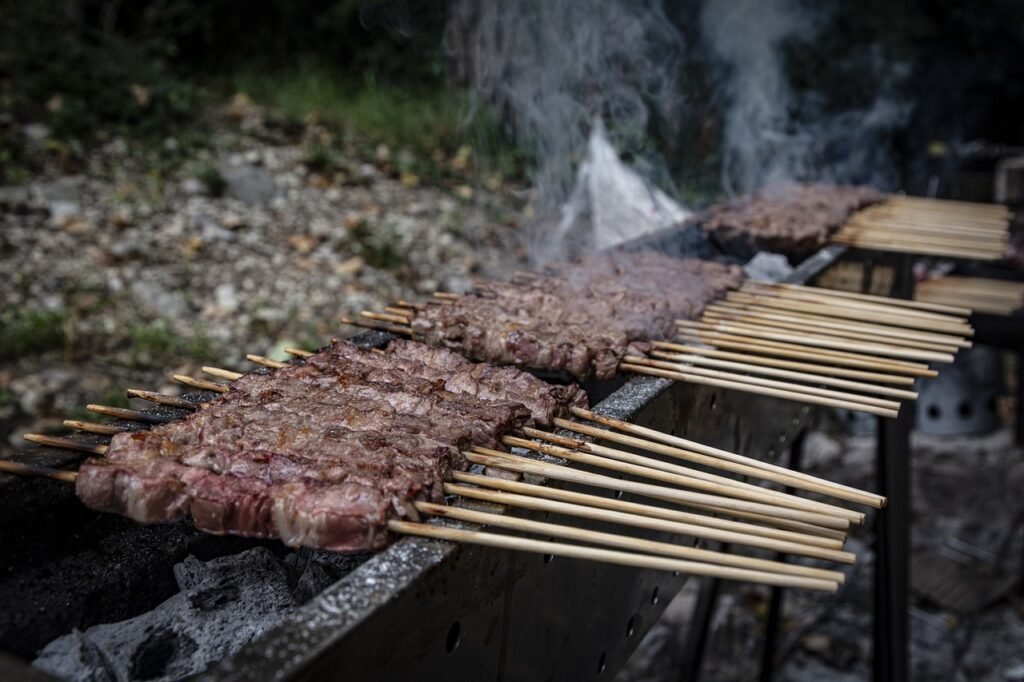 The Top 10 things to see and do on a Abruzzo Holiday
Visit the city of L'Aquila: This town is renowned for its stunning architecture and historic sites including the magnificent Basilica di Santa Maria di Collemaggio, the Fontana delle 99 Cannelle (the fountain of the 99 spouts) and the Castillo di L'Aquila(aka The Spanish Fortress).  A beautiful town with a lively and vibrant atmosphere.
Eat like a local: Food (like the rest of Italy) is at the heart of Abruzzo's culture.  So whatever your preference take the time to become acquainted with the diverse range of culinary weights available, including arrosticini (snack-sized kebabs of mutton), pecorino cheese (sheep cheese in various delicious forms), and a whole world of regional pasta dishes to temp the taste buds.
Gran Sasso National Park: Also known as Parco Nazionale del Gran Sasso e Monti della Laga, and located in the heart of the Appenine Mountains, this vast area is a haven for nature lovers.  Breathtaking landscapes abound, featuring breathtaking valleys, lakes and picturesque villages.  Ideal for wildlife spotting and hiking in a pristine environment.
Visit the medieval town of Sulmona: With its picturesque old town, Sulmona is a charming destination in Abruzzo.  Explore the well-preserved buildings including the famous medieval aqueduct. Don't miss the chance to try the famous confetti, sugar-coated almonds that are a local speciality and come in a mind-boggling number of varieties.
Rocca Calascio: Located in the Gran Sasso e Monti della Laga National Park, Rocca Calascio is an iconic medieval fortress and one of the highest castles in Italy. The castle's stunning location offers panoramic views of the surrounding mountains and valleys, which makes it a popular spot for photographers and history buffs. Fun fact: Scenes for the movie Ladyhawke were filmed here.
Pescara: If it's a beach destination you are looking for, Pescara could be the place to go in Abruzzo. This vibrant coastal city offers beautiful sandy beaches, a lively promenade (great for an evening stroll), and a range of entertainment options (including regular music festivals in the Summer months). Enjoy sunbathing, swimming, and even water sports, or explore the city's cultural attractions such as the Museo delle Genti d'Abruzzo and the Cathedral of San Cetteo.
Step back in time at Scanno:  Nestled in the heart of the Apennine Mountains, Scanno is a charming medieval village known for its traditional architecture and scenic lake. Wander the narrow streets lined with stone houses, or visit the Church of Santa Maria della Valle, and take a stroll (or hire a bicycle) along the edge of Lake Scanno, known for its crystal-clear waters and breathtaking views.
Visit Ortona: This coastal town is famous for its historic landmarks and beautiful beaches. Explore the Aragonese Castle, visit the Basilica of San Tommaso Apostolo, and walk along the picturesque promenade. Ortona is also known for its wine production, so make sure to try some of the local wines while you're there.
Don't forget about the wine:  Abruzzo has a long history of wine-making, and it produces some great and distinctive wines.

The most notable type of red wine you will see in the region is Montepulciano d'Abruzzo, which is made with the Montepulciano grape, (not be confused with the Tuscan wine Vino Nobile di Montepulciano).  Also produced throughout the region is Trebbiano d'Abruzzo, produced from the Trebbiano d'Abruzzo grape (Often locally known as Bombino Bianco).  There is also the very well-respected rosé wine Cerasuolo from the Montepulciano grape.

Visit the Trabocchi Coast: The famous Trabocchi, are ungainly wooden platforms designed to fish the sometimes turbulent Adriatic waters. Favouring practicality over style, they traditionally lowered nets into the water and raised them back up when they were full of fish, all done with complex rigging and baffling arrays of pulleys and winches. The 18th Century was the heyday of the trabocchi and, some can still be seen operating today, although many are now restaurants that cater to tourists and seafood lovers.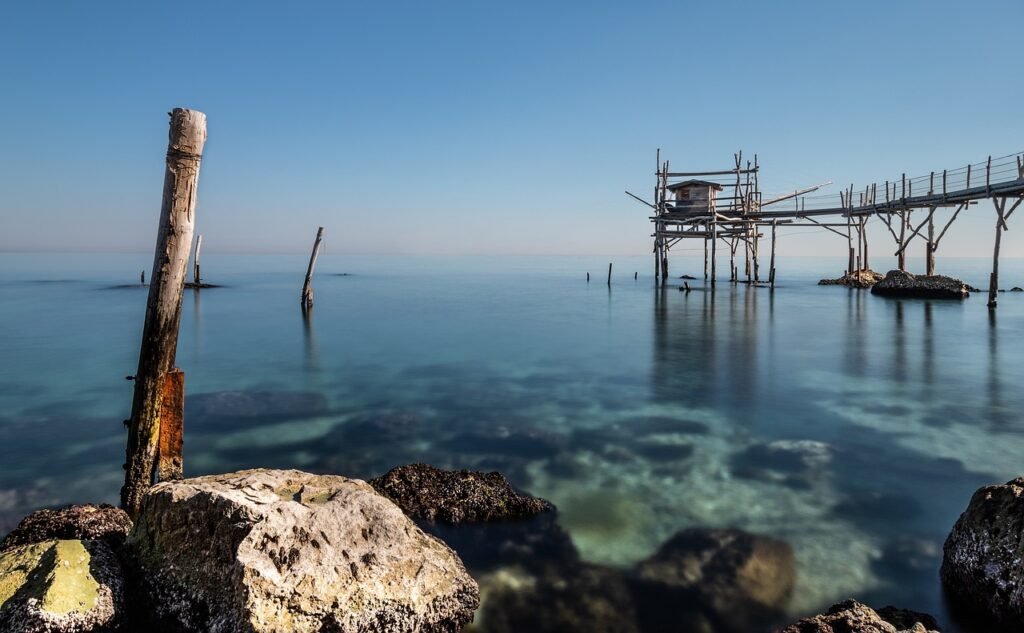 Top Tips – Abruzzo
Abruzzo is a diverse region, and many of the best places to see are sometimes difficult to get to on the public transport systems.  Whenever we travel around Abruzzo we tend to use a car and usually find the best deal via AutoEurope which compares a range of providers to find the best deal.
For public transport, we use Omio to compare buses versus trains, very useful.
And for accommodation, including self-catering apartments,  we use Booking.com, where you can filter by review score and many properties have a pay later/late cancellation policy should your plans suddenly change.
Check our resources page for more budget tips and discounts from our days in transit! 
Staying Safe
Abruzzo is a generally safe region, and crimes of violence against visitors are rare, but if you do have an emergency, dial 112 for assistance.
Of course, the key thing is to have comprehensive travel insurance coverage to protect against, cancellations, theft, illness etc.  For this, we use and recommend using  Staysure – specialists in over 50's travel insurance, as we have always found them fair and easy to deal with.