The world, as we all know, has changed in recent years and so has tourism, many people no longer feel comfortable joining the throngs of holidaymakers that have previously swamped the Italian hotspots on the streets of Venice, Florence and Rome. 
Many travellers now want to leave the crowds behind and find the more unique places to visit in Italy that the majority of tourists have not yet discovered.  Italy like all the countries of the world have these in abundance, so lets seek out some of the unique places to visit in Italy. 
Although a few of the places mentioned here are not often on the 'usual' tourists itinerary, some do get busy in the summer months such as Tropea and, now Matera (partially thanks to a recent James Bond movie 'No Time to Die' filming there), so it might be prudent to visit these places out of the 'high' seasons to avoid the crowds.
This post may contain affiliate links to things like hotels, tours or products.  These help us earn a small commission at no additional charge to you and help keep the lights on at Destination Someplace.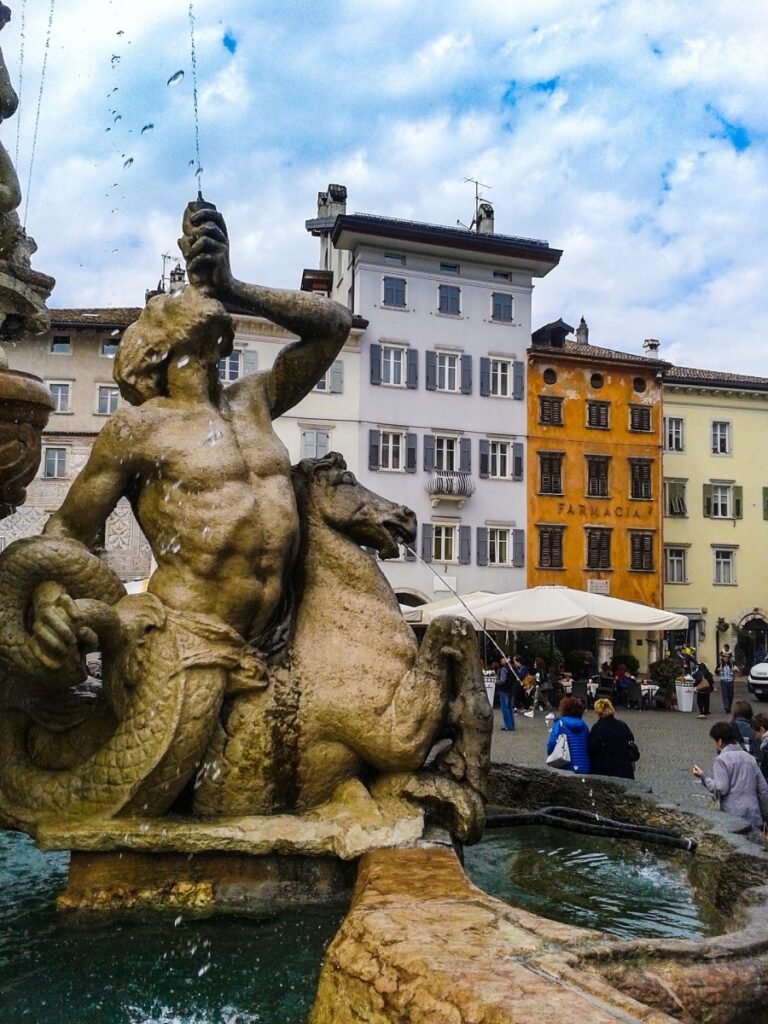 Hidden gems of Italy North of Rome:  Unique Places to Visit in Italy
Trento

The capital of the Trentino–Alto Adige region, Trento offers a plethora of Italian cultural delights without the crowds, so making it perfect destination for a weekend visit.  Without the grime, dust and crowds of many of the tourist cities of Italy, Trento's cobbled streets offer a great opportunity to explore this little-known jewel of a town, with its many galleries, outside frescoes, beautiful main piazza and  impressive cathedral.  You can also take in a visit to the equally impressive Buonconsiglio Castle.  All in all a town with a lot to offer mixed in with a laid back vibe.

Camogli, Liguria

This former fishing town is a secret alternative to its more touristy neighbours of Porto Fino and Cinque Terre on the Italian Riviera, with its colourful houses and relaxed atmosphere.  Situated in the Golfo Paradiso, on the Riviera di Levante It retains the feel of its fishing heritage, but still has all the necessities for the discerning visitor, including numerous excellent seafood restaurants  and  the impressive Cenobio Dei Dogi hotel, which although a little pricey could add some 'old world' glamour to your stay.

Valsugana (or the Sugana valley), Trentino

Alpine forests, mountains and numerous crystal clear lakes that pepper this region offer a wide range of activities to suite the most discerning of out-door types.   Activities in this area are focused in the hills and lakes, and include climbing, fishing, hiking, mountain biking,  sailing, windsurfing along with Spa retreats (such as in Levico).  The region's major lakes are Lake Levico and  Lake Caldonazzo, and these tend to be the man focus of water sports in the area.

Mantua (Mantova in Italian), Lombardy

This is a another great city, just stuffed to the gills with art and architectural wonders – when you visit, you'll want to keep it your own special secret, because hordes of tourists who would surely descend if they knew how great it was. Encrusted like a diamond brooch the city is surrounded on three sides by pretty emerald lakes.  The town itself is dominated by grand architecture, including the Ducal Palce which boosts over 600 rooms, adored with beautiful frescos and great art, which might even have the Vatican jealously looking over its shoulder. 

Also worth  visits while here are the Teatro Bibliena, where a few weeks after it official opening December 1769 a 13 year-old Wolfgang Amadeus Mozart played to rapturous applause, and the Te Palace (nestled in the suburbs), both hidden gems within this hidden gem.  Also while here remember to partake of some Lambrusco which is produced here and in the nearby region of Emilia Romagna.

Gardens of Bomarzo: the Park of Monsters

The Gardens of Bomarzo, located in northern Lazio also known as the Sacred Wood and more locally as The Park of Monsters due to the abundance of statues and carvings of mythical creatures that inhabit the park. Created in the 16th century in a  wooded valley bottom directly beneath the castle of Orsini, the forested park covers 3-hectares and features many buildings inspired by classical architecture but with a bizarre twist, such as the Leaning House, which warps the rules of perspective and disorients your senses. The park is a perfect location If you want to spend a day in nature while losing yourself in a amazing  labyrinth of ancient surprises.

Orta San Giulio, Piedmont

Located on the shores of Lake Orta, the colourful town of Orta San Giulio certainly sparkles as one of the prettiest gems in Piedmont.  With it relaxed atmosphere it is the perfect place to take an aperitivo in in one of the cool café bars dotted around the piazzas and gardens, then later take a stroll up to the lake front to watch the lights appear on the nearby island of San Giulio as the sun descends.
Getting to Italy
By Air: You can get to all the main Italian airports  easily from the UK, plus other locations within Europe as well as international flights across the globe.  I would recommend using Skyscanner to find flights into Italy and if you are flexible when you go/return use the 'search by month' tool to find the most economical flights.
By Train: Access to Italy is also easy by train from many European hubs, and also much more eco-friendly than flying, certainly an option if you have the time.  Check out trains to Italy here.
By Bus: Of course, you can also reach Italy by bus, but I wouldn't recommend it for very long transits unless of course you are a tight budget (as it is usually the cheapest option).  I would recommend Flixbus, which is a company based in Germany, but serves the vast majority of mainland Europe including Italy.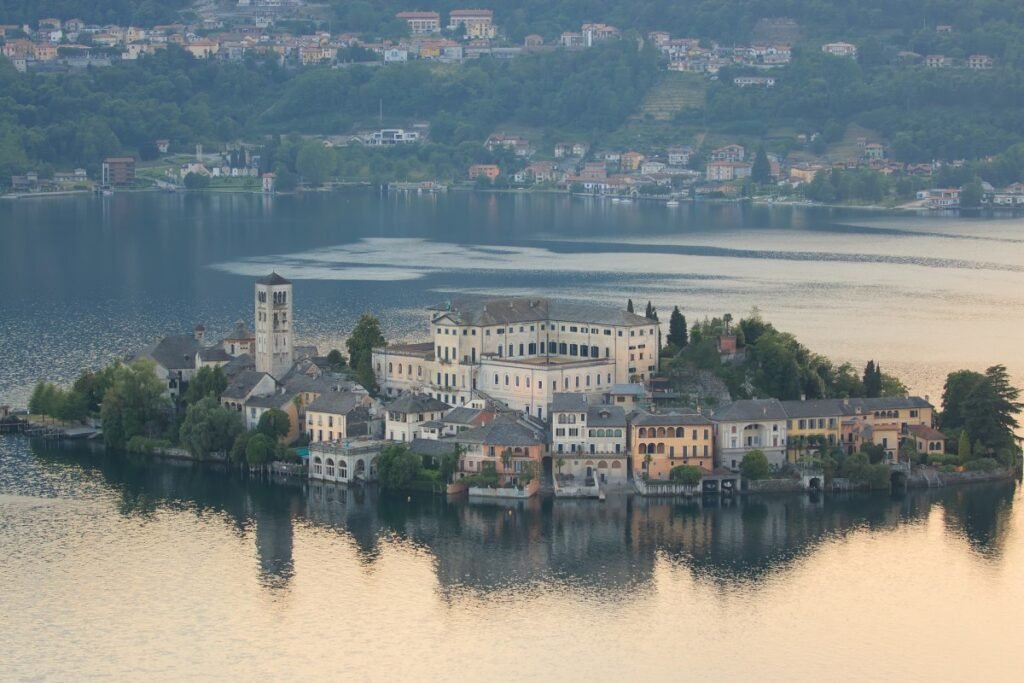 Hidden gems of Italy South of Rome:  Unique Places to Visit in Italy
Tropea, Calabria

Calabria, much like its mirror region of Puglia on the other side Italian peninsula, is a land of azure waters and sandy beaches and offers great value when compared to the tourist hotspots of Rome and Florence etc.  (like most of the South of Italy). It can get busy though, especially in the peak of summer when it attracts Italian tourists from all over Italy, so book accommodation early if you plan to visit in peak season.  It's a great town, featuring the famous Santa dell'Islo church, which perches on a great rock and overlooks the beach.  The 12th-century cathedral and fortified old town further add to the spender of this lovely spot.

Martina Franca, Puglia

A little Puglian gem, this town is a few minutes down the road from Alberobello (famous for its conical 'Trulli' houses), but with far fewer tourists. It is a labyrinth of brilliant white buildings, pretty piazzas and little restaurants.  This Baroque hilltop town makes a good base for exploring the area.

Castelmezzano, Basilicata

This stunning Italian gem, nestled 900 metres above sea level in the peaks of the Dolmiti Lucane is certainly worth the trip if you are visiting the little-known region of Basilicata.  Visually stunning, the area around the town offers many walks and trails for the avid hiker, and for adrenaline junkies there is a high-speed zip line, called Il Volo dell'Angelo  (The Angel Flight) that connects it to the nearby village of Pietrapertosa.

Matera, Basilicata

Matera, after being awarded a European Capital of Culture in 2019, is a little more well-know now than some of it's contemporaries on this list, it is, however still worth a visit.  This ancient settlement once consisted almost entirely of cave-like dwellings carved into the rock known as the Sassi (in the oldest part of the town), but the story of Matera is one blighted by disease and poverty to such an extent that the town's population was evacuated in 1952 and the Sassi were abandoned until the 1980s.  Since then the town has benefited from investment and is now a beautiful historical highlight of any visit to this area.  Beware, although the old cave dwellings were some of the poorest in Italy, the new resurgence of this town now means that accommodation in the town can be priced high, especially if you want to stay in one of the former cave dwellings.

I hope our selection has whet your appetite for exploring the less touristy areas of Italy, but visit soon as they won't stay off the tourist radar too long.
Getting around Italy
There are lots of transport options when seeking out the unique places to visit in Italy, but how you decide to travel depends on where you want to go, what you want to see and how difficult some places might be to reach from your entry point (such as one of the main airports). 
Here are all the main options. 
By Bus: Italy's regional bus services are generally reliable and timely, and using local services will allow you to get to some of the more out of the way places on our list.  However, they can be slow and you could need to change several times.  Flixbus also offer many routes across Italy to major towns so these are also worth considering.
By Train:  The train network in Italy is extensive, usually on time and fast, especially between the major hubs. The issue with trying to do everything on the trains in Italy, is that it may be more difficult to get to the more out of the way places.  So you may need to combine bus and train if you want to get around using public transport.
Rent a car:  This is your most flexible option if you want to explore further afield.  Obviously driving will allow you to get to all the places on our list on your own schedule.  AutoEurope are our first port of call when looking for car rental in Italy. 
Staying Safe
Crime levels are generally low in Italy, but in many of the major cities petty theft and pickpocketing does happen especially in crowded tourist spots or busy public transport.  So keep your valuables safe and out of sight.
If you have an emergency, dial 112 for assistance.
Of course, the key thing is to have comprehensive travel insurance coverage to protect against, cancellations, theft, illness etc.  For this, we use and recommend using  Staysure – specialists in over 50's travel insurance, as we have always found them fair and easy to deal with.