Grand European Tour – Or How To Make Schoolboy Errors While Traversing Germany
This is one of a series of blog posts detailing our 10-country trip around Europe on trains, buses, cars and ferries.  All the posts highlight what we got up to (hopefully without the boring bits) along with some tips and helpful overviews should you wish to visit the destinations.  In this post we focus on Munich and Vienna.  You can see all the posts from this trip here.
On leaving Berlin, once again,  we hopped on an ICE (high-speed train) to our next destination, Munich. We were using our Interrail pass (note: On some journeys reserving seats is obligatory even when using the interrail pass, this one wasn't, but in hindsight, we should have booked a seat), but on boarding the train we knew we had immediately made an error not making a reservation, as nearly all the seats were reserved, and the ones that weren't were already occupied. 
In the end, we ended up standing or hanging about in the café carriage for about an hour or two until the passengers thinned out and we could take a seat.  We swore then that we would now reserve seats on these busy intercity trains (you'll see later how well that worked out)!
This post may contain affiliate links to things like hotels, tours or products.  These help us earn a small commission at no additional charge to you and help keep the lights on at Destination Someplace.
Munich, Bavaria's Beautiful Capital
We have visited Munich before (as we have family there), so this was a fairly chilled visit, spending some time around the centre of town and visiting the world-famous Hofbrauhaus which on the first day of our visit was living up to its reputation of being busy, packed to the gills with history (and tourists) and music – it's a little bit crazy, but it has a wonderful atmosphere.
After the boisterousness of the Hofbrauhaus, we decided to have lunch in more sedate surroundings and had some traditional Bavarian fare in the quirky little restaurant that tops the even quirkier Valentin Karlstadt Musäum (dedicated to the entertainers and comedy duo Karl Valentin and Liesl Karlstadt), followed by some light shopping in the area around Marienplatz.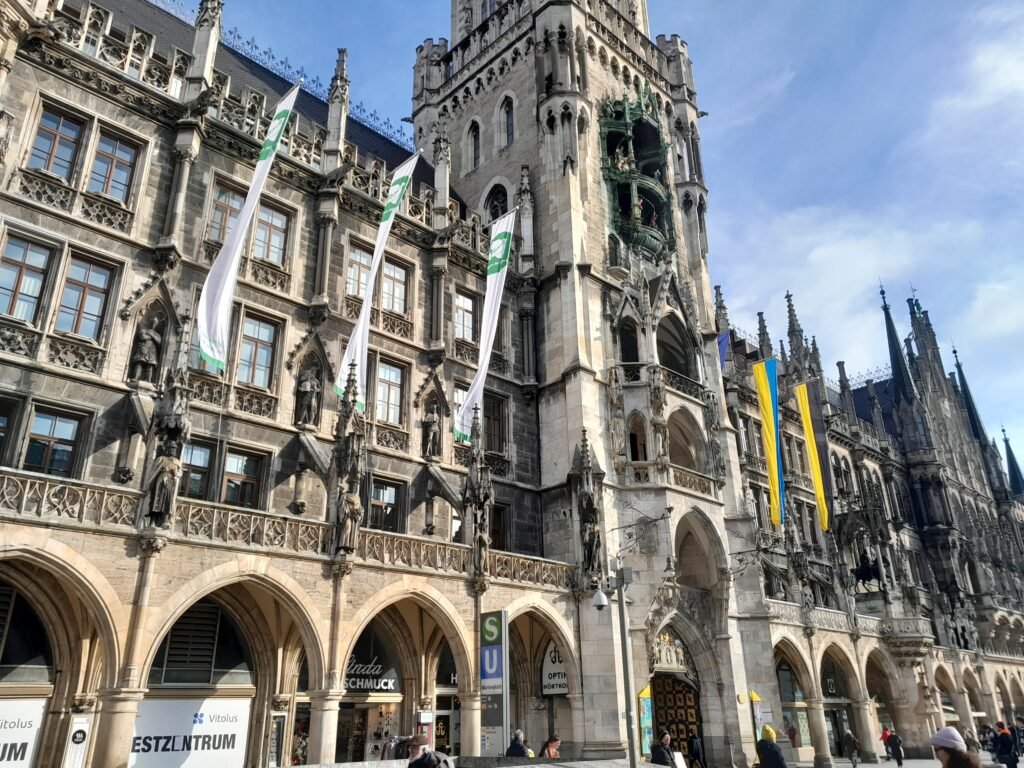 Lesser Known Munich – Far From The Madding Crowds
The next day, which was a Sunday we took a long hike along trails that border the river Isar in the suburban district of Solln, in the south of the city.  This is an excellent place for an afternoon stroll, with beer gardens and German eateries scattered throughout the area to take refreshments.  Quiet and very peaceful.
For more information should you want to visit Munich see our post:  Is Munich Worth Visiting?  for all that this city has to offer along with tips on how to get around.
Oh Vienna…History Repeats Itself
On leaving Munich we again hopped on another ICE (high-speed train) to the Austrian capitol of Vienna and former home to those international luminaries, Mozart, Beethoven and  Freud and also the moody subject of that classic 80s song by the pop group Ultravox!
Again the train was rammed (in fact it was even worse than the Berlin/Munich train), but of course, this time we had reserved our seats hadn't we?  Well, no, we are evidently slow learners and had completely forgotten to book seats (again). 
This train I must admit came very close to a definition of Hell, in fact, the only way we imagined it could have been worse would be to have young children with you – that looked like a serious nightmare with families strewn across the floors between carriages.
We needed a plan B, and quick.
Back to the trusty interrail rail planner app.  We decided to jump ship (or train rather) at Saltzburg and try and pick up a more local (slightly slower) train to Vienna from there. The only hitch is we would be delivered at the West Bahnhof (railway station) rather than the central station in Vienna.  It did, however, prove to be completely the right decision, as compared to the last train the new train from Salzburg was absolute heaven, with plenty of room for everyone and trolley service.  We felt seriously spoiled.
Vienna, for us on this occasion, was a quick overnight, and our accommodation was near the main railway station, and after a long day we just wanted to hit the sack, so sadly we didn't really see very much of the famous city on this visit.
Next stop Bratislava!
Getting to Vienna
By Air: You can get to Vienna International Airport (VIE)  from the main UK airports, as well as via international flights across Europe.  I would recommend using Skyscanner to find flights into Vienna, and, if you are flexible when you go/return using the 'search by month' tool to find the most economical flights.
By Train: Being centrally located in Europe, Vienna is blessed with good railway connections meaning you can take a train to Vienna from many European capitals and major cities. The city has several train stations, the key ones being Wien Hauptbahnhof (Vienna Main Station) and Wien Westbahnhof (Vienna West Station).  Check out trains to Vienna here.
By Bus: Vienna is also easy to reach by bus, I would recommend Flixbus, which is a company based in Germany, but serves the vast majority of mainland Europe and offers cost-effective options to get to Vienna.
Vienna: Getting to and From the Airport
If you decide to fly to Vienna, here are a few simple options for getting into the city from the airport depending on your budget. They are:
Take the train: You can take the Express train S7 (S-Bahn) or Railjet from/to Vienna.  From the airport, you can also get connecting trains to many of the major cities in Austria and beyond such as Innsbruck, Graz and Budapest.  See further information here.
Take a taxi:  Taxis can be found outside the arrivals area of the airport.  If you are approached in the arrivals hall for a taxi ride, it is probably best to ignore the offer, as they may be unauthorised.  Always use official taxis from the designated taxi stands.
Bus: Regional buses, Vienna Airport Lines (Postbus) connect Vienna International Airport with major transportation hubs in and around Vienna including the main railway stations, Vienna Westbahnhof (West station)and Vienna Hauptbahnhof (Central station).
Hire a car:  Of course, if you want the flexibility of your own transport, then you will find car rental providers in the Car Rental Center in Car Park 4 (P4) on Level 0.   Or for convenience, you can book in advance online.  
Getting around Vienna
There are lots of options for getting around the capital of Austria and the public transport systems are reliable and efficient. 
Note that Vienna has an integrated ticketing system which means that a single ticket, day pass or multi-day pass can be valid for multiple types of transport within the city(including the U-bahn, trams and buses, and also the S-bahn within the city boundaries).  You can purchase online or from tobacco shops or machines at the stations.  Note, you will have to validate your ticket before boarding your first form of transport – don't risk a fine.  Buying a Vienna City Card is usually the easiest way of sorting out your transport around the city.
Walk:  Vienna city centre is relatively compact with many of the main tourist attractions within walking distance of each other.
By bicycle:  Vienna is very bike-friendly, so why not hire a bike to explore the city?  You can rent bicycles from the bike-sharing system: WienMobil Rad (formerly Citybike Wien).  
The U-bahn:  This is Vienna's underground system, which consists of a network of five lines (numbered U1, U2, U3, U4 and U6, but oddly enough no U5)  and offers an efficient way to explore the city.  
The S-bahn:  This is Vienna's suburban train system, which serves the suburbs of the city and nearby towns. 
By Bus:  Vienna has an extensive bus network for reaching the far-flung areas of the city which you can't necessarily get to by the U-bahn or tram.  There is also a special night bus service, called 'Nightlines', which operates between 0.30 am and 5 am.
By taxi:  Taxis offer an alternative to public transport, but it can be expensive.  You can find them at one of the city's designated taxi stands.  Uber is now also available in Vienna, along which its competitor Bolt.
By Tram: Vienna has an extensive tram system, so utilising it is also a great way to see the city whilst travelling around it.  Night trams run on some routes.
Top Tips – Vienna
Use Omio to compare buses versus trains, very useful.
For Hotels including self-catering apartments we use Booking.com, where you can filter by review score and many properties have a pay later/late cancellation policy should your plans suddenly change.
Check our resources page for more budget tips and discounts from our days in transit!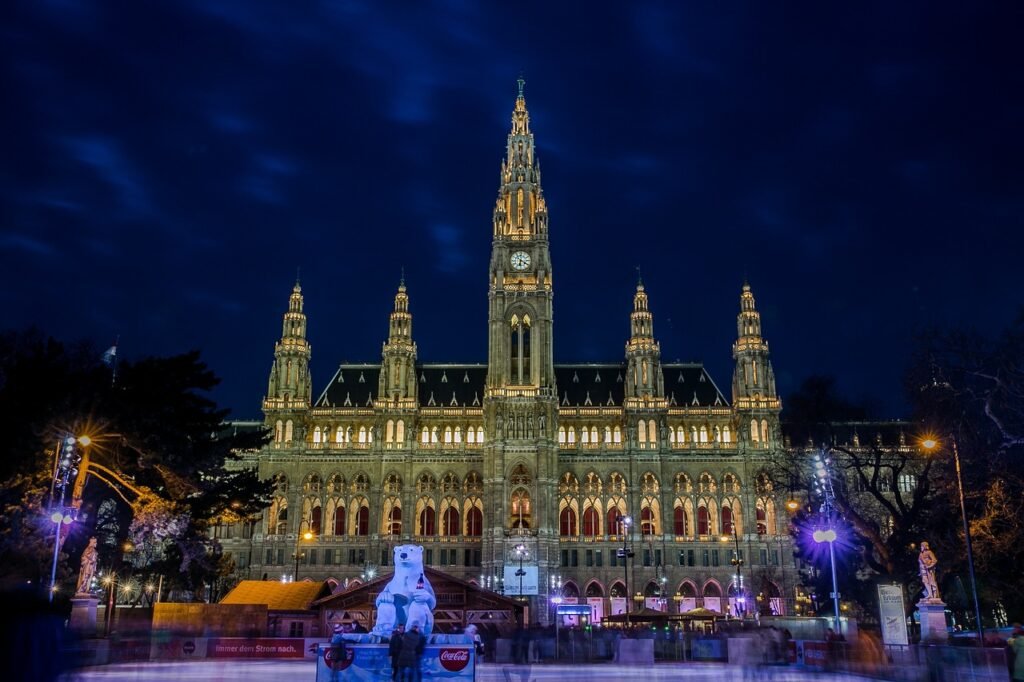 Where to stay in Vienna
Here are a few accommodation options for a stay in Vienna.
A couple of hotels worth considering are the excellent and friendly Jaz in the City Vienna, which has a great roof bar, or a bit further afield, but with good links to the centre,  the great  Austria Trend Hotel Maximilian. 
Or if you want to be close to the train station, you might prefer the acom-Hotel Vienna, where we stayed on our recent visit – a good hotel, with comfortable rooms and friendly staff.
Free Things to Do in Vienna
Visiting the capital cities of Europe can sometimes be an expensive affair, so here are ten free things to do in Vienna which don't cost a penny.
Take a free walking tour: This is always our go-to way of getting an initial feel for any city, learning a lot of the local history, and picking up some useful tips. Although free walking tours are indeed free, please tip your guide at the end of your tour – they will be worth it.
Visit museums and galleries on 'free days': Many of the (often quirky) museums and art galleries in Vienna offer free admission such as the Kunsthalle Wien on Karlsplatz, Circus and Clown Museum and the Snow Globe Museum.  Some also offer free admission only on the

first Sunday of every month

including 

Uhrenmuseum, Wienmuseum Hermes Villa, the Museum of Military History (Heeresgeschichtliches Museum), Romermuseum (Roman Museum) and Haydnhaus.  Check entry times and any conditions of entry before your visit as these may have changed.
Watch street performers in Karlplatz: Karlplatz (known locally as Stachus) is a vibrant square where you can enjoy some free music and performance in historical surroundings.
Head for the hills: To get some great views of Vienna head up to Kahlenburg, a hill on the outskirts of the town and enjoy the panoramic views.  Great for hiking or a picnic. 
Relax in a park: Vienna has many open green spaces and parks, just the ticket if you want to get away from the tourist crowds.  Some of the best-known ones are Stadtpark, Volksgarten and the gardens at the Schönbrunn Palace.
Go to a free concert:  Vienna is the musical heart of Europe, and there are plenty of opportunities to sample some free music here.  Along with the massive Donauinselfest (The largest (free) open-air music festival in Europe), there are many much smaller events to attend which change on a daily basis, here is a good place to start looking for these.
Explore the Naschmarkt: This is Veinna's largest open-air market where you can browse amongst the fresh local produce, inhale the aroma of exotic spices and drink in the lively atmosphere.
Stroll around the historic centre:  Vienna's centre is a UNESCO World Heritage site and is understandably quite stunning.  Featuring beautiful architecture, Baroque castles, and gardens, as well as landmarks such as the Wiener Staatsoper (Vienna State Opera), Vienna's iconic Stephansdom (St. Stephen's Cathedral) and the  Habsburgs' former Imperial Palace all within strolling distance. 
Admire the Hundertwasserhaus: A unique building designed by the artist Friedensreich Hundertwasser. It's very colourful, quirky and is surrounded by an equally quirky shopping area.
Visit the Rathaus: This amazing building, designed and built between 1872 to 1883, includes the famous 98-meter high tower (so it's difficult to miss).  The seven interior courtyards of the Rathaus (City Hall) are free to visit, and there are free guided tours on Mondays, Wednesdays, and Fridays.
Where to eat
For traditional Viennese fare, you could try Lugeck, where you'll find the ubiquitous Weiner schnitzel, and the famous tafelspitz (boiled beef with vegetables in broth).  On the other hand, if you don't mind standing in line for one of the best sausage stands in Vienna, the Bitzinger Würstelstand (located next to the Albertina museum),  a great place to grab a classic bratwurst.
There are also many vegetarian-friendly restaurants in Vienna such as Ganesha Indisches Restaurant (Indian, Vegetarian Friendly with Vegan and Gluten Free Options).  
Staying Safe
Vienna is a generally safe city.  Crimes of violence against visitors are rare, but like many major cities petty theft and pickpocketing do occur especially in crowded tourist spots or busy public transport.  So keep your valuables safe and out of sight.
If you have an emergency, dial 112 for assistance.
Of course, the key thing is to have comprehensive travel insurance coverage to protect against, cancellations, theft, illness etc.  For this, we use and recommend using  Staysure – specialists in over 50's travel insurance, as we have always found them fair and easy to deal with.