Grand European Tour – Onward to the Slovakian Capital
This is one of a series of blog posts detailing our 10-country trip around Europe on trains, buses, cars and ferries.  All the posts highlight what we got up to (hopefully without the boring bits) along with some tips and helpful overviews should you wish to visit the destinations yourself. in this post we visit Bratislava. You can see all the posts from this trip here.
The following morning, rested and refreshed from our overnight in Vienna, we hopped onto one of our shortest journeys of our trip, to the capital of Slovakia, Bratislava.  On arriving at the small and rather shabby railway station 'Hlavna Stanica' in Bratislava, the bad news was it was starting to snow, the good news is we were in walking distance of our accommodation. 
Soon we were ensconced in our new digs for a couple of a nights and we couldn't wait to explore our new locale (even if the snow had turned to rain!).  So we set off roughly in the direction of the centre, only to realise after half a mile we were going in the wrong direction, anyway a quick loop around and we found our main two goals; where to get supplies (at the local Billa supermarket) and where to get coffee.  Mission accomplished.
For the evening we nipped back out to eat at a close by oriental-fusion place, EDO-KIN Blumental Pan-Asian restaurant.  Good food in a relaxed atmosphere.
This post may contain affiliate links to things like hotels, tours or products.  These help us earn a small commission at no additional charge to you and help keep the lights on at Destination Someplace.
Visit Bratislava – Why walk, Take The Bus – It's Easy 
The following day we decided to hit the town proper, and to save our aching feet a little, we decided to take the bus from  outside Hlavna Stanica Train Station, buying a ticket at the 'Tabac' in the station.  We eventually found our way to the correct stop (the buses drift into the station at a terminus stop and then loop around to a pick up stop, where you actually get on).  
Obviously, born and bred in Yorkshire,  our Slovakian is poor (i.e. non-existent), so after feeling a little pleased with ourselves for managing to get the right bus we relaxed for a few minutes and sailed half a mile passed the town centre – finally figuring it out that we were on the wrong side of the Danube!  No matter, after a 15 minutes walk (so much for saving our feet!) we eventually made our way back to the river, and subconsciously ended up exactly where I really wanted to be – the 95 metre tall UFO tower. 
The Bratislava UFO Tower – Okay you can open your eyes now
Mrs A doesn't like heights (that's an understatement), but I persuaded her we couldn't pass up the chance to see some glorious views of the city and surrounding countryside.   This is a must-see when you visit Bratislava.
You get to the top by taking a small elevator, which delivers you at the café bar/restaurant offering expensive cappuccino and fantastic views of the city, and complete the journey on a short steel staircase which takes you to the open air viewing platform.  Mrs A was very brave and agreed the stunning 360 degree panorama was worth the stress.  We bought a one-way ticket for this, but in retrospect we should have bought the combined day/night ticket for a few euros more which would have allowed us to return in the evening and see the city below by night.
More Great Views – Bratislava Castle
Crossing back across the Bridge of the Slovak National Uprising (in Slovakian, Most Slovenského národného povstania, or SNP for short) or commonly known as the UFO Bridge  on foot, and separated from the traffic which rumbled above us, we went to seek lunch in the historical centre of Bratislava. 
We worked off lunch by climbing  up to visit Bratislava castle, and enjoyed more excellent views of the city from this castle whose history dates back to the 9th century – very peaceful and not too many tourists.  Well worth a visit, and the climb up is not  too challenging if you take it easy.
On descending from the castle we headed back to explore the Old Town and then find a print shop to print of our reservations for the next train (note: some journeys using our interrail pass required we reserve seats, and these reservations always have to be printed off, which is a bit of nuisance, but I'm sure they will sort this out in the future and allow reservations to be shown on a phone). 
Bratislava – Wine Not!
In the evening we again went into the centre to explore the town by night and had a meal in the Koliba Kamzík Michalská restaurant (friendly staff and good food) followed by a couple of local wines at the Why Not wine bar, a great place for wine lovers.
The following morning we headed back to Hlava Stanica (railway station) to catch the 9.57 to Budapest.
Getting to Bratislava
By Air: You can get to Bratislava Airport (also known as M. R. Štefánik Airport)  from some of the London, UK airports,  as well as via international flights across Europe.  I would recommend using Skyscanner to find flights into Bratislava, and, if you are flexible when you go/return using the 'search by month' tool to find the most economical flights.
By Train: Bratislava is easily accessible from the major towns of  Europe such as Vienna, and  you will likely arrive at Bratislava hlavná stanica  (Bratislava Main Station) as we did.  Check out trains to Bratislava here.
By Bus: Bratislava is also easy to reach by bus, I would recommend Flixbus, which is a company based in Germany, but serves the vast majority of mainland Europe and offers cost-effective options to get to Bratislava.  The main bus station in Bratislava is Mlynské Nivy,  located near the city centre.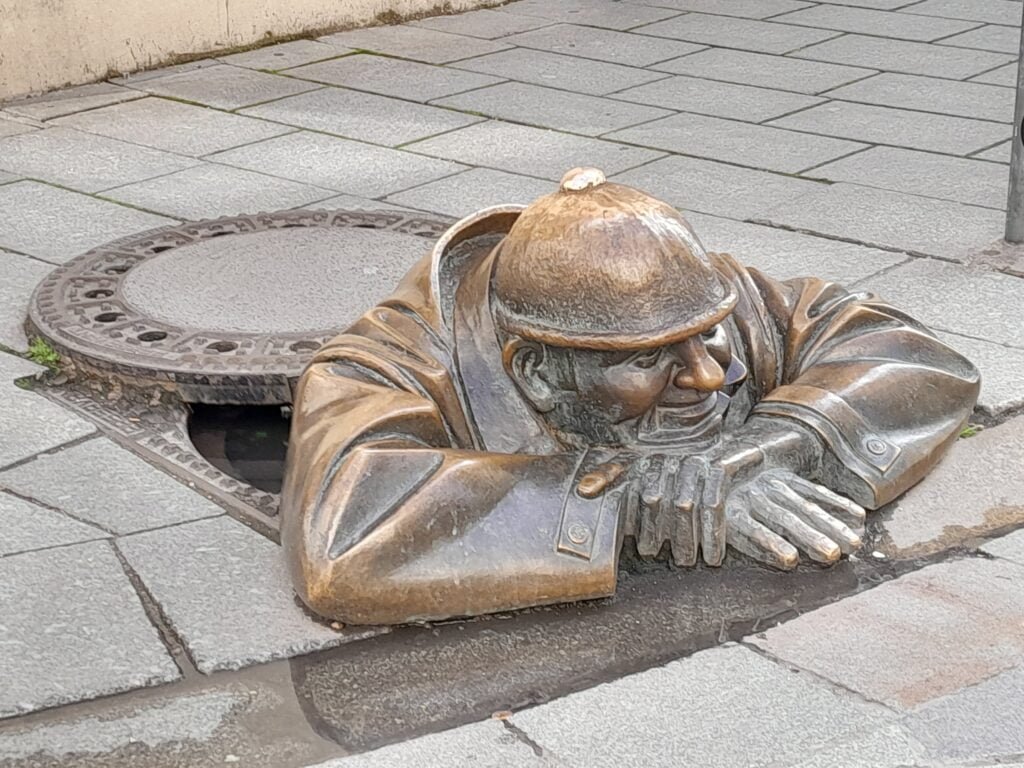 Bratislava: Getting to and From the Airport
If you decide to fly to Bratislava, there are a few options for getting into the city. They are:
Bus:  Bus line number 61 operates between the airport and the main train station (Hlavná stanica), and the journey takes approximately 30 minutes. You can buy tickets from the ticket machines at the airport. 
Take a taxi: You can use the airport's partner taxi services whose prices are shown on info panels located in front of the Arrivals Terminals, this is also where the taxi stands are located.
Hire a car:  Of course, if you want the flexibility of your own transport, then you will find the usual car rental counters in public area of the Arrivals terminal, or you can book car rental in advance online. 
Getting around Bratislava
There are several options for getting around the capital of Slovakia, depending on your fitness level and budget.  
Public Transport: Note that Bratislava has an integrated ticketing system which means that tickets are usually valid for multiple types of transport within the city such as trolleybuses (buses attached to cables overhead), trams and buses.  You can purchase online via an app or at ticket machines (these are usually red and/or yellow and found near transport hubs) and newspaper kiosks.  Note, you will have to validate your ticket on/before boarding your first form of transport – don't risk a fine. You cannot buy public transport tickets from the driver.
Walk:  Bratislava city centre is compact with many of the main tourist attractions all within walking distance of each other, including St Martin's Cathedral and the historic Old Town, so it is a great way to explore the city.  To get a great cultural overview of the city you could take a guided walking tour.
By bicycle:  Bratislava has made recent efforts to become more bike-friendly by improving its cycle path infrastructure.  One of the most  popular cycling routes follows the south (right) bank of the Danube, and all cycle lanes are marked with a big 'C' sign.  You can rent bicycles from many bike-rental services in the city. 
By taxi:  Getting about by taxi offers an alternative to buses and trams.  You can hail or find them at one of the city's designated taxi stands.  Uber is now also available in Bratislava, along which its competitor Bolt.
Sightseeing boats and cruises: Of course, a great way to explore this city is to take a sight-seeing bus, or for a completely different perspective, a river cruise down the Danube.
Top Tips – Bratislava
Use Omio to compare buses versus trains, very useful.
For Hotels including self-catering apartments we use Booking.com, where you can filter by review score and many properties have a pay later/late cancellation policy should your plans suddenly change.
Check our resources page for more budget tips and discounts from our days in transit! 
Where to stay in Bratislava
Here are a few accommodation options for a stay in Bratislava.
A couple of hotels worth considering are the elegant SKARITZ Hotel & Residence which is very centrally located, or a 15-minute walk from the historic old town the Hotel Saffron.
A private apartment such as the one we used, the  Historical Wine Apartment could also be a good option if you want to be near the railway station.
The Top 10 Things to See and Do When You Visit Bratislava
Visit Bratislava Castle: We really enjoyed our walk around the castle, it offers great views of the city, and, when we visited in Spring there wasn't many tourists, so very peaceful.  If you choose to go inside you can visit the historical exhibitions and learn about the castle's history.
Historical Old Town: In the charming cobblestone streets of Bratislava's old town you'll find narrow lanes and Baroque palaces rubbing shoulders with much of the city's medieval architecture.  A great place for a wander around and to get a feel for the town.  Look out for the famous Cumil Statue 


(The Watcher).

St. Martins Cathedral: This is one of the oldest, and is the largest church in Bratislava.  If you are feeling energetic, why not climb this Gothic marvel's tower for some spectacular views.

Go to the theatre: If you fancy it, you could catch a performance at the Slovak National Theatre, a beautiful building were you can see opera, ballet or a play.
Blue Church: The Blue Church (or more correctly St. Elizabeth's Church) is one of the city's most distinctive landmarks, with its intricately detailed, Art Nouveau blue façade it certainly  stands out.  You'll find it in the eastern part of the Old Town.

Eat Slovakian:  Why not try some traditional Slovak food such as Kapustnica, a Slovakian sauerkraut and sausage soup (popular around Christmas) or Skalický Trdelník, a split cake made from dough that is wrapped around a stick, then baked and topped with sugar and walnut mix. If you ever been to Prague or Budapest you've probably had one of these.

Visit the Slavin Memorial: This is  a monument and military cemetery honouring the Soviet soldiers who lost their lives liberating Bratislava in World War II.
Visit the UFO Observation Deck:  You don't observe UFOs here, but there is 360 degree view of Bratislava and the surrounding countryside to be had, and it does look like a UFO!
Devin Castle: A short trip (about 20 minutes by car/public transport) outside of the city you will find the historic ruins of Devin Castle, one of the oldest castles in Slovakia.
Cruise the Danube: For a relaxing time why not cruise the Danube.  Especially great on a warm summer day. Perfect.
Staying Safe
Bratislava is a generally safe city with low crime rates.  Crimes of violence against visitors are rare, but like many major cities petty theft and pickpocketing do occur especially in crowded tourist spots or busy public transport.  So keep your valuables safe and out of sight.
If you have an emergency, dial 112 for assistance.
Of course, the key thing is to have comprehensive travel insurance coverage to protect against, cancellations, theft, illness etc.  For this, we use and recommend using  Staysure – specialists in over 50's travel insurance, as we have always found them fair and easy to deal with.