We Return to Budapest Because We Can't Resist That Goulash!
This is one in a series of blog posts detailing our 10-country trip around Europe on trains, buses, cars and ferries.  This one focuses on our visit to Budapest and drive to Slovakia.  All the posts highlight what we got up to along with some tips and helpful overviews should you wish to visit the destinations. You can see all the posts from this trip here.
Some years ago, we'd previously spent a week exploring/getting lost in Budapest and its surroundings, so on arrival at the station we were already familiar with the town, and it is one of our favourite capitals in Europe, lively, compact and constantly interesting.
On arriving at the western railway station (Nyugati pályaudvar) we soon located our, rather disappointing accommodation (Mrs A has very particular standards and this particular accommodation simply did not meet them, but it was too late to change options, so we made the best of it), close to transport options, and about a mile walk to the town centre.  After stocking up with supplies, we headed off in the direction of the river Danube with no set agenda except to find somewhere to eat, which this evening was to be the  Mythos The Greek restaurant a couple of hundred metres from St. Stephen's Basilica, which wasn't too busy and the food was very good. 
This post may contain affiliate links to things like hotels, tours or products.  These help us earn a small commission at no additional charge to you and help keep the lights on at Destination Someplace.
Goulash, Guiness and The Great Hungarian Downpour!
The following day we awoke to rain showers, the kind that you know are not going anywhere anytime soon.  After breakfast we headed off into town by foot to reacquaint ourselves with the city, which before the rain really set in was looking more beautiful than ever. 
By lunchtime, the rain had decided it wasn't going to let up (it was raining stair rods as we say in Yorkshire), so after a stand-up lunch in the Central Market Hall, also known as the Great Market Hall (which was so crowded there was nowhere to sit – we'd forgotten how busy it can get) of traditional goulash (it was worth standing up because we really love that goulash!) and armed with a newly bought umbrella, and the obligatory packets of paprika we braced ourselves, once again, for the deluge. 
Feeling somewhat damp and weary by now, we soon sought refuge in the form of the Longford Irish Pub and, obviously, took some solace in a pint of Guinness.  Check the best things to do in Budapest later in this article.
Unfortunately on leaving the pub (which was pretty busy, as all the tourists seem to have had the same idea), the rain had not abated so rather than a 30-minute very wet walk we jumped on a 10-minute tube ride back to the western railway station (close to our accommodation) – the transport system in Budapest is cheap and efficient, and nowhere near as crowded as the London Underground.
In the evening (still raining) we had a great meal at the Mosselen Belgian Beer Café close to our digs, this is a great restaurant/pub serving delicious local fare and a great range of beers and wines all in a friendly, authentic atmosphere.
Back to Slovakia
The following morning, after checking out of our accommodation (much to Mrs A's relief), we headed to the northern end of Budapest via the tube (which after a little confusion on our part, actually turned out to be a replacement bus rather than a train,  as two local tube stations were being upgraded). 
The next part of our journey was by car to visit family in southern Slovakia (this was a quicker and more straightforward option than taking the train, which would have taken a circuitous 4 to 5 hours as opposed to 2 hours driving.  For this we had booked car hire in advance with AutoEurope, and picked it up at a Sixt office, which was a very straightforward process.
In Hungary and in Slovakia you need a vignette to drive, the one for Hungary came with the car, but we knew we would have to stop at the border to buy the one for Slovakia (vignettes are common in a few countries in Europe for driving including Switzerland and Austria, and now are often bought online in advance, or at petrol stations close to borders, or the border itself as we were to do).
Easy Drive to Slovakia 
Once out of Budapest, the driving was easy, and it made a change to be back in control of our own wheels. The roads were fairly traffic free, the countryside relatively flat and the rain had finally cleared.  We were heading for the Banska Bystrica region of southern Slovakia which is just over the border from Hungary.  After a couple of hours driving, we came across the remains of the old border station (now unused, unloved and rather dilapidated), with just a small shop and a non-descript container cabin off to one side where we bought our vignette, and crossed the border into Slovakia.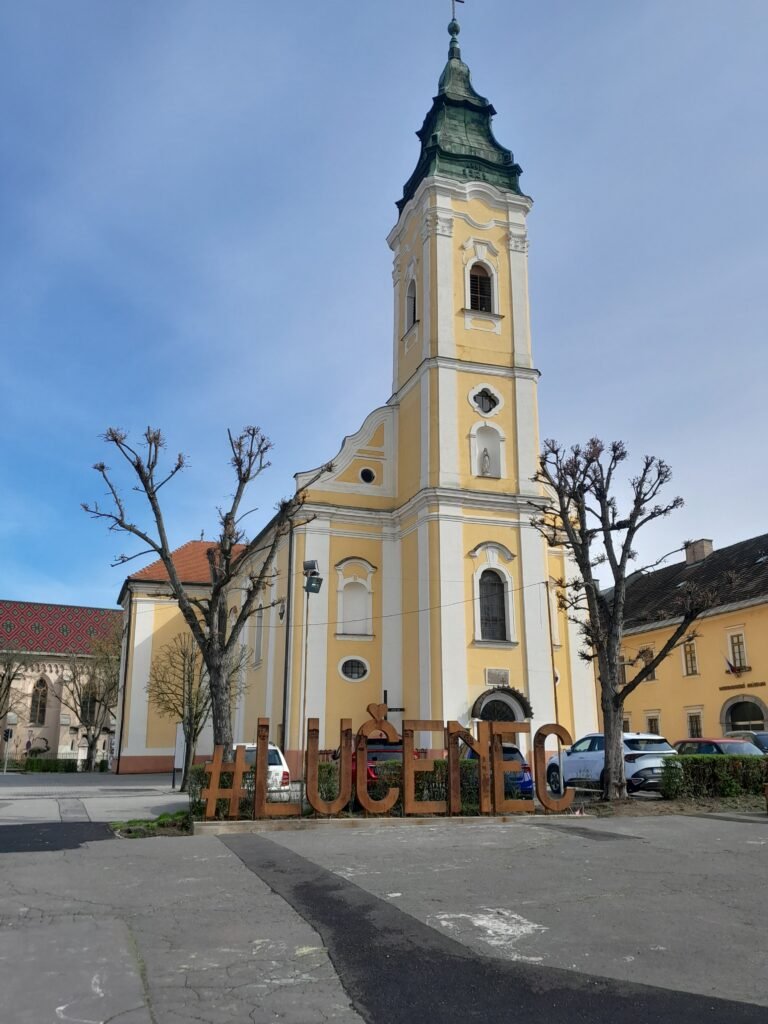 Getting to Budapest
By Air: You can get to Budapest International Airport (also known as Budapest Ferenc Liszt International Airport and commonly known as Ferihegy) easily from the UK,  as well as via international flights across Europe.  I would recommend using Skyscanner to find flights into Budapest, and, if you are flexible when you go/return using the 'search by month' tool to find the most economical flights.
By Train: Budapest is easily accessible from the major towns of Hungary, as well as the rest of Europe.  Check out trains to Budapest here.
By Bus: Budapest is also easy to reach by bus, and for this, I would recommend Flixbus, which is a company based in central Europe, serves the vast majority of mainland Europe and offers cost-effective options to get to Budapest.
Budapest: Getting to and From the Airport
If you decide to fly to Budapest, here are a few simple options for getting into the city from the airport (Budapest Ferenc Liszt International Airport) depending on your budget. They are:
Take the bus:  A direct bus (bus 100E ) leaves for the city centre around every 30 minutes from the bus stop between the terminal 2 buildings on the Arrivals level.  It usually arrives at Deák Ferenc tér in 45 minutes, depending on the traffic.  Tickets can be obtained from the airport ticket booths, automatic vending machines, from the driver inside the bus, or via the BKK mobile app. Please note that the 100E airport bus ticket must be validated on entering the bus. 
Take a taxi:  Yellow cabs with the "TAXI" sign on their roof and the "Főtaxi" (the official taxi firm used by the airport) sticker at the left front door are available at the airport, and you'll find them at the official taxi rank located outside the Arrivals area of T2A and T2B. Make sure that you take an official airport cab, and don't trust individuals or non-official providers as you may get overcharged.
Budapest airport taxis are metered, and it's best to pay in forints (local currency), as the taxi exchange rate from forints to euros is not always favourable.
Hire a car:  Of course, this is also an option for your transfer from Budapest International Airport to the city centre. You'll find all the usual main providers at the airport, or you can book in advance online.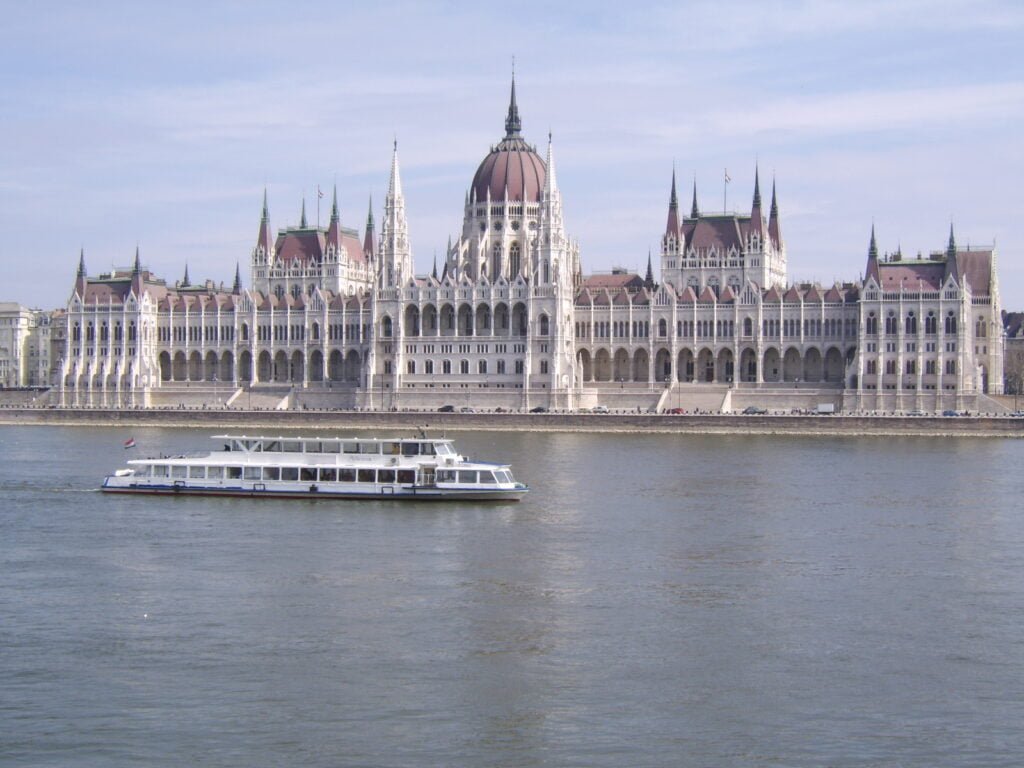 Getting around Budapest
There are lots of options for getting around the capital of Hungary, and the public transport systems are safe and efficient. 
Note that Budapest has an integrated ticketing system which means that a single ticket can be valid for multiple modes of transport (including buses, trams and metro) within a specified time limit.  You can purchase tickets at the metro, newsstands and from ticket vending machines.  You will have to validate your ticket before starting your journey.  Probably the easiest option might be to buy a 24-Hour Travel Card, which is valid for unlimited trips throughout the day, except for boat services (note: this is not the same as the Budapest City Card which is a city tourist pass and gives free public transport, along with discounts/free entrance to many of Budapest's main attractions). 
Walk: Budapest's city centre is relatively compact with many of the main tourist attractions within walking distance of each other (although not so great in the rain!).
By bicycle:  Budapest is becoming more bike-friendly, so why not hire a bike to explore the city?  You can rent bicycles from many public bike services such as MOL Bubi,  and like many capital cities,  there are many pick-up and drop-off points scattered all over the town. 
The Metro:  Budapest has one of the oldest and most well-developed underground systems in Europe, featuring a  network of four lines that offer an efficient way to get around the city. 
By Bus: The city has an extensive bus/trolley bus network which compliments the metro and can be more convenient for reaching the more far-flung areas of the city. 
Trams: Again, integrated into the transport system, the tram network covers the majority of the city.  The popular tram 19  is great for sightseeing on the Buda side of the city,  connecting Kelenföld Train Station with Óbuda and taking in some scenic views by the Danube along the way.
By taxi:   You can hail taxis or find them at one of the city's designated taxi stands.  Uber is now also available in Budapest, along with its competitor Bolt.
The Top 10 Things to Do in Budapest
Take a free walking tour: This is always our go-to way of getting an initial feel for any city, learning a lot of the local history, and picking up some useful tips along the way. Although free walking tours are indeed free, please tip your guide at the end of your tour – they will be worth it.  Just google 'free walking tours Budapest'.
Cruise the Danube: The Danube defines and divides this great city, and a river cruise will certainly give you a great perspective, especially enchanting in the evening.  Here are some options.
Relax like a local at the thermal baths: Budapest is renowned across the world for its thermal baths, the most famous of these is the

Széchenyi Baths

, the largest and most popular.  At any of the town's bathhouses, fed by 120 thermal springs, you can enjoy an array of outdoor/indoor pools, therapeutic waters and saunas.

Stroll the promenade:  It's great to walk along the promenade of that Danube taking in a lot of the local sights whilst getting some exercise. We suggest starting at the Elizabeth bridge on the Pest side of the city and walking north for great views across the Danube of the Fisherman's Bastion and Buda Castle and discover, along the way,  the statue of the Little Princess and The Shoes on the Danube,  the sobering memorial honouring the Jewish victims shot on the banks of the river during the dark years of World War II.   This is definitely one of the best things to do in Budapest while you are here.
Visit Heroes' Square: No visit to Budapest would be complete without a visit to this enormous square, featuring the heroes of Hungary's past and an icon of the city – the Millenium Monument.
Visit St. Stephen's Basilica:   This is a grand neoclassical church in honour of the first king of Hungary. Fantastic views of the city from the top. A range of entry tickets can be found here.
The Great Market Hall: Like we did, why not visit the Great Market Hall, fantastic for picking up souvenirs of Budapest, with an especially mind-boggling array of paprika (a staple in many Hungarian dishes).  You also find stalls selling anything from sweet pastries to 'I Love Budapest' T-shirts.  Grab some traditional goulash from one of the stalls up the stairs on the first floor.
The Parliament Building:  You'll find this oddly familiar edifice on the Pest side of Budapest, its main façade overlooking the River Danube, however, the main entrance is reached from the square on the east side of the building.
Visit a Ruin Bar or two: The history of Budapest's famous Ruin Bars started when run-down buildings, mostly in the Jewish quarter were converted into make-shift bars.  Adorned with graffiti, plants and various re-cycled wackiness they are a great place to sample local beers and wines.  Some famous ones are Szimpla Kert, Élesztőház and Kőleves to name but a few.
Eat like a local: There are plenty of gastronomic delights to sample while in Budapest, such as traditional goulash, chimney cake (Kürtöskalács), or Langos (deep-fried flatbread).
Top Tips – Budapest
Use Omio to compare buses versus trains, very useful.
For Hotels including self-catering apartments we use Booking.com, where you can filter by review score and many properties have a pay later/late cancellation policy should your plans suddenly change.
Check our resources page for more budget tips and discounts from our days in transit!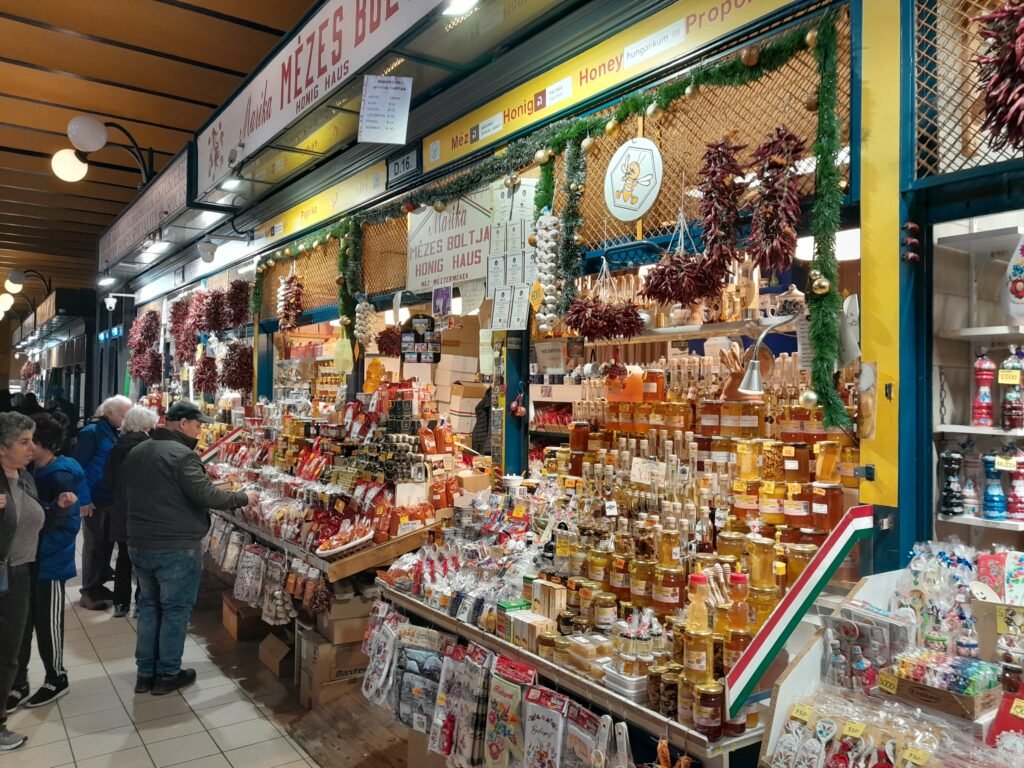 Where to stay in Budapest
Here are a few accommodation options for a stay in Budapest.
A couple of hotels worth considering are  the 4-star  Hotel Vision which is centrally located and with the added bonus of free parking should you hire a car, or located  in heart of Castle Hill on the Buda side of the city,  the Maison Bistro & Hotel.
A private apartment such as the Blue Ball Apartment, a little further afield, could also be a good option.
Where to eat
Obviously, there are lots of great places to eat in Budapest, and the two we mentioned in our article above, we are particularly happy to recommend.  They were the Mythos The Greek restaurant which is more centrally located, and the excellent Mosselen Belgian Beer Café (book a table as it can get busy) which is tucked away in a back street not too far from the western railway station (Nyugati pályaudvar).
Staying Safe
Budapest is generally a safe city.  Crimes of violence against visitors are rare, but like many major cities petty theft and pickpocketing can occasionally occur especially in crowded tourist spots or busy public transport.  So keep your valuables safe and out of sight.
If you have an emergency, dial 112 for assistance.
Of course, the key thing is to have comprehensive travel insurance coverage to protect against, cancellations, theft, illness etc.  For this, we use and recommend using  Staysure – specialists in over 50's travel insurance, as we have always found them fair and easy to deal with.