Grand European Tour – By the Banks of the Blue Danube
This is one in a series of blog posts detailing our 10-county trip around Europe on trains, buses, cars and ferries.  All the posts highlight what we got up to (hopefully, without the boring bits) along with some tips and helpful overviews should you wish to visit the destinations. This post focuses on the Hungarian town of Szentendre.  You can see all the posts from this trip here.
After visiting family in Slovakia, we retraced our steps the following day back towards Budapest to drop off the rental car, but before that, we had decided to overnight in the charming little town of Szentendre ('St Andrew' in Hungarian), located off the banks of the Danube, just north of the capital itself (so perfect for a day trip if you are staying in Budapest).
Following an uneventful drive from the Slovakian border with arrived in Szentendre mid Sunday afternoon.  And after the satnav had falsely claimed 'we had arrived at our destination', and basically directed us into a makeshift car park* that was more tree roots and trees than parking spaces, we finally located our accommodation for the night. 
* Note: Two months later back in the UK, we received notification of a parking fine of around fifty euros for that ten-minute stop in that car park to get our bearings – lesson learned – always pay for the parking, even if we are not going to be in the car park for more than a few minutes.  Oh well!
This post may contain affiliate links to things like hotels, tours or products.  These help us earn a small commission at no additional charge to you and helps keep the lights on at Destination Someplace.
Szentendre –  Hungarian Hotspot
Szentendre was packed, and very obviously popular with locals and tourists alike, so parking and, indeed, threading our way carefully through the throngs of day-tripping families was a challenge.
Once ensconced in our digs we set off for a little explore. This little-known gem is a perfect walking town, not too small and not too big and lots of little winding cobbled streets to explore, flanked by pastel-coloured houses and with enough souvenir shops and restaurants to keep the hungry and the curious satisfied for a few hours.  Marzipan is a big deal in Szentendre, and features heavily in lots of the shops, so a great place to pick some up if that's your thing.
As the afternoon wore on, after a local beer at one of the many bars in the town and deciding what looked like a good place to eat in the evening, we took a stroll along the riverside which was serene and very relaxing.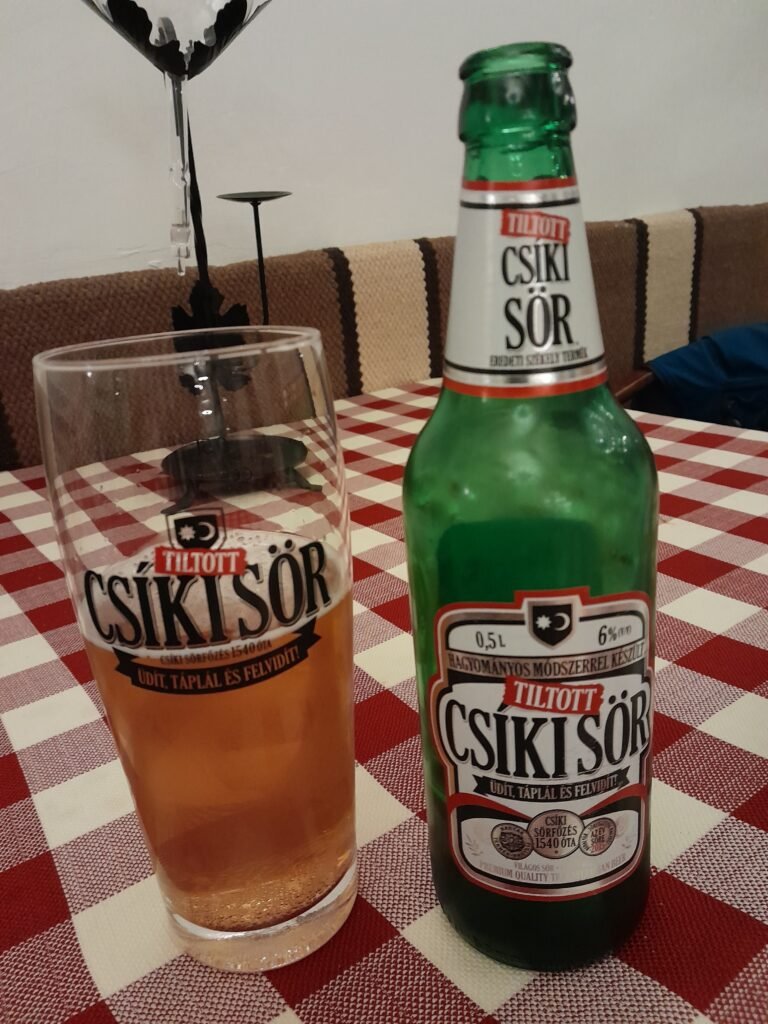 Breaking News -Population Abducted by Aliens!
Later, in the evening about 7pm, after a freshen up, we headed back out for dinner.  What a contrast!  The streets were deserted, the shops were closed, as were most of the bars and restaurants, and there was not a tourist in sight. We had been lulled by a beautiful Spring day into thinking that the holiday season was truly underway, but obviously, the middle of April was still pretty quiet for this little town. 
All the visitors that had flocked here today had been day-trippers enjoying the Sunday sunshine and had swiftly returned back to Budapest and the surrounding towns.
Most of the restaurants we had previously scoped out were now closed, but we managed to find one on our list that was still operating, the Korona Restaurant (the oldest in Szentendre that has been in operation for 200 years).  We were the only customers, aside from a couple of German cyclists having a beer.  Needless to say we had no issues getting served.
On this evening we went traditional with me going for the Budapest-style pork tenderloin – all delicious, all accompanied by some Transylvanian beer (we couldn't resist).
Hungarian Folk Music – A Private Performance
The staff at the restaurant were great, friendly and knowledgeable.  As the evening wore on three besuited, serious-looking guys wondered in, looked nonchalantly around the empty restaurant and then casually started picking the odd note out of some instruments that were, just as casually, lying around.
After some minutes, the most serious of this crew lifted his baleful gaze to us, and without any signal at all the trio burst into full-on performance mode, playing some semi-familiar classics mixed with some typical Hungarian folk tunes. They were absolutely fantastic, especially the serious violinist, who I'm pretty sure had made some kind of pact with the Devil at a crossroads somewhere to gain his musical skills.   
So, in spite of the lack of other human company, we had a really good evening, great food and great music – who can ask for more?
Getting to Szentendre
There are several options to getting to Szentendre, by far the easiest are from nearby Budapest where you can pick up tours to the town, often incorporating the Danube Bend and/or Visegrád Citadel.  These are great if you are only in the area for a few days and want to see the main sights outside of Budapest.
If an organised tour is not your thing then these are the other main options:
By Train: You can take the suburban railway line HÉV H5 from Batthyány tér (train station).  It takes about 40-45 minutes and leaves every 20 minutes from Budapest.  You can buy your ticket in the station at the booths or at the purple ticket machines.  Like most countries in Europe you will need to validate (date/time stamp) your ticket before boarding – do this at the yellow machines dotted around the station – if you don't validate your ticket you will be fined.
By Taxi: Another option would be to take a taxi, it would take around 25 mins to get there, depending on the traffic.
By car:  For maximum flexibility and to enable you to explore the surrounding areas you could always hire a car in Budapest (as we did) to travel to Szentendre.
Top Tips – Szentendre
Use Omio to compare buses versus trains, for getting around this area, very useful.
For Hotels including self-catering apartments we use Booking.com, where you can filter by review score and many properties have a pay later/late cancellation policy should your plans suddenly change.
Check our resources page for more budget tips and discounts from our days in transit! 
W

here to stay in

Szentendre
Here are a few accommodation options for a stay in Szentendre.
A couple of hotels worth considering are Centrum Hotel which is located just across from the promenade and where we stayed on this visit, or the equally well-located Bükkös Hotel & Spa.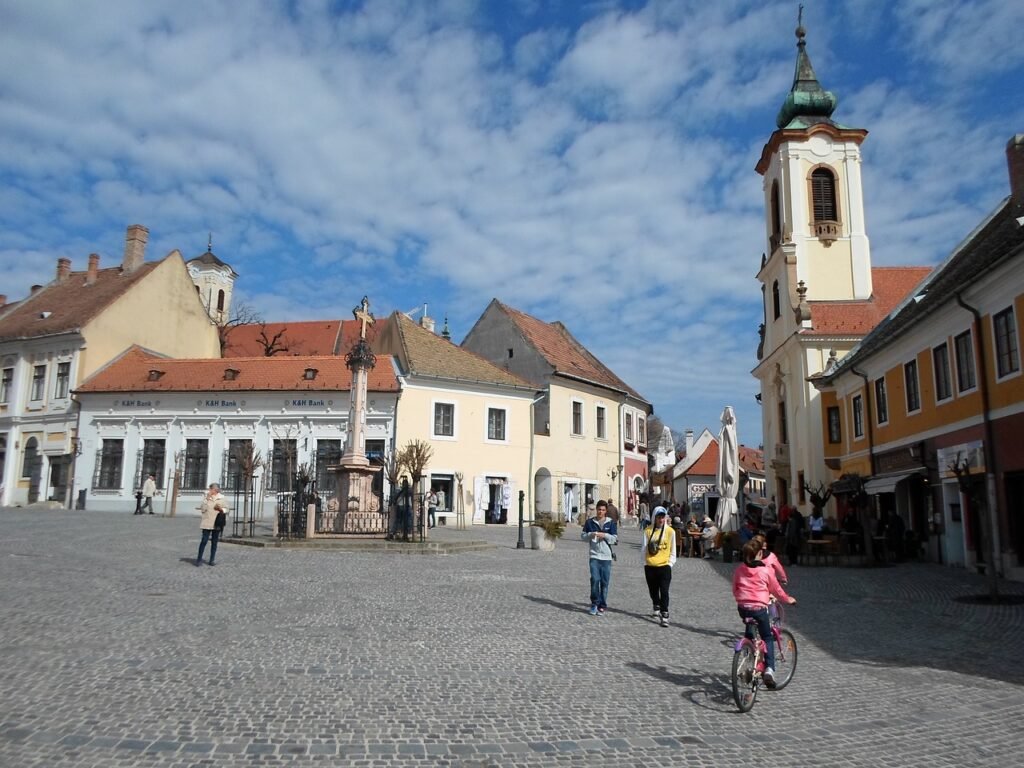 The Top 10 Things to See and Do in Szentendre
Explore the Old Town: Take the time to wander through the picturesque cobbled streets of the Old Town, lined with colourful buildings, art galleries (Szentendre has a thriving artistic community which gives the town a laid-back vibe), and craft shops. The Baroque and Rococo architecture adds to the town's unique old-world atmosphere.

Visit the Hungarian Open Air Museum (Skanzen):  Founded in 1967, this open-air museum shows Carpathian folk architecture and life in various regions of Hungary.  Located on the outskirts of Szentendre, Skanzen is a great place to learn about the country's rural heritage and culture.

Szentendre Art Museums: The town is known for its vibrant artistic community, so make sure to visit some of the various art museums and galleries. Some notable ones include the Ferenczy Museum Center, Margit Kovács Ceramic Museum, and the Kovács Margit Museum.  Or if cars and nostalgia are more your thing, a visit to back to the 70s at the Retro Design Center, might be more your thing, where you'll find a selection of vehicles from the communist era.

Blagovestenska Church: This Serbian Orthodox church, dating from 1752, is a significant religious site in Szentendre, an architectural gem with beautiful frescoes and interesting history.  Simple on the outside, impressive on the inside.

Main Square (Fő tér): The main square is the heart of Szentendre. Relax at one of the cafes, enjoy street performances, and admire the beautiful architecture surrounding the square.

Danube River Promenade: Like we did, why not take a leisurely stroll along the Danube River, enjoy the views of the river, and perhaps find a spot to have a picnic if the weather is good?

Marzipan Museum: Marzipan is a traditional Hungarian sweet, and the Marzipan Museum showcases incredible marzipan sculptures and artwork. It's a fun and unique experience for visitors of all ages.

Visegrád Citadel/Castle: While not in Szentendre itself, Visegrád Castle is nearby and worth a visit. This medieval fortress offers breathtaking views of the Danube Bend and the surrounding countryside.

Wine Tasting: Hungary has a rich wine culture, and you can enjoy wine tasting at local cellars and wineries in and around Szentendre.

River Cruises: Consider taking a boat cruise on the Danube River to see the region from a different perspective and capture stunning views along this iconic river.
Staying Safe
Hungary is a generally safe country.  Crimes of violence against visitors are rare, but like many major cities petty theft and pickpocketing do occur especially in crowded tourist spots or busy public transport.  So keep your valuables safe and out of sight.
If you have an emergency, dial 112 for assistance.
Of course, the key thing is to have comprehensive travel insurance coverage to protect against, cancellations, theft, illness etc.  For this, we use and recommend using  Staysure – specialists in over 50's travel insurance, as we have always found them fair and easy to deal with.