How We Ended Up In  An Out-Of-Season Hungarian Party Town
This is the one in a series of blog posts detailing our 10-county trip around Europe on trains, buses, cars and ferries.  All the posts highlight what we got up to (without the boring bits) along with some tips and helpful overviews should you wish to visit the destinations. You can see all the posts from this trip here.
Siofok (Siófok) is a small town on the shores of Lake Balaton in Hungary, which is one of Europe's biggest lakes.  We decided to stay there to break up the potentially long train journey from Budapest to Zagreb with a short hop on the train followed the next day by a relatively shortish bus journey, and at the same time take in the lake.  It didn't quite work out that way. 
This post may contain affiliate links to things like hotels, tours or products.  These help us earn a small commission at no additional charge to you and help keep the lights on at Destination Someplace.
Siofok – Also For The Young At Heart
Siofok is a small town, renowned for its summer clubbing scene, but this being still out of season we weren't too worried about being swept up in a chaotic maelstrom of drum'n'bass.
This time of year, like many small resorts it was very quiet (although the signs of party crowds were everywhere to be seen, mostly on faded posters from last season detailing all-night DJ sets – we have such poor timing!).  Being out of season we got a good deal on a small spa hotel through booking.com.  It was very quiet, I'm pretty sure there were only one or two people staying at the hotel.  Still a great hotel and a nice room.
We arrived in Siofok late afternoon and after freshening up went out to seek sustenance.  The bars were very quiet, some biding their time (with the shutters down) until the season started, but we found a great little restaurant, the Roxy Café, with an excellent menu. 
Charlie's Bistro – Definitely Worth a Visit
The following day we had free time to explore the town, before meeting our scheduled bus in the afternoon. 
Siofok is small but perfectly formed, and, out of season, very quiet.  That doesn't mean however there is nothing to see.  For a small town it has some quirky attractions, not least its famous water tower and a trail of interesting and sometimes eccentric statues around the town.  We also wanted to walk near the lake, but it seemed all access to it was via the hotels on the lakeside (which were mostly still closed) and we didn't find a path to walk along it.  Maybe there is one, we just didn't find it that day. 
By early afternoon, however, rain stopped play, and we took refuge for lunch at the excellent Charlie's Bistro which serves a revolving set menu of traditional and wholesome Hungarian food – two options each day of the week if I remember.  The staff were friendly and efficient and the food was delicious and very reasonably priced – definitely worth a visit if you find yourself in this part of the world.
Suitably stuffed at Charlie's we headed back the hotel to pick up our cases and head for the bus station. 
Time For Our Annual Sprint!
For certain parts of this trip, we had booked buses with Flixbus to get us around, mostly when we were unable to travel from A to B on train which would certainly be the case when we came to Croatia. 
We arrived at the bus station in plenty of time for the bus.  We waited. And waited some more, but the bus didn't arrive at the allotted time, and now nearly 20 minutes late, and unable to access its location via the Flixbus app – we had to make a quick decision:  either carry on waiting for a bus that may or may not show up and try to find accommodation in town for another night and then wait all the next day to get out of town, or run like crazy to get the last train to Zagreb leaving in a couple of minutes.  We opted for running like crazy.
We ran for the station, dragging our luggage behind, and hauled ourselves onto the train at that last minute –  I, imagine, to onlookers, it was probably the most exciting thing that had happened all day.
The train left the station at 4.57 pm and we finally arrives in Zagreb at 10.33, five hours and 36 minutes later.  If we stuck with our original plan of going straight from Budapest to Zagreb it would have taken about the same time (about 6 hours), so we didn't really save any time – but we did get to see Siofok!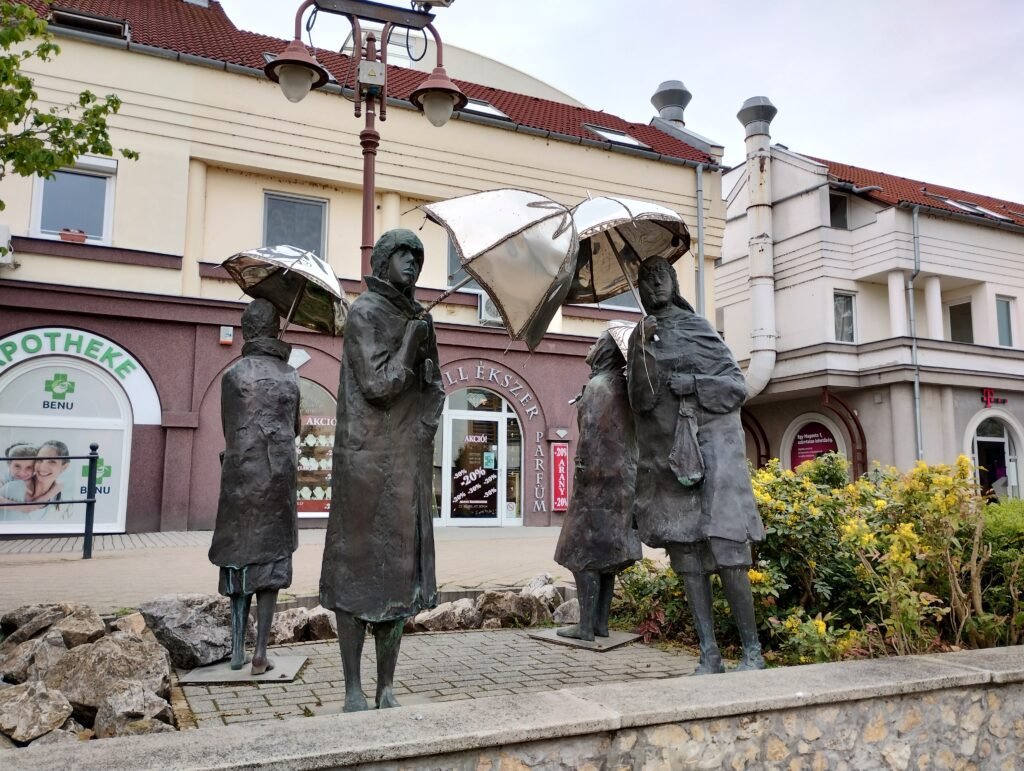 Getting to Siofok
By Air: The most convenient airport to Siofok is Budapest International Airport (also known as Budapest Ferenc Liszt International Airport and commonly known as Ferihegy) which is easily accessible from the UK,  as well as via international flights across Europe.  I would recommend using Skyscanner to find flights, and, if you are flexible when you go/return using the 'search by month' tool to find the most economical flights. You will need to transit from the airport to Siofok, see options below.
By Train:  Probably the quickest and most economical option.  Siofok is accessible by train from Budapest-Deli railway station in Budapest. Depending on which service you take it'll take approximately an hour and a half to get there. They run about every hour during the day.  Check out trains to Siofok here.
By Bus: This usually takes a little longer than the train and generally is a little more expensive.  Two bus companies currently run to Siofok, the Hungarian-based bus company,  Volánbusz, and European operator Flixbus.
By Car:  Of course, if you intend to travel around a bit you can hire a car at the airport. The transit time by car would be about one hour and twenty minutes from the airport to Siofok. Compare car hire rates here.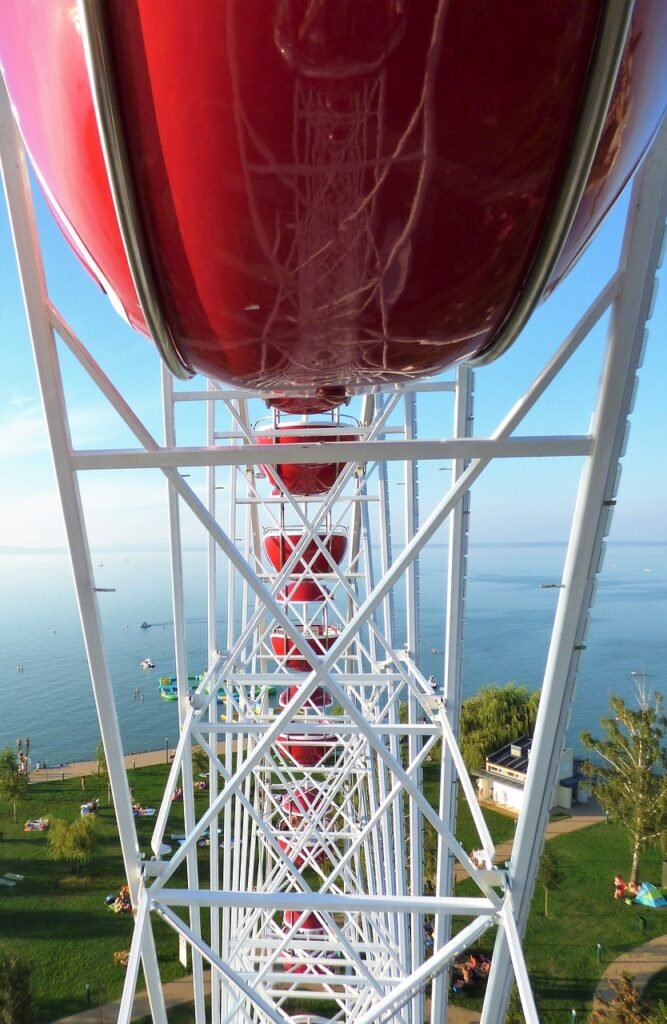 The Top 10 Things to See and Do in Siofok
Visit Siofok Beach: Yes, there is a beach at Siofok, despite the fact that we didn't locate it on the rainy day we had wandering around the town.  Here you can swim  and sunbathe on the shores Lake Balaton, which is also known as the 'Hungarian Sea'.
Jokai Park: For a bit of nature in the town, take a stroll around the 4.6-acre Jokai Park featuring a pond and a small Japanese garden.
Siofok Water Tower: Climb to the top of the Siofok Water Tower to enjoy views of the surrounding town and Lake Balaton.  This is also the location of the tourist information office.
Visit the port: Siofok has a bustling port area where you will find a range of bars and restaurants, and can also book boat tours.
Explore the local wine.  Why not partake in some local wine tastings, and sample some of Hungary's best wines?
Explore on a bicycle:  Siofok has several cycle paths, so if you want to get around the area whilst taking some exercise then you could hire a bike in the town.  
Boat Cruise: Why not take a boat cruise on Lake Balaton to really appreciate the towns and views along the lake shore (it is so big you'll forget it isn't a sea).
Walk the statue trail:  This is a great way to explore the town.  There are so many statues and memorials in Siofok, that the local tourist office has currently split them into 3 walking routes (Destinies Cast in Metal, Downtown Walk and For Art Lovers) and you can pick up a route map from the tourist office located at the Water Tower in the centre of town. 
Change your perspective at the Fordított Ház (The Upside-down house): This one will mess with your head, an interesting attraction in Siofok, this completely upside-down house is fun for all ages.
Visit the Mineral Museum: One for amateur geologists, the Siofok Mineral Museum, where you can explore subterranean relics from around the globe.
It is worth noting that since Siofok is a resort town, some of the above activities may be seasonal, so always worth checking with the local tourist office.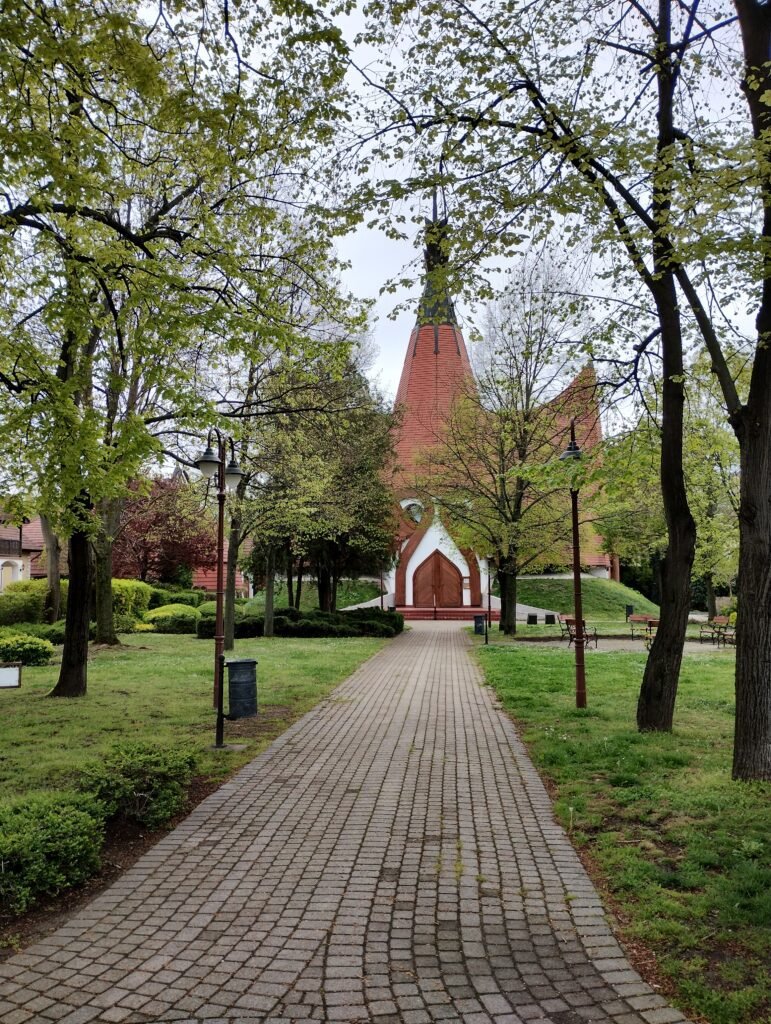 Top Tips – Siofok
Use Omio to compare buses versus trains, very useful.
For Hotels including self-catering apartments we use Booking.com, where you can filter by review score and many properties have a pay later/late cancellation policy should your plans suddenly change.
You'll also find more useful still on our resources page.
Staying Safe
Hungary is a generally safe country for tourists.  Crimes of violence against visitors are rare, but petty theft and pickpocketing do occur especially in crowded tourist spots or busy public transport.  So keep your valuables safe and out of sight.
If you have an emergency, dial 112 for assistance.
Of course, the key thing is to have comprehensive travel insurance coverage to protect against, cancellations, theft, illness etc.  For this, we use and recommend using  Staysure – specialists in over 50's travel insurance, as we have always found them fair and easy to deal with.