Grand European Tour – Sittin' in the Railway Station…
Got a Ticket to My Destination…Mmm
This is one of a series of blog posts detailing our 10-county trip around Europe on trains, buses, cars and ferries.  This one focuses on Zagreb to Slovenia.  All the posts highlight what we got up to (hopefully, without the boring bits) along with some tips and helpful overviews should you wish to visit the destinations. You can see all the posts from this trip here.
Our next stop was Zagreb, the capital of Croatia.  This was only ever intended to be a quick stopover on the way to Ljubljana (but we did manage to get a great apartment for the night!) as we planned to return here for another overnight on the way down to the Croatian coast, so, to be honest, we didn't really see as much of the city as we wished. 
Our impressions of the city?  It's big and spread out, as borne out by the several inner city railway stations we stopped at before reaching our final destination of the central station of Zagreb (Zagreb Glavni Kolodvor).  The area near the railway station has a faded old-world grandeur, unlike some city railway stations in Europe which are often in the midst of less salubrious districts.   On exiting Zagreb railway station you are greeted with a wide-open vista with well-kept gardens fronted by a statue of King Tomislav, the first king of Croatia.  The station building itself also has a very grand façade, a throwback to the days when Zagreb was a stop on the Orient Express. 
This post may contain affiliate links to things like hotels, tours or products.  These help us earn a small commission at no additional charge to you and help keep the lights on at Destination Someplace.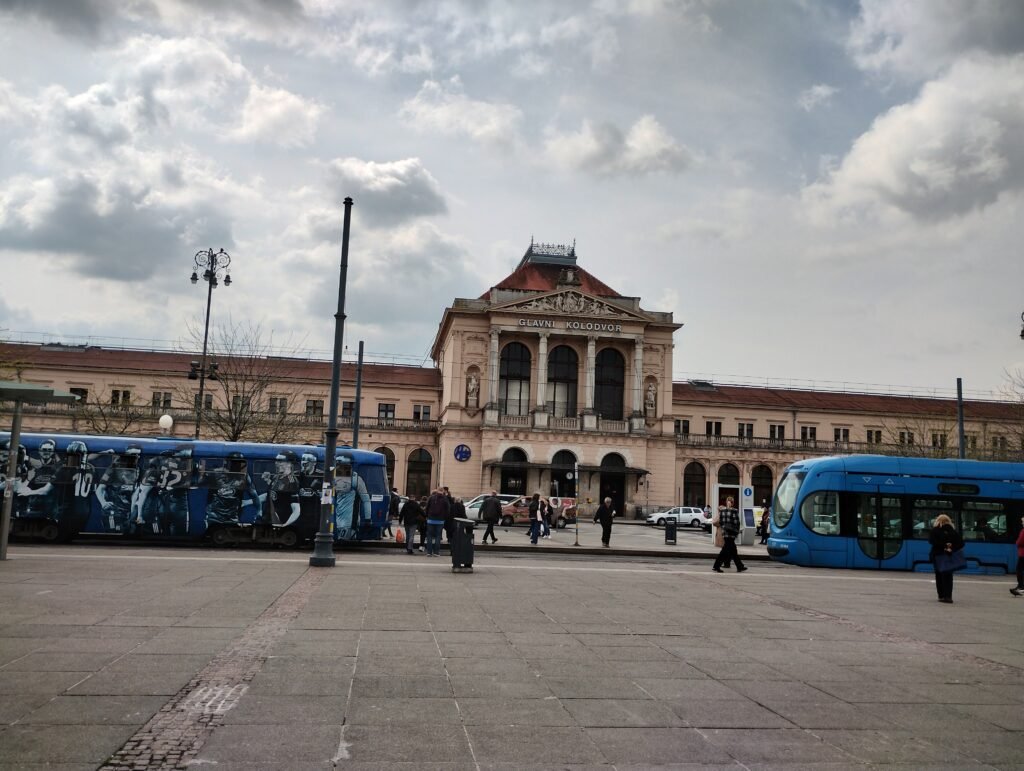 Zagreb! – Great For Tobacco Lovers
Just a note for non-smokers (like us).  Smoking is still very popular in Croatia, having one of the highest percentage of smokers per population in Europe (particularly amongst men), and smoking inside bars still seems to be the done thing (even though, according to Wikipedia 'Smoking is banned in all enclosed public spaces, with the exception of psychiatric wards and designated smoking rooms') – in our limited experience, the bars we visited for coffee all had smoking indoors  (and out) – which came as a surprise to us since it is banned in many parts of Europe now. 
Zagreb to Slovenia
Zagreb, as mentioned was just a one-night stand for us, so the next morning we hit the train station again, to catch our ride to Ljubljana – the train was late by about an hour, this happens all the time, apparently (we gleaned from local knowledge).  Once on the train, we got comfortable in one of the six seat compartments, which typically filled the carriages in this part of the world, and was joined by Patrick  (a fellow, first time interrailer – Hi Patrick, if you are reading this!) and spent the bulk of the journey sharing our experiences so far. 
Getting to Zagreb
By Air: You can get to Zagreb  Airport (Franjo Tuđman Airport) easily from London and Manchester UK airports,  as well as via international flights across Europe.  I would recommend using Skyscanner to find flights into Zagreb, and, if you are flexible when you go/return using the 'search by month' tool to find the most economical flights.
By Train: Although the train network can be limited and occasionally slow in parts of Croatia, getting to the capital, Zagreb, should pose no problems.  Zagreb is accessible from the major towns of Croatia, as well as the rest of Europe.   Check out trains to Zagreb here.
By Bus: Zagreb is also accessible by bus, and for this I would recommend Flixbus, which is a company based in Germany, but serves the vast majority of mainland Europe and offers cost-effective options to get to Zagreb.
Zagreb: Getting to and From the Airport
If you decide to fly to Zagreb, here are a few simple options for getting into the city from the airport depending on your budget. They are:
Airport Shuttle:  Operated by the Pleso Prijevoz company, this is a cost-effective option and will get you to the main bus station in Zagreb in about 30 to 40 minutes. 
Public Bus:  Bus line number 290 runs between the airport and Zagreb central bus station.  Here's the timetable, but these things change so it's worth checking locally nearer the time.
Take a taxi:  Taxis are found near the ground floor, arrivals area.  All taxis, of course, take cash,  it is wise to check if they take your card if paying with a credit card and to confirm the fare in advance with the driver.
Hire a car:  Of course, if you want the flexibility of your own transport, then you will find a raft of car rental counters at the airport, or you can book in advance online.  
Getting Around Zagreb
There are some interesting options for getting around the capital of Croatia (including a funicular!), depending on your fitness level and budget.  Here are the main ones:
Walk:  Although Zagreb is a large city, the city centre is quite compact so making it perfect for getting around on foot.
By bicycle:  Zagreb is mainly flat and with more than 300 km (186 mi) of bike lanes, making it ideal for cycling.
Zagreb Cable Car:  Yes, Zagreb has a cable car (žičara), which opened in 2022, and transports passengers on a 5km route from Gracansko dolje in the north of the city to Sljeme (1,030m above sea level) at the top of Medvednica mountain, via the intermediate station of Brestovac.   The total ride from the base station to the top takes around 22 minutes.   
By Bus:  The extensive bus network complements the tram system and you'll find more information regarding it here.
By taxi/Uber:  If you are feeling flush, then getting about by taxi offers an alternative to other forms of public transport.  You can hail or find them at one of the city's designated taxi stands.  Uber is now also available in Zagreb which you can book as normal through the app.
By Tram: Using the tram system in Zagreb is probably the easiest way to get around town as they cover a wide swathe of the city and serve most of the cultural hotspots.   You can buy tram tickets at newspaper kiosks (also from the drivers in most cases), and remember to validate them on the machines inside the tram (near the doors) immediately upon boarding.   More info here.
Top Tips – Zagreb
Use Omio to compare buses versus trains, very useful.
For Hotels including self-catering apartments we use Booking.com, where you can filter by review score and many properties have a pay later/late cancellation policy should your plans suddenly change.
Check our resources page for more budget tips and discounts from our days in transit! 
Hotels in Zagreb
Here are a few accommodation options for a stay in Zagreb
A couple of hotels in Zagreb worth considering are Hotel Dubrovnik which is centrally located and close to the main tourist sites, or a bit further afield, located in the historic old town, the superb Hotel Park 45.
If a private apartment is more your thing, then the clean and spacious Logo Apartments where we stayed on this visit could also be a good option.
Zagreb -Things To Do
Explore Ban Jelačić Square: This central square is a great starting point for exploring the city,  surrounded by shops, cafes, and historic buildings.
Upper Town (Gornji Grad): This is the historic heart of the city, and features St. Mark's Church with its colourful tiled roof, the Lotrščak Tower, and narrow medieval streets.
Zagreb Cathedral: The tallest building in Croatia, this beautiful cathedral is an iconic and treasured landmark in the city.
Museum of Broken Relationships: Yes, it is really called that. This unique museum showcases personal stories and objects from (you've guessed it)  failed relationships, offering an emotional and thought-provoking experience.
Dolac Market: Thisis the place to pick up some local delicacies. Dolac is a bustling open-air market where you can find fresh produce, local foods, and Croatian traditional crafts.
Tkalciceva Street: This famous pedestrian street is lined with cool cafes, restaurants, and shops, making it a perfect spot for a leisurely stroll, but not so easy to pronounce. 
Go Green in Zrinjevac Park: This picturesque park is the perfect place to get away from it all, or even have a picnic. There are many other green spaces to visit in Zagreb including Maksimir Park (with a zoo) and Jarun Lake for lakeside activities.
Medvednica Mountain (Sljeme): If you fancy a short hike or a cable car ride, you can enjoy panoramic views of the city from this mountain. See transport options elsewhere in this article.
Eat and drink like a local: Don't miss the chance to sample traditional Croatian cuisine, including dishes like čevapi (grilled minced meat), sarma (cabbage rolls), and various seafood specialities. Pair your meals with local wines and rakija (fruit brandy).
Croatian National Theatre: Why not attend a performance at this grand historic theatre, showcasing the best of opera, ballet, and drama productions?
Where to eat
For traditional Croatian fare, you could try Stari Fijake, traditional cuisine in a rustic setting.  Or take it up a notch and visit Dubravkin Put, this upscale restaurant features modern interpretations of traditional Croatian dishes using locally sourced ingredients in an elegant and refined atmosphere.
There are also many vegetarian-friendly restaurants in Zagreb such as Tač, a trendy place that focuses on vegetarian and vegan cuisine, offering a variety of creative and flavoursome dishes.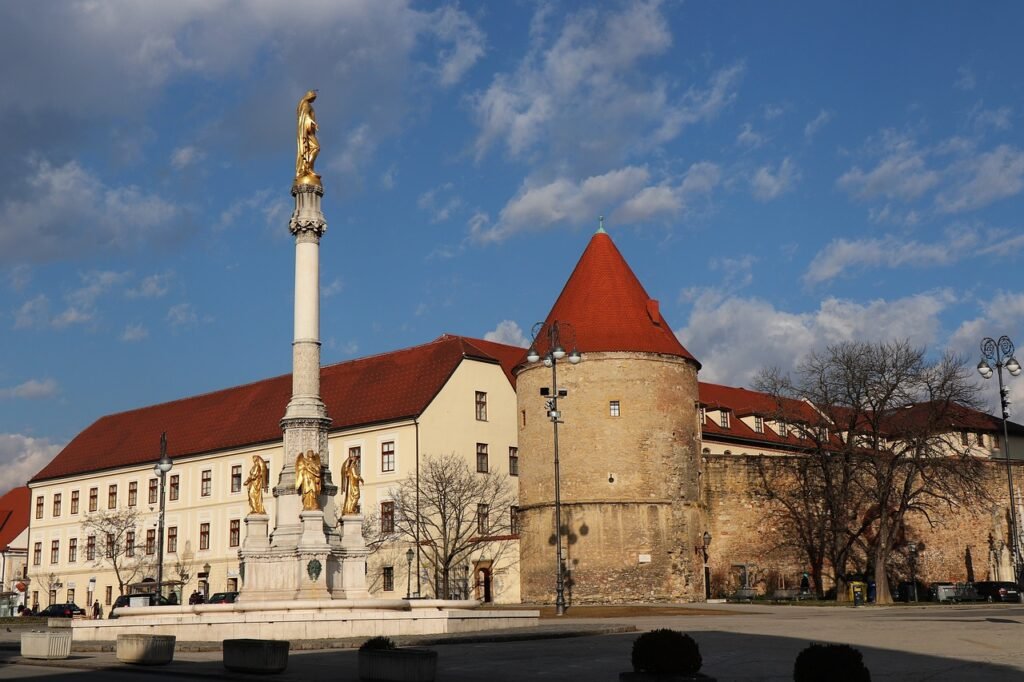 Staying Safe
Zagreb is a generally safe city with low crime rates.  Crimes of violence against visitors are rare, but like many major cities petty theft and pickpocketing do occur especially in crowded tourist spots or busy public transport.  So keep your valuables safe and out of sight.
If you have an emergency, dial 112 for assistance.
Of course, the key thing is to have comprehensive travel insurance coverage to protect against, cancellations, theft, illness etc.  For this, we use and recommend using  Staysure – specialists in over 50's travel insurance, as we have always found them fair and easy to deal with.