Is Ljubljana Worth Visiting?
This is the one in a series of blog posts detailing our 10-county trip around Europe on trains, buses, cars and ferries.  All the posts highlight what we got up to (hopefully without the boring bits) along with some tips and helpful overviews should you wish to visit the destinations.  Today we ask the question: is Ljubljana worth visiting?  Read on to find out the answer.  You can see all the posts from this trip here.
On reaching Ljubljana railway station we waved goodbye to Patrick (our temporary travelling companion), who was in transit to Italy,  and set off to find our accommodation for the next two nights.  
Ljubljana is a small capital city, and easily walkable.  On finding our, rather disappointing accommodation (Mrs A has very high standards, sadly not reached on this occasion), located very close to the town centre we were conveniently placed to explore this great town.
Ljubljana town centre is clustered around the Ljubljanica River and from which spills many bars, cafes and shops.  Maybe it was the time of year (April), but it didn't seem chock-o-block with tourists which was great for us.  As I, particularly am not a big fan of crowds. 
Ljubljana is a university town, so has a young/relaxed vibe, and a 'student area' comprising of bars and many takeaways/restaurants providing a wide selection of international cuisine at economical prices.  The nearer the 'centre' of the town you go, as with most tourist towns, the prices go up somewhat, but we still found the city relatively cheap in comparison to many other European capitals. 
This post may contain affiliate links to things like hotels, tours or products.  These help us earn a small commission at no additional charge to you and help keep the lights on at Destination Someplace.
Tivoli Park – Greeness On The Edge Of Town
The following day, newly rested, we set off to explore the town, but since the best of the weather was forecast for the morning we decided to head up into Tivoli Park, which is easily accessible from the centre of the town on foot, and spent the morning the forested hills there. Once at the park, we followed the Jesenkova pot trail around a portion of the park following easy trail makers through the forested hills – a beautiful place, and again not too busy at this time of year, we only saw the odd dog walker and runner. Ljubljana is one of the greenest capitals in Europe and we were in need of some country air and some fine views of the city from above, and Tivoli Park certainly provided. 
Pausing for coffee at the Caffe Bienale in the park, we then headed back into town to explore some more and grab some lunch.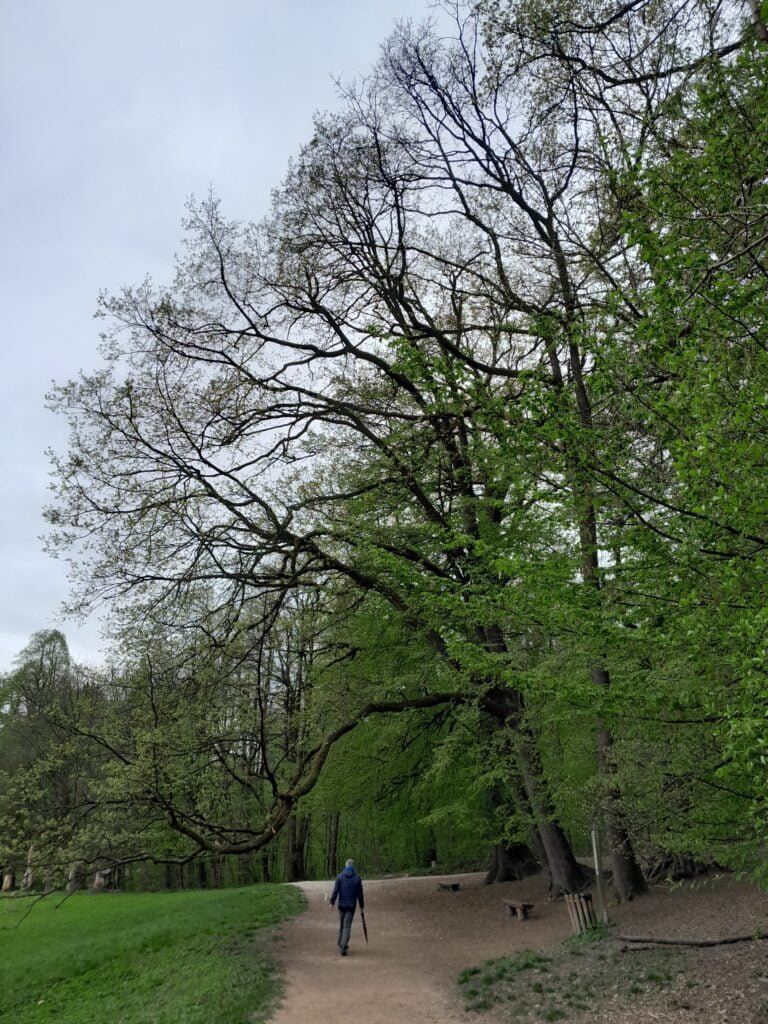 Ljubljana – Small, But Perfectly Formed
Ljubljana is an easily walkable town, so exploring the shops and monuments including Prešeren Square (Prešernov trg), which unlike most city squares is adorned with  a statue of a poet (France Prešeren (1800–1849)) rather than some politician or general, which made a change, and kind of sums up the vibe of this bohemian city.  The square is a busy pedestrianised area, however, cycles are allowed and the number of bicycles crossing the square was initially a little intimidating – in the end, we found it was much safer to ignore and trust the cyclists' sense of direction rather than trying to dodge them! From the square, the famous Dragon Bridge and most of the main sites of Ljubljana are within easy walking distance. 
There are plenty of places to eat including local fare (obviously), so no shortage of choice when it comes to food.  That evening, though, we found many of the restaurants were busy, and so located a small Italian restaurant, which was okay, but we thought a little pricey.  Before heading back to our accommodation, we had a couple of beers in a friendly little local's bar close by, making a few new friends along the way, which is easy to do in Ljubljana as we found the residents of the city invariably helpful, curious and friendly.
So back to that question: is Ljubljana worth visiting? The answer is – absolutely! It is definitely one of our favourite cities in Europe.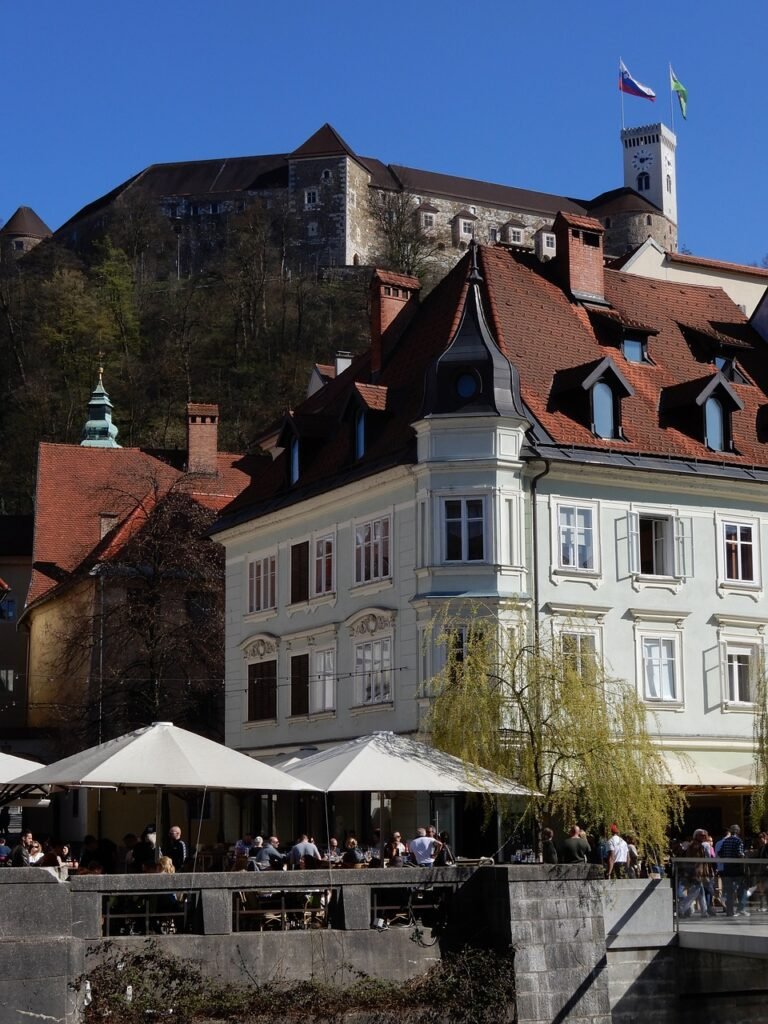 Ljubljana Castle
The next day, we had a late afternoon train to catch back to, so we used this time to visit the famous Ljubljana Castle.  The castle is easily accessible via a funicular which runs up to the castle and gives you various options on the tickets depending on which parts of the castle you are interested in.  It's quite a steep ride, but for us infinitely better than slogging our way up on the footpath. The views from the top are magnificent. 
The castle itself is renovated, so in parts looks quite modern – don't forget to check out the rather eerie puppet museum there.  In the central courtyard, there is a bar and restaurant, and again it wasn't too crowded on the day we visited.  Although there are lifts to some of the different levels of the castle there are some areas which appeared to be inaccessible by foot (such as the Outlook Tower), the top of which is accessed by a one-way spiral staircase – but again well worth the effort for the views of Ljubljana and the Kamnik-Savinja Alps.
Lunch in The Market And Back To Zagreb
On descending back down to the town we grabbed some lunch at one of the many food market stalls and retired with it to a nearby bar (who were happy to let you eat it there, as long as you ordered a drink – even though they also sold food – obviously this wouldn't happen in the UK – so  was a pleasant surprise).
After exploring the market, interspersed with a little wine and coffee, we headed off to the train station to catch our (inevitably) delayed ride back to Zagreb.
Getting to Ljubljana
By Air: You can get to Ljubljana Airport (Ljubljana Jože Pučnik Airport), easily from the UK with direct flights from the London airports,  as well as via international flights across Europe.  We would recommend using Skyscanner to find flights into Ljubljana, and, if you are flexible when you go/return using the 'search by month' tool to find the most economical flights.
By Train: Ljubljana is conveniently located at the intersection of major European transportation routes, midway between Vienna and Venice, so it is easily accessible by train. Check out trains to Ljubljana here.
By Bus: Ljubljana is also easy to reach by bus, we would recommend Flixbus, which is a company based in Germany, but serves the vast majority of mainland Europe and offers cost-effective options to get to Ljubljana.
Ljubljana: Getting to and From the Airport
If you decide to fly to Ljubljana, here are a few simple options for getting into city from the airport depending on your budget. They are:
Take the public bus: You'll find the bus station located near Passenger Terminal A. Take the Alpetour bus No. 28, which takes about 45 minutes to get into town and tickets can be purchased from the driver or at a kiosk in the airport.  Obviously, bus numbers/routes sometimes change, so check at the information desk at the airport.
Book an airport-to-city shuttle: This is a cost-effective option for getting into the city.  There are a few shuttle services that operate out of the airport and all their inquiry desks are located in the  Arrivals Terminal.
Take a taxi:  Taxis will be found at the stands outside the terminal building and the ride to the centre of town is usually 20 to 30 minutes depending on traffic. 
Hire a car:  Of course, if you want the flexibility of your own transport you can book in advance online and pick it up on arrival.  
Getting Around Ljubljana
Here are the main options for getting around the capital of Slovenia, depending on your fitness level and budget.  The public transport systems are safe and efficient. 
Walk:  Ljubljana is pedestrian-friendly city with many of the main tourist attractions within easy walking distance of each other, so making walking around the town one of the best ways to see  the main attractions.
By Bicycle: Ljubljana is also very bike-friendly, so you could also hire a bike to explore the city?  You can rent bicycles from many bike-sharing services. The town has a good network of dedicated cycle paths making it easy to explore the city on two wheels.
Public Transport: Ljubljana has an efficient and well-connected public transportation system, which includes buses. The Ljubljana City Card offers unlimited travel on buses and also includes entry to several attractions. Buses are obviously a good option for reaching destinations outside the city centre.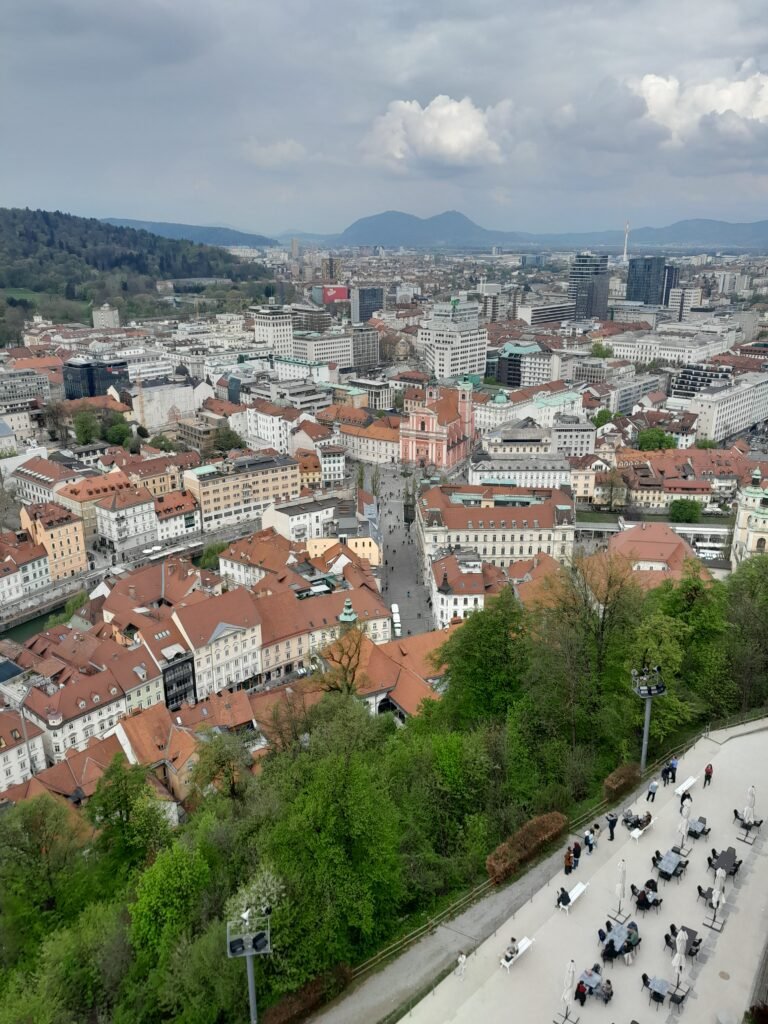 Top Tips – Ljubljana
Use Omio to compare buses versus trains, very useful.
For Hotels including self-catering apartments we use Booking.com, where you can filter by review score and many properties have a pay later/late cancellation policy should your plans suddenly change.
Check our resources page for more budget tips and discounts from our days in transit! 
The Top 10 Things to See and Do in Ljubljana
Ljubljana Castle: Perched on a hill overlooking the city, Ljubljana Castle offers stunning views of the city and surrounding landscape. You can take the funicular (as we did) or if feeling more energetic, take a hike to reach the castle and explore its history.  If  you are short on time why not combine your castle visit with a guided city tour.
Triple Bridge: Designed by the renowned architect Jože Plečnik, the Triple Bridge is a unique architectural feature in the heart of the city. It connects the old town to the modern part of Ljubljana and is a popular gathering spot for tourists and locals alike.
Preseren Square: Located next to the Triple Bridge (Note:  Ljubljana is so compact, nearly all the main tourist spots are near to each other!) this central square is dedicated to Slovenia's greatest poet, France Prešeren. It's surrounded by historic buildings, cafes, and is home to the iconic Prešeren Monument.
Ljubljanica River: A stroll along the banks of the charming Ljubljanica River, which runs through the city is a great way to explore. You could also take a boat tour along the river to admire the city's architecture from a completely different perspective.
Tivoli Park: Ljubljana's largest park, Tivoli Park, is a wonderful place for a leisurely walk, jog, or picnic.  We certainly enjoyed exploring it. The park also houses the Tivoli Mansion and the International Centre of Graphic Arts.
Central Market: Located just below the castle, why not explore the vibrant Central Market, where you can find fresh produce, local products, and unique souvenirs of your trip to the city. It's a great place to immerse yourself in the local culture, and sample some delicious street food (which we can vouch for!).
Dragon Bridge: Another of Jože Plečnik's creations, the Dragon Bridge is adorned with (you guessed it) dragon statues, which are symbols of Ljubljana. It's a popular spot for photo opportunities and an iconic architectural sight.
House of Illusions: This interactive museum offers mind-bending optical illusions, puzzles, and exhibits that challenge your perception and entertain visitors of all ages.
Lake Bled: A visit to this Slovenian must-see is a great place to get some fresh air and soak up the dreamy atmosphere.  Easily reachable from Ljubljana, Lake Bled and the town that gives it its name are straight out of a fairy tale. An excursion from Ljubljana to Lake Bled makes for a great day trip.
Eat like a local: It goes without saying that there is plenty of gastronomic delights to sample while in Ljublana.

Don't miss out on trying some traditional Slovenian cuisine at local restaurants. Dishes like potica (nut roll), kranjska klobasa (Carniolan sausage), and struklji (dumplings) are culinary must-tries.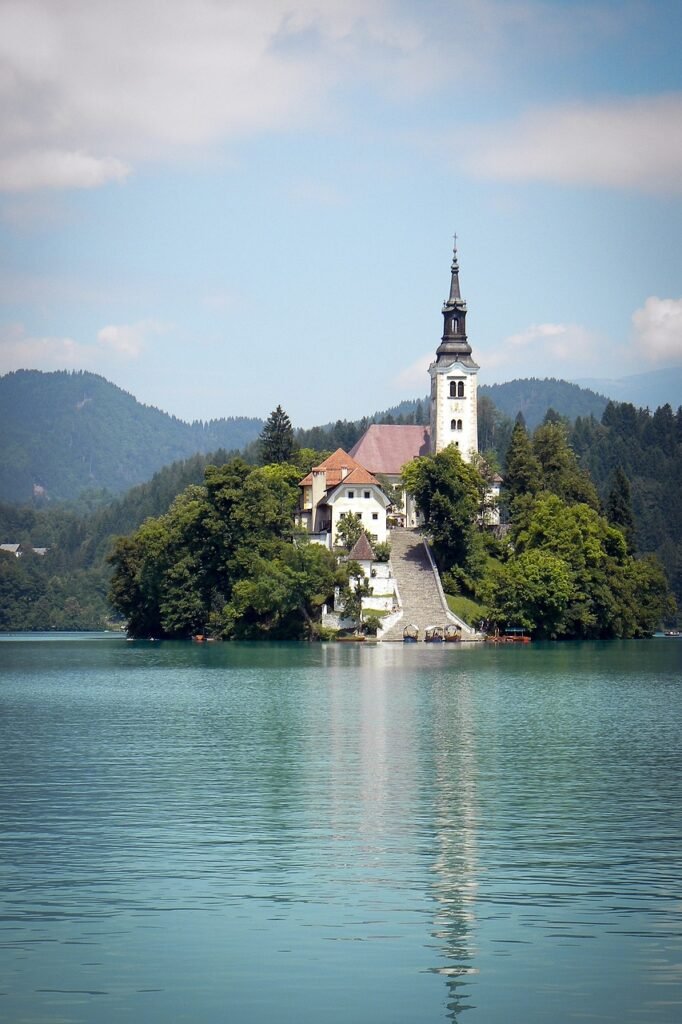 Staying Safe
According to all current sources, Ljubljana is very safe.  The crime rate in the city is very low, especially when it comes to serious crimes, which are a rare occurrence.
If you have an emergency, dial 112 for assistance.
Of course, as with any trip, the key thing is to have comprehensive travel insurance coverage to protect against, cancellations, theft, illness etc.  For this, we use and recommend using  Staysure – specialists in over 50's travel insurance, as we have always found them fair and easy to deal with.