Taking the Bus Through Croatia and Dalmatian Coast to Split
This is one in a series of blog posts detailing our 10-county trip around Europe on trains, buses, cars and ferries.  All the posts highlight what we got up to (without the boring bits) along with some tips and helpful overviews should you wish to visit the destinations. This post focuses on Croatia and Dalmatian Coast. 
You can see all the posts from this trip here.
As mentioned in the last post, Zagreb, unfortunately,  was simply a hub to get to our next destination, so after resting up for the evening we headed down to the Zagreb's bus station the following morning.  Why were we catching a bus and not a train?  Well we had decided during the planning of this trip that we really wanted to see Croatia (not just a couple of quick overnights in Zagreb), particularly the Dalmatian coast, and maybe hop onto an island or two – the problem is that, at present, Croatia's rail network is quite sparse and mainly serves the key towns.  It does not , however, run along the coastal towns which means navigating our way down the coast by train, whilst not impossible, would be pretty tricky and time consuming.   So we made the decision to use buses  (and ferries) for this part of the journey.
This post may contain affiliate links to things like hotels, tours or products.  These help us earn a small commission at no additional charge to you and help keep the lights on at Destination Someplace.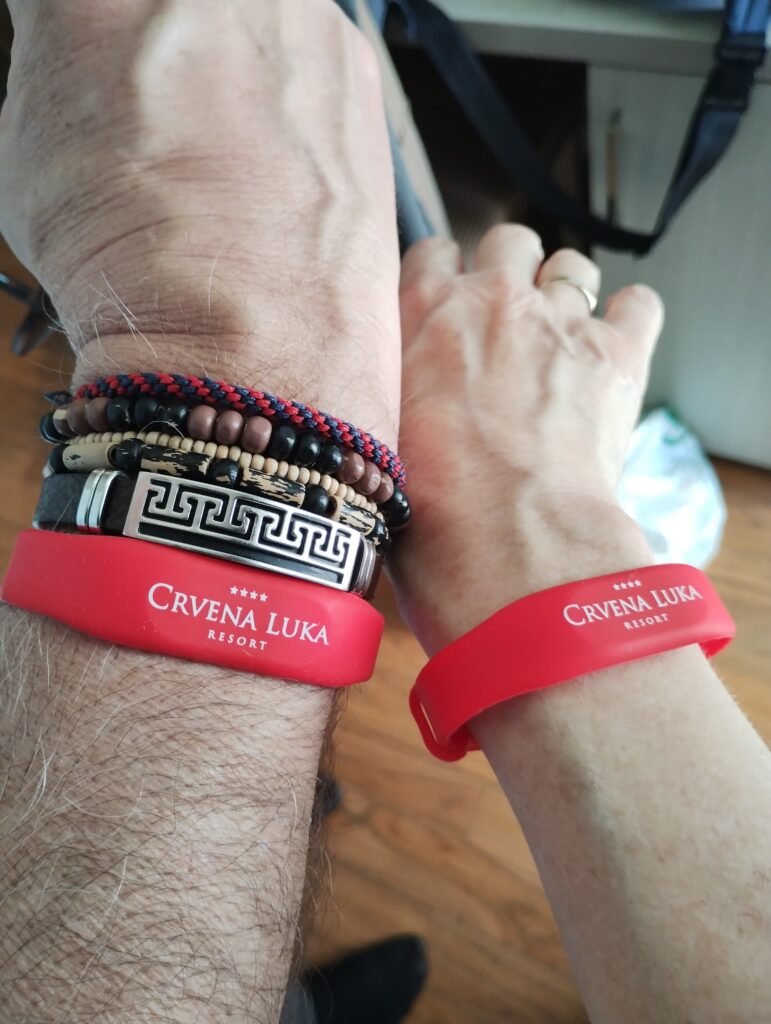 From Zagreb to The Coast
Zagreb train station is big but well laid out and we had little difficulty finding our bus.  Cue four and half hours on a bus (which was booked with Flixbus, but contracted out to a local company).  Our next destination was the Crvena Luka Hotel and Resort, close to the harbour town of Beograd na Moru – after four and half of travelling and the last few nights mostly being one-night stands we were getting pretty fazed. It was time for some rest and relaxation.
Bus travel is not for everyone and over four hours on the bus was enough for us. On arriving at Beograd na Moru it was just a short taxi ride to the resort of  Crvena Luka.  On route there, the taxi driver asked us if we were there to rest or 'party', as apparently there was a DJ festival taking place at the resort at exactly the same time we were staying there.
On checking in, and forgoing the opportunity to join the festival, we headed for our room.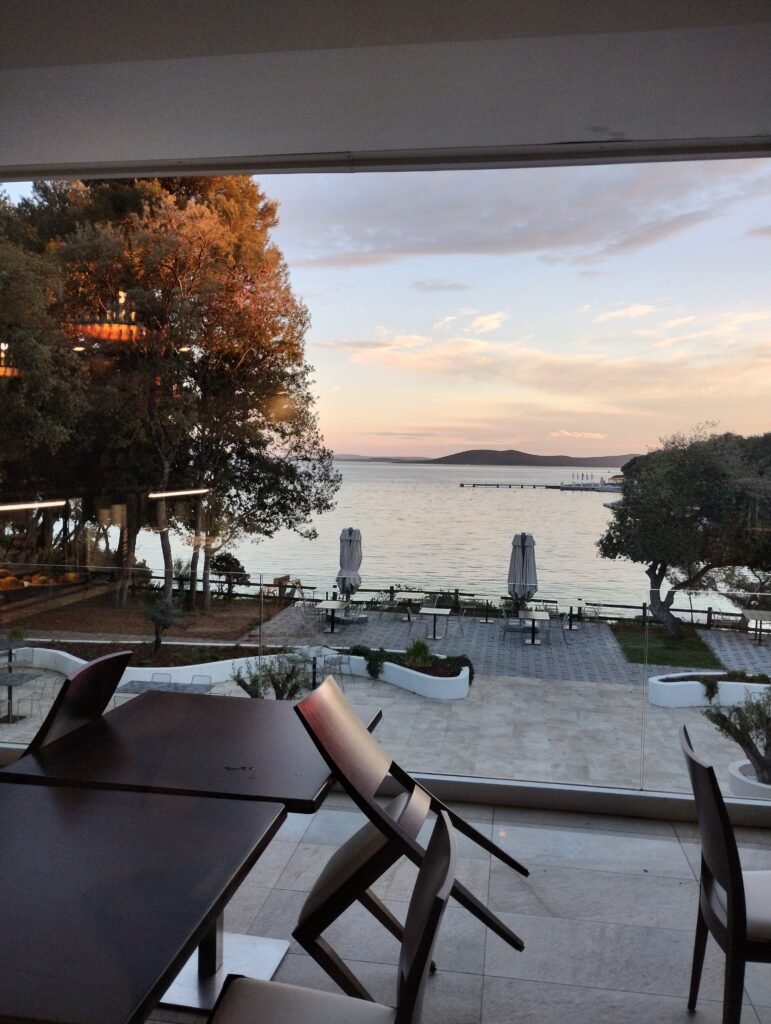 A Laid-back Break
The Crvena Luka Resort is well laid out, but at this time of year (start of the season) was very quiet, even with the DJ festival happening, we more or less had the place to ourselves most of the time – a little too much to ourselves probably – but we were pretty exhausted by this time, so it was great to have nothing to do for a while.  We stayed on a half board basis and the buffet breakfast and dinners in the restaurant were great, our only niggle is that you couldn't get water with your dinner without paying through the nose for a bottle of water (they did have an offer on the wine though, so we drank that instead!) – aside from that all good.
We stayed here 3 nights at the resort and hired bicycles one day to cycle into Beograd na Moru itself, which was very quiet, but it was a Sunday, it was early in the season and it was also St George's day (widely celebrated in Croatia).  We also took advantage of the resorts spa treatments (opting for saunas and massages) as the weather took a turn for the worst on the Monday.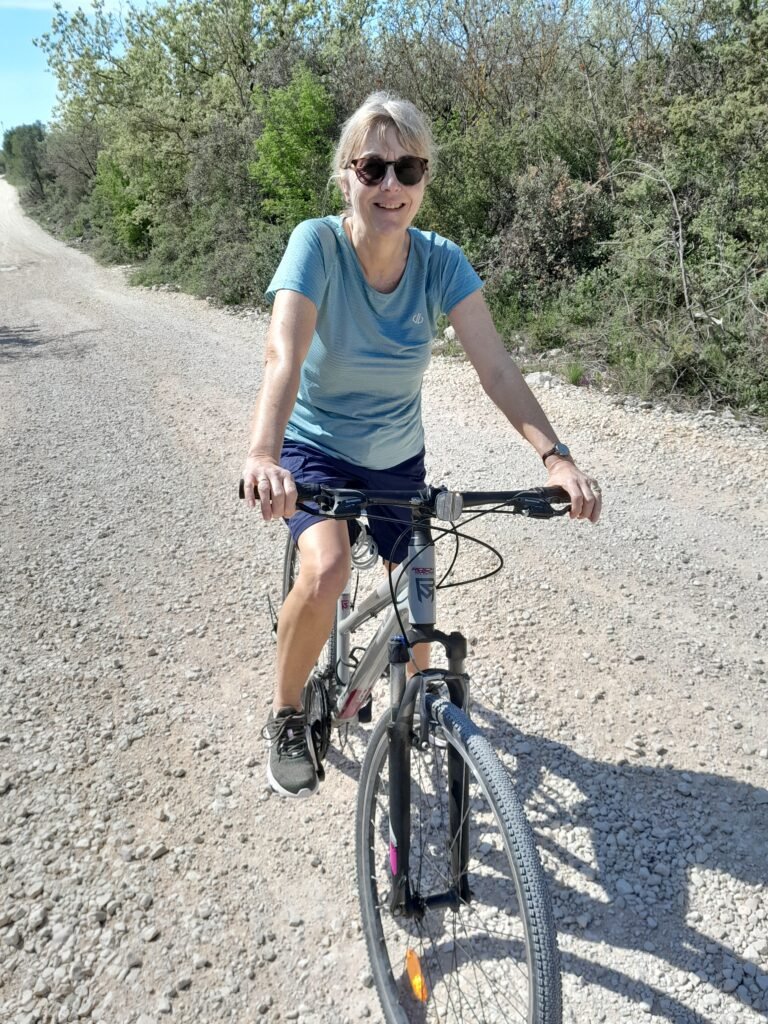 Onto Split and Into the Hills
On leaving Beograd na Moru, we caught another bus (another 3 and a bit hours), this time to the beautiful coastal town of Split. 
Split bus station is located right next to the ferry terminals, so after a 15 minute walk along the promenade (the waterfront at Split is really quite beautiful) we were at our accommodation for the next couple of nights.  Central  Split is easy to walk around, but be prepared to get lost in the twisty little cobbled-stoned streets, only to find yourself back where you started (we did this several times).  It's touristy, but not as touristy or as expensive as Dubrovnik in our opinion.  Needless to say we spent the entire day exploring the town, in particular the Diocletian's Palace, and hiking up to Marjan Hill and the surrounding trails for panoramic views of the city.   On the hill, we met a group of Dutch students who were working their way across Europe to Monte Negro as part of their degree work, so we had a chat and took turns at taking photographs of each other, whilst lightly taking the micky (apparently I look nothing like Tom Cruise!).
In the evening we had a couple of beers and grabbed a light dinner, before falling (exhausted) into bed.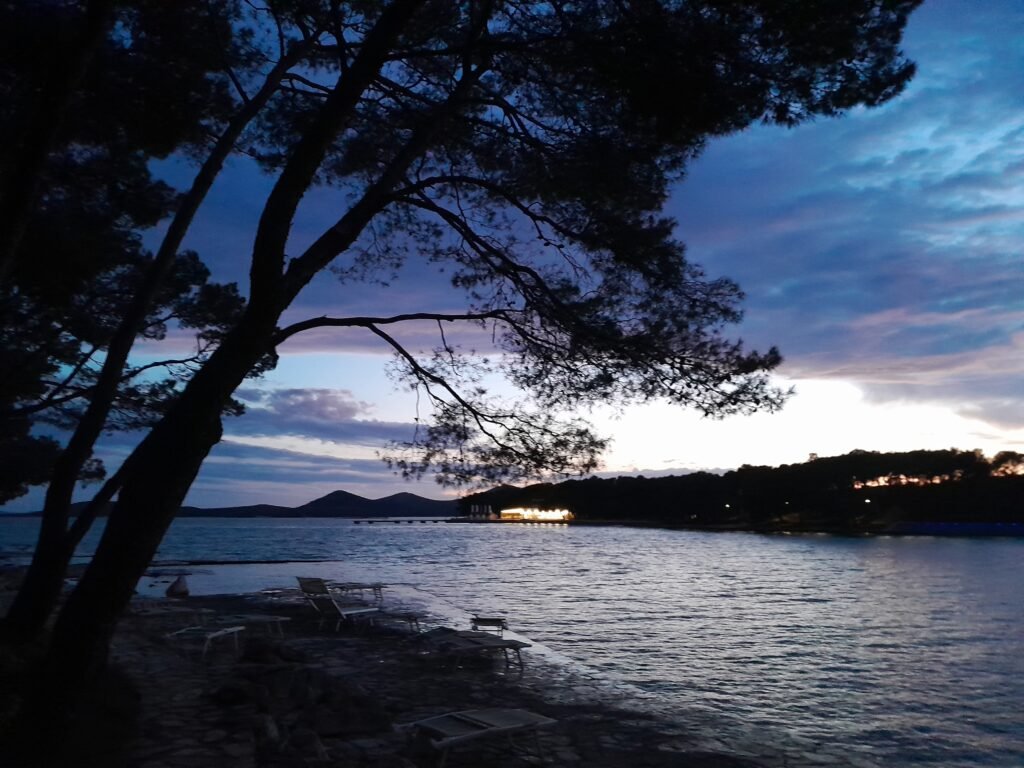 Getting to Split
By Air: You can get to Split Airport easily from the UK (some direct and some indirect flights depending on the departure airport),  as well as via international flights across Europe.  We would recommend using Skyscanner to find flights into Split, and, if you are flexible when you go/return using the 'search by month' tool to find the most economical flights.
By Train: In our experience, the Croatian coastline is not particularly well-served when it comes to trains. Trains from anywhere in Europe tend to come via the hub of Zagreb (about 6 and half hours away by rail) and as of writing do not run very often.  Obviously, this leaves room for improvement, but a good option might be to take one of the night trains (depending on your starting point) that are currently coming online – check here for details of trains to Split.
By Bus: Split can also be reached by bus, we would recommend Flixbus, which t serves the vast majority of mainland Europe and offers cost-effective options to get to Split.
By Ferry: If you are visiting Croatia from Italy, then a ferry crossing may be an option, you check the ferry schedules here.
Split: Getting to and From the Airport
If you decide to fly to Split, here are a few simple options for getting into Split from the airport depending on your budget. They are:
Take the shuttle bus: You will find the shuttle bus parked in front of  Arrivals as you exit the airport building. Look out for a blue bus, the name of the bus company is Pleso Prevoz.  This will take you to Split town centre in about 30 minutes and you can buy a ticket with the driver or online at the bus company's website. 
Get the local bus: There is also a local bus (number 37) service that takes you from Split Airport to Split, but note you have to pick it up on the road outside of the airport terminal (Cesta Dr Franje Tuđmana Road), and it takes a minimum of 50 minutes to get into town, as it stops along the way – it will also deliver you to the Sukoisan bus station in Split, rather than the main bus station, which might not be so convenient and you may have to get another bus or taxi to your final destination within Split.  You can buy a ticket on the bus. You can find more information regarding this local bus service here.
Take a taxi:  The taxi ranks are located just outside the arrivals terminal, close to the main exit.  The journey time to the centre of Split is usually 30 minutes depending on traffic.  Always use official taxis and it is wise to confirm the fare in advance with the driver.  Uber also operates in Split.
Hire a car:  Of course, if you want the flexibility of your own transport and are looking to explore the towns along the coast or inland, you will find car hire company counters at the airport or you can book in advance online.  
Getting around Split
There are many options for getting around Split, depending, of course, on your fitness level and budget.  The public transport systems are safe and efficient. 
Walk:  The waterfront promenade, Splitska Riva, as well as the city centre around the Diocletian Palace are pedestrianised, so this makes Split ideal for walking around. Many of the main tourist attractions are also within walking distance of each other.
By bicycle:  An alternative to walking is exploring the town by bicycle.   You can rent bicycles from many of the travel agents in the town or use the publically available bikes and eBikes that are scattered around the town and in the pedestrian zones – for more info check out the app here.  Perfect for going a little further afield. 
By Bus:  Split has an extensive bus network for reaching the far-flung areas of the city, which you can't get to by walking.  The local bus services are run by the company Promet, and their website shows the latest service information and timetables.  You can also download the app to your Android phone here.
By taxi:   You can hail taxis or find them at one of the city's designated taxi stands.  Uber is also available in Split, which you can book as normal through the app.
Top Tips – Split
Use Omio to compare buses versus trains, very useful.
For Hotels including self-catering apartments we use Booking.com, where you can filter by review score and many properties have a pay later/late cancellation policy should your plans suddenly change.
Check our resources page for more budget tips and discounts from our days in transit! 
Where to stay in Split
Here are some accommodation options for a stay in Split.
A couple of accommodation options worth considering are the clean and welcoming Rooms & Apartments Peruzovic which is where we stayed on this visit and is conveniently located.  
A centrally located hotel such as the Hotel Agava Split might also be a good option.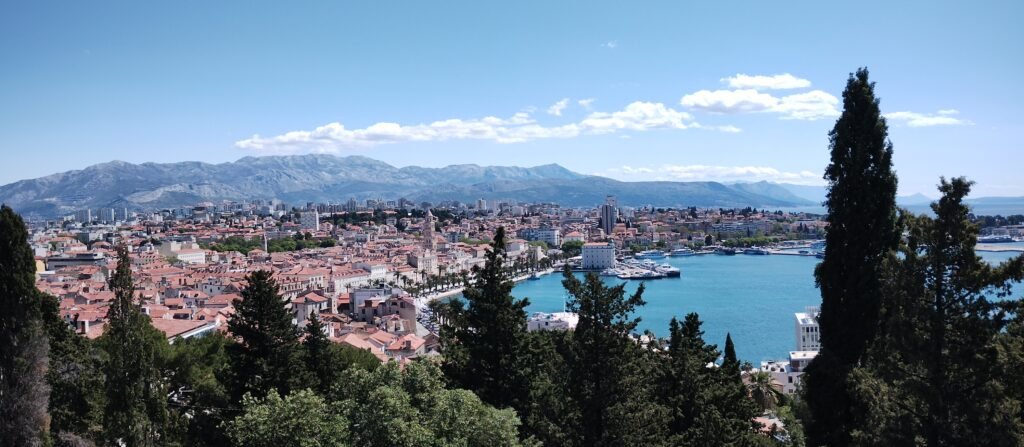 Unusual Things to Do in Split
Split is a great town to spend a few days if you are exploring the Croatian coast, here are our recommendations for some more unusual things to do whilst there.
Explore the hidden beaches:  For peace and tranquillity, why take a bus from Split's Old Town to picturesque Kasjuni Beach on the Marjan Peninsula or even spend an afternoon relaxing on popular Bacvice Beach,  just a short walk from the Old Town.
Take a stroll through Marjan Forest Park:  This vast area of 138 hectares is perfect when you want to get some fresh air, with its serene walking trails and stunning viewpoints.  Look out for the hidden old medieval church or the old Jewish cemetery.  Here are some of the great trails you can explore here.
Visit Diocletian's Palace at night:  Why not visit the Diocletian's Palace in the evening for a completely different ambience once the crowds of the day have thinned out.  The palace was built for the Roman emperor Diocletian at the end of the third century AD and encompasses about half of the old town where you can explore narrow streets and follow up with some traditional Dalmatian cuisine in one of the nearby restaurants.
Discover hidden art galleries and street art: There are many lesser-known galleries showcasing local artists' work in Split, you'll find them tucked away on the streets of the Old Town and in the charming neighbourhood of Veli Varoš on the southern slope of Marjan Hill – you never know what you might discover.
Explore Klis Fortress: From its imposing hilltop, this medieval fortress offers spectacular views of Split and was used as a  location for the fictional city of 'Meereen' in Game of Thrones.  Find details of excursions to Klis Fortress here.
Visit the nearby town of Salona:  The ancient nearby town of Salona (Solin), the ancient Roman capital of Dalmatia with its long history and well-preserved ruins, is a great destination for history buffs. We recommend visiting in the morning or late afternoon to avoid the crowds.
Experience Traditional Dalmatian Cuisine at Local Konobas: Get your teeth into some traditional Dalmatian cuisine at a local Konobos (traditional Croatian taverns), we recommend local favourite  DeListeš or the truly authentic Fetivi, and maybe try one of these local delicacies – goat's meat with peas, squid with fava beans or cuttlefish stew. 
Hop into the Froggieland Museum: For a rainy day in Split, and if you really want to see something quite eccentric and more than a little weird then why not visit the visit Froggieland Museum with its displays feature over five hundred preserved frogs posed in human-like and strangely familiar scenarios.    We're not kidding!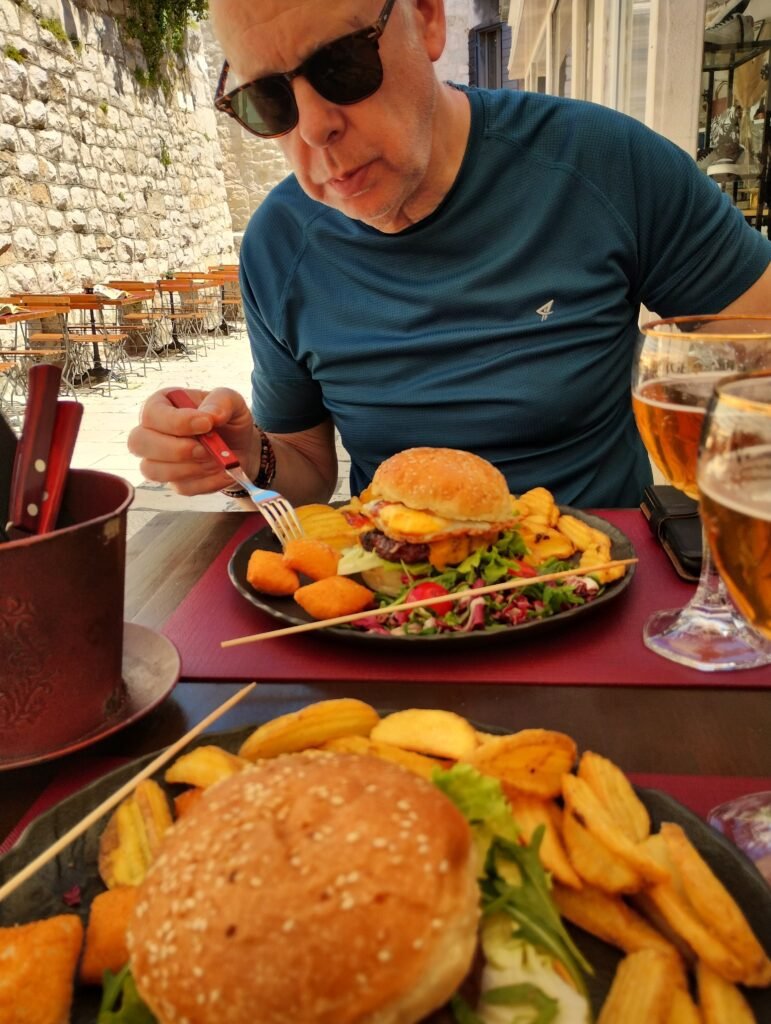 Staying Safe
Split is a generally safe city with low crime rates.  Like many popular towns petty theft and pickpocketing can occur especially in crowded tourist spots or busy public transport.  So keep your valuables safe and out of sight.
If you have an emergency, dial 112 for assistance.
Of course, as with any trip, the key thing is to have comprehensive travel insurance coverage to protect against, cancellations, theft, illness etc.  For this, we use and recommend using  Staysure – specialists in over 50's travel insurance, as we have always found them fair and easy to deal with.