Grand European Tour – 2 days in Dubrovnik, Or How We Split From Split and Head For Game of Thrones Central
This is another in a series of blog posts detailing our 10-county trip around Europe on trains, buses, cars and ferries.  All the posts highlight what we got up to (hopefully without the boring bits) along with some tips and helpful overviews should you wish to visit the destinations. This post focuses on our 2 days in Dubrovnik. You can see all the posts from this trip here.
The following day, we took a final stroll around Split and then along the promenade, cases trundling behind us to find the bus for Dubrovnik, our next stop.
The bus was late by about an hour, and when it did arrive it was rammed with people (including the Dutch students we had met yesterday!) and cases – It took forever to load the cases, and ours got severely dinted in the process – bear this in mind if you are travelling on buses.  This, by far,  was our most uncomfortable journey.  The bus was a 'double decker' in the sense that it was on two levels, we choose the bottom level, which in hindsight, was probably a mistake, as it was more cramped with a low ceiling and little leg room (I'm over 6 feet tall).  Unfortunately on this journey, the onboard toilet also seems to be having its own issues, given the faces of the people brave enough to use it and the unpleasant odour permeating he bus every time the door opened. Oh, the glamour of intercontinental travel.
This post may contain affiliate links to things like hotels, tours or products.  These help us earn a small commission at no additional charge to you and help keep the lights on at Destination Someplace.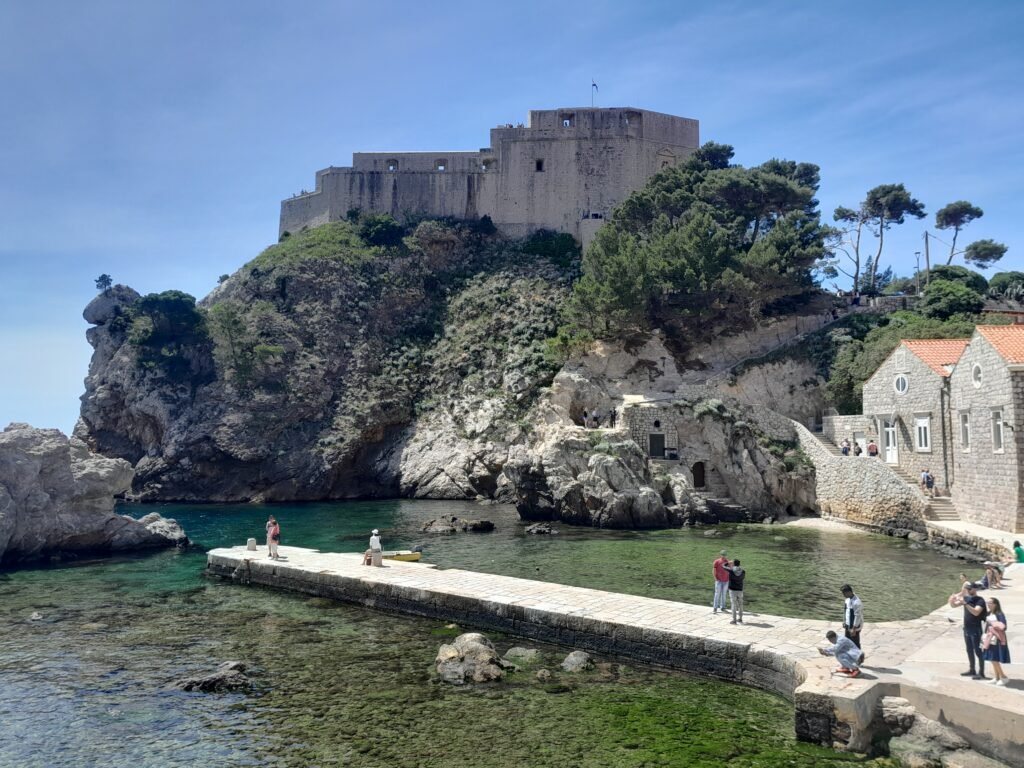 We Arrive in Dubrovnik
After a long and winding bus journey, we finally arrived at Dubrovnik station, and quickly found a taxi to our accommodation, and was greeted by our very friendly host with a very welcome cold beer, after several hours on a warm bus, this was just what we needed.
After stocking up on a few supplies, we headed to a local pizza restaurant, the Vita Bella which was about a kilometre walk from our apartment but not in the tourist area of town.  Given the choice, we often try to seek out the restaurants in the less touristy areas of major tourist hotspots, mainly because the food is usually good, you are less likely to get ripped off and we like to integrate (even for a short while with the locals).  This proved to be the case with the Vita Bella.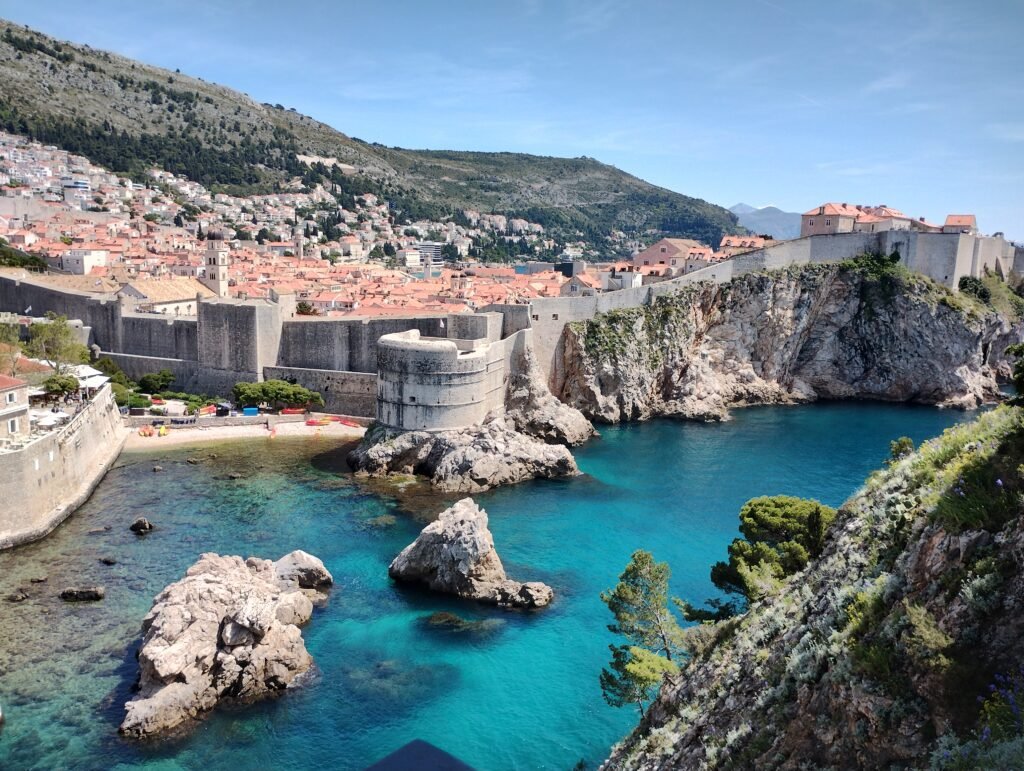 A Busy Day in The Old Town
The next morning we headed into Dubrovnik's historical centre, about a 20 minute walk from our apartment.  Stopping off at Restaurant Sesame for  a morning cappuccino.
Our first port of call after this was the Fort Lovrijenac, which is more recently famous as the location of several 'Game of Thrones' scenes, but this striking edifice has existed since the 1300s.
After this we crossed through the ancient walls of Dubrovnik into the Old Town itself.  The majority of the Old Town is given over to a myriad of shops and an array of restaurants providing many cuisines, Croatian and Italian being the most popular.  You can easily pick up souvenirs here (which wasn't on our tick list for this trip as we simply did not have the room), from icons and paintings to everything 'Game of Thrones' (Dubrovnik is where much of the series was filmed).  Eventually, wandering through the town you'll come across the small, but vibrant Gunduliceva Poljana Market where you can stock up on seasonal fruit and vegetables, as well as handmade gifts and souvenirs.
Of course, we also bumped into our Dutch students, yet again! – by this time we were beginning to think we were stalking each other, so said hello and goodbye yet again (for the third time!).
After a light lunch, the day was getting very warm, and the  Adriatic waves gently lapping against the old city walls where one of the locals was swimming looked very tempting – we got talking to this aquatic adventurer, a very friendly guy, who said he swims there every day rain or shine – so if you are in Dubrovnik and come across him don't forget to say hello.
After a full day in Dubrovnik, we walked back to our digs and then found somewhere to eat, again locally, fuelled by a couple of beers in the Roxy Bar  (a well-known, local blues and music bar – no, it wasn't rough and the beer was excellent).
We Catch The Island Ferry
The following day we had a ferry to catch, but not until the afternoon, so headed back to Dubrovnik old town early in the morning.  This we found was the best time to visit, before the umbrella waving tour guides descended with their hordes – very quiet – you can almost imagine what it was like a hundred years ago before it morphed into the tourist hotspot it now is.
After grabbing a light lunch and with gelato in hands we headed back to our apartment and then headed for the port with a short taxi ride. 
We booked all our ferries via Direct Ferries and this particular one was taking us on a two-and-a-half-hour ride to the island of Korčula…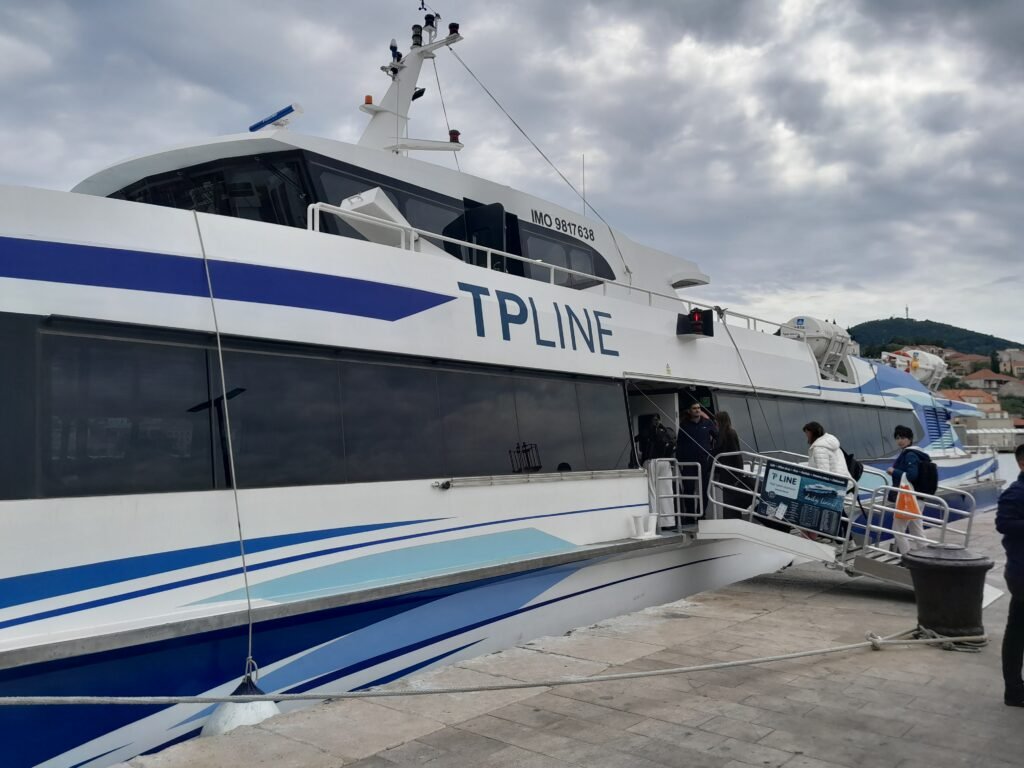 To read the next instalment of the Grand European Tour.
Or for more tips and insights on Dubrovnik please continue reading below…
Getting to Dubrovnik
By Air: You can get to Dubrovnik Ruđer Bošković Airport easily from the UK,  as well as via international flights across Europe.  I would recommend using Skyscanner to find flights into Dubrovnik, and, if you are flexible when you go/return using the 'search by month' tool to find the most economical flights.
By Train: If you have read our experience of travelling to Croatia, you will know that in our opinion the rail network for accessing the major coastal towns of both Dubrovnik and Split could be better.  To get to Dubrovnik by train the easiest current route would probably be from the direction of Sarajevo (but you'd still have to get a bus part of the way), still improvements to the railway infrastructure are probably on the cards, so I expect we'll see positive changes in the future.  In the meantime, you can check out the train options here. 
By Bus: Dubrovnik is easy to reach by bus, I would recommend Flixbus, which is a company based in Germany, but serves the vast majority of mainland Europe and offers cost-effective options to get to Dubrovnik.
Dubrovnik: Getting to and From the Airport
If you decide to fly to Dubrovnik Ruđer Bošković Airport (also referred to as Čilipi Airport), here are a few simple options for getting into the city  depending on your budget. They are:
Book an airport-to-city shuttle: There is a shuttle bus service that connects the airport to Dubrovnik city centre. Bus schedules are typically coordinated with flight arrivals and departures.  You'll find timetables and prices here.
Local Bus:  If you are not  in a hurry, and don't mind stopping several times along the way into town, you could opt to take a local bus, but note this service doesn't run as frequently as the shuttle bus.  See here are further details.
Take a taxi:  Taxis are widely available at the airport, and as usual you will find them outside the arrivals terminal, where you'll probably will find yourself greeted by a guy who seems to organise the taxis lined up at the rank. Make sure to use official taxi services and it is wise to confirm the fare in advance with the driver.
Book a private or shared transfer into town: Another option is to book a private transfer or shared transfer before you arrive, for a swift exit into Dubrovnik. 
Hire a car:  Of course, if you want the flexibility of your own transport and are planning to go further afield than Dubrovnik (remember you can't take a car into the Old Town), then you will find a raft of car rental counters in the arrivals hall, or you can book in advance online.  
Getting around Dubrovnik
Dubrovnik is a beautiful city with a very well preserved historic centre and getting around his relatively easy.  Probably the best way to get around, given that the Old Town is pedestrianised, is on foot.   Remember vehicles are not allowed inside the Old Town, so you need to pick up/drop off  any public transport (buses, taxis etc.) outside the city walls.
Walk:  The Old Town is relatively compact with many of the main tourist attractions within walking distance of each other within the old city walls.  Losing yourself in the narrow streets is a great way to explore the town. 
By Bus:  The public bus system in Dubrovnik is operated by the company, Libertas and connects with the city centre with various neighbourhoods and suburbs of Dubrovnik.  You can purchase bus tickets at kiosks or inside the buses themselves.
By taxi: Taxis are also widely available and you can find taxi stands in popular areas of the town.   Uber is also widely available outside the city walls.
Cable car: the Dubrovnik cable car provides an option to enjoy some excellent views of the city and the Adriatic.  It connects the Old Town with Mount Srđ and once at the top, you could also visit the old Imperial Fort.
Boats and ferries:  If you want to explore the nearby islands then there are many boat and ferry services available from Dubrovnik.  These can take you to places such as Lokrum Island or nearby beaches which may not be quite so accessible by road.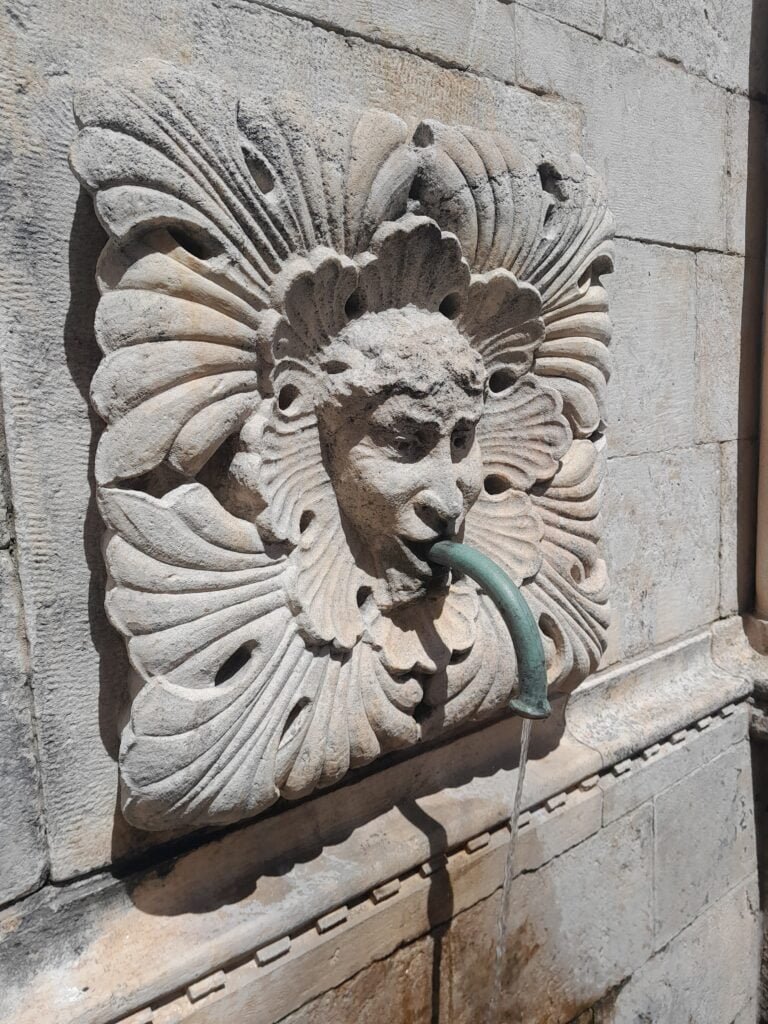 Top Tips – Dubrovnik
Use Omio to compare buses versus trains, very useful.
For Hotels including self-catering apartments we use Booking.com, where you can filter by review score and many properties have a pay later/late cancellation policy should your plans suddenly change.
Check our resources page for more budget tips and discounts from our days in transit! 
Where to stay in Dubrovnik
Here are a few accommodation options for a stay in Dubrovnik.
A private apartment such as Apartments Nina@Anita where we stayed, with super-friendly hosts  Nina and Anita is perfect if you don't mind walking (about a mile) or catching the bus to the Old Town.
A couple of options closer to the action are the excellent Scalini Palace which is centrally located in the Old Town without the usual expensive price tag, or the wonderful Hilton Imperial Dubrovnik for some old world charm just a short walk from the Old City Walls.  
Remember the Old Town is pedestrianised, so bare this in mind when booking accommodation, as your transport would have to leave you outside the city walls and you would have to make your way to your accommodation on foot if you book in the Old Town.
2 Days in Dubrovnik – Suggested Itinerary
If, like us, you get a chance to spend 2 days in Dubrovnik, here's a suggested itinerary for a little inspiration.  As always, check the opening times of any attractions before your visit.
Top Tip: If you are planning on visiting the historical sites in Dubrovnik, then purchasing a Dubrovnik Card is a good idea. The card gives you entry into many of the city's museums as well as access to the Old Town walls, and as a bonus enables you to use the city's public bus system for free – it's an great option if you want to make the most of time in Dubrovnik.  You'll find more details on the Dubrovnik card here.
Day 1
Walk the city walls: Why not start your day early with an excellent walk around the Old Town walls in the morning.  Take in the fantastic views of the Old Town and the sparkling Adriatic Sea.  Morning is best for this, before the heat of the day kicks in (and it is less crowded).  Set aside an hour or two for this.
Visit the Rector's Palace:   A Dubrovnik must-see is the 15th-century Retcor's Palace (Knežev dvor), an imposing Gothic -Renaissance edifice that now serves as a museum, and was a filming location for some  Game of Thrones scenes.
Explore the Old Town: Take some time, to explore the labyrinthine streets and alleys of the Old Town, where you'll find plenty of souvenir shops, restaurants and cafes nested side by side with historical sites such as the Baroque Church of St Blaise (Crkva svetog Vlaha

) or the ever-popular

Gundulićeva Poljana Market

, an open-air market found in 

Gundulić square.

The Sponza Palace: Home to the State Archives this elegant Renaissance 16th-century palace offers a fascinating glimpse into Dubrovnik's turbulent recent history.

Onofrio's Fountain: Time to take a break and maybe grab an ice cream near the imposing Onofrio's Fountain, a popular meeting point for locals and visitors alike.

The Franciscan Monastery and Pharmacy:   As evening descends, why not visit one of the oldest pharmacies in Europe,  before dinner in one of the many restaurants in the Old Town?
Day 2
Lokrum Island: This morning why not take a ferry to nearby Lokrum Island, and explore its botanical gardens.  If the weather is good, there are many swimming spots on this tranquil island, and ideal should you want to take your own picnic. The peace is only occasionally disturbed by the occasional squawking of the resident peacocks.
Visit Mount Srđ: After lunch on Lokrum Island or back in Dubrovnik Old Town, why not take the cable car up to the top of Mount Srđ for some truly stunning views of Dubrovnik and the nearby islands.
War Photo Limited: On returning back to Dubrovnik Old Town, you may want to visit War Photo Limited.  It is fitting that a country that has experienced so much conflict throughout its history should host this permanent museum of photography exhibits illustrating the stark reality of war and conflicts around the world.
Enjoy a Dubrovnik sunset: As the sun starts its evening descent why not spend that time at the city walls or maybe grab a cocktail at the beautiful, cliffside Buza Bar, with its spectacular views.
A view to dine for: You'll never get bored of the views around Dubrovnik, so why not take one last chance to press them into your memories by having a final evening meal at one of the many restaurants (such as the Gradska Kavana Arsenal) with a great view for your final evening.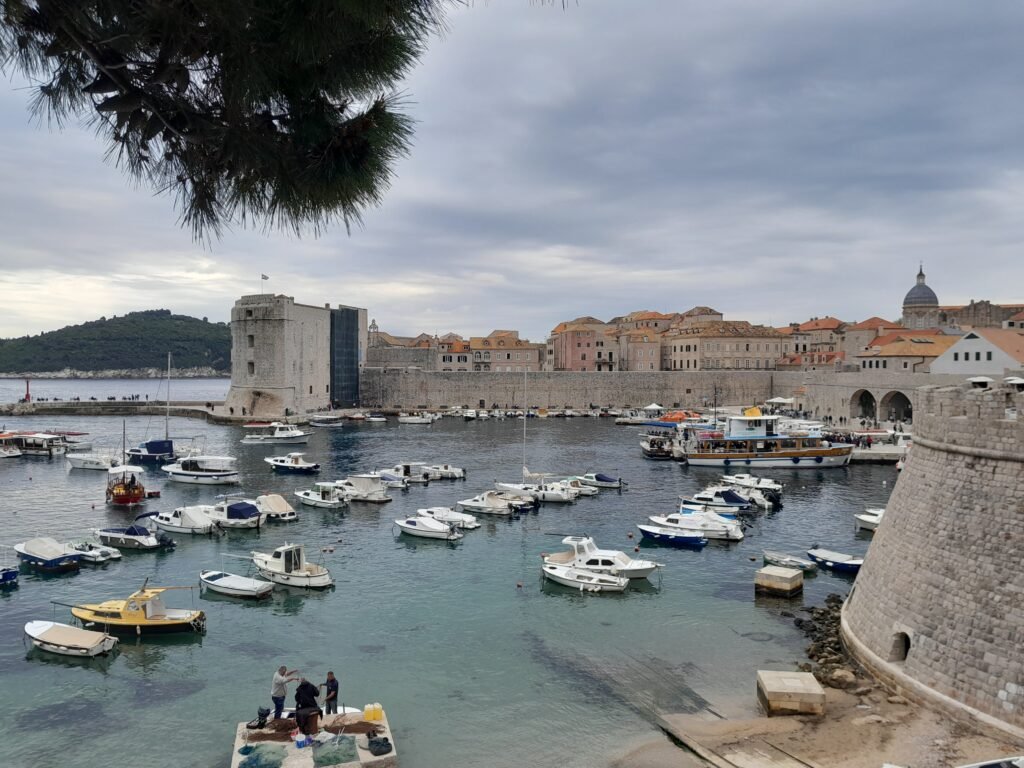 Staying Safe
Dubrovnik is a generally safe city.  Crimes of violence against visitors are very rare.
If you have an emergency, dial 112 for assistance.
Of course, the key thing is to have comprehensive travel insurance coverage to protect against, cancellations, theft, illness etc.