Is Munich worth visiting? If you haven't yet visited Munich, the capital of Bavaria, you may know it for its world-famous beer festival, the Oktoberfest.  But there is a lot more to do in Munich than sampling the local brews.
Boasting an enchanting historical centre, beautiful green spaces, a castle, great German food and the world-famous beer halls there is plenty to see and do in the great city.  So, is Munich worth visiting?  Absolutely!
Positively overflowing with history and tracing its roots back to 1158, Munich has emerged as a European centre of art and history. 
This guide will help you plan your trip to this great city and make the most of your visit.
This post may contain affiliate links to things like hotels, tours or products.  These help us earn a small commission at no additional charge to you and help keep the lights on at Destination Someplace.
Getting into to and from the airport
You have a few simple options for getting into Munich from the airport depending on your budget. They are:
Book an airport-to-city shuttle:  Lufthansa Express Bus will take you straight to Munich central station in about 45 minutes, and this might be the cheapest option. They leave the airport about every 15 minutes.
Take a private airport transfer:  This is the most expensive option, but if you are a small family, or have a lot of luggage this may be the most convenient option.   If you want to guarantee an English-speaking driver and don't want to wait at the taxi rank then you could consider a private transfer with 'Welcome Pickups' – all their drivers are guaranteed to be English speakers.
Catch the S-Bahn Train:  The S1 and S8 S-Bahn lines connect the airport to the Munich city centre and leave at 10-minute intervals. The trip to the main railway station in the city centre takes approx. 40 minutes. 
Getting around town
There are lots of options for getting around Munich, depending on your fitness level and budget.  The public transport systems are safe and reliable. Here are all the main options.  You can use a public transport ticket on all the public transport options( U-Bahn (underground), S-Bahn (overground), trams and buses.  Along with one-way and short-trip tickets, you could also consider a one-day unlimited pass, or if you're in town for a few days a week-long pass might be the best and cheapest option.  Note, that Munich is divided into transport zones, so generally fares increase the more zones your travel through.
Walk:  Munich city centre is compact with many of the main tourist attractions clustered within walking distance of each other, also many areas are pedestrian zones, making exploring by foot easy.  Make sure you stick to the pedestrian pavements in Munich, if you are not used to it, it can be easy to stray onto the adjacent cycle paths, which is obviously dangerous for pedestrians and cyclists alike.
By bicycle:  Go local and hire a bike to explore the city, hire bikes are located around the city and you can hire them by calling a number with the Hire a Bike scheme.  Munich has a vast network of cycle paths which are generally next to the pedestrian paths, making it much safer.
The Underground:  Munich U-Bahn (Underground) system offers a fast and efficient way to explore the city. Tickets can be bought at all the stations before boarding, usually from ticket machines (remember to change the language to 'English' to make the process simple.  Note that the underground is closed between 1 am and 4 am).
The S-Bahn: This is the 'above ground' internal railway system that works in conjunction with the U-Bahn, it also services the more far-flung (suburban) areas of the city.
By Bus:  Munich's local buses are an easy-to-spot blue colour, and you can also use these to get around town.
By taxi:  If you are feeling flush, then getting about by taxi offers an alternative to public transport, but it can be expensive.  You can hail or call one of the city's taxis.  Uber is now also available in Munich, but it isn't really any cheaper than taxis.
By Tram: The Straßenbahn (tram) is also a great way to see the city whilst travelling around it.
Rent a car:  This can be a good option if you want to explore further afield (otherwise I'd stick with public transport).  Note you need to be at least 21 years old to rent a car here.  
Munich City Pass or Card:  If you are staying in Munich for a few days and plan to visit a lot of the major attractions and museums, then a Munich City Pass or Card might be the way to go.  Both offer free unlimited rides on public transport, while the Card offers discounts to museums, and the Pass offers free admission to all the main attractions. Check out the details here.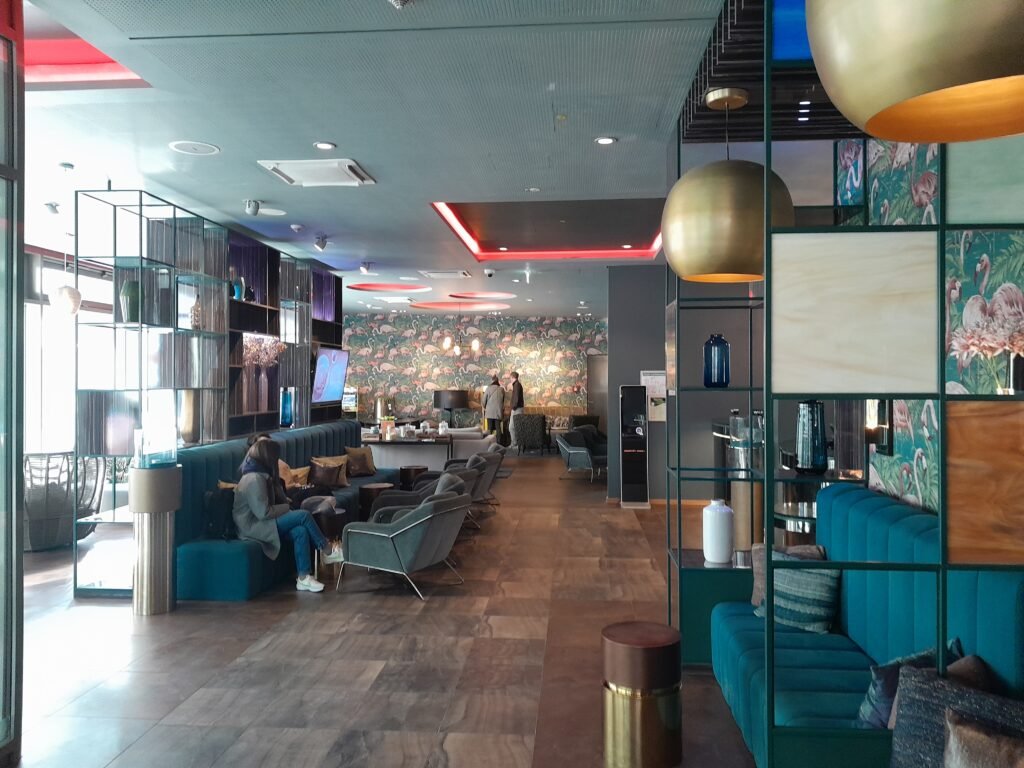 Where to stay in Munich
Here are a few accommodation options for a stay in Munich
A couple of hotels worth considering are Hotel Bayer's which is centrally located without the usual expensive price tag, or a bit further afield the NYX Hotel where we stayed on a recent visit(see photo).
A private apartment such as the Aparthotel Adagio Muenchen City could also be a good option.
Getting to Munich
By Air: You can get to Munich International Airport easily from the UK, plus other domestic locations within Germany as well as international flights across the globe.  I would recommend using Skyscanner to find flights into Munich and if you are flexible when you go/return using the 'search by month' tool to find the most economical flights.
By Train: Germany has a fast and efficient railway network, and Munich is easily accessible from most parts of Germany as well as the rest of Europe.  Check out trains to Munich here.
By Bus: Munich is also easy to reach by bus, I would recommend Flixbus, which is a company based in Germany, but serves the vast majority of mainland Europe and offers cost-effective options to get to Munich.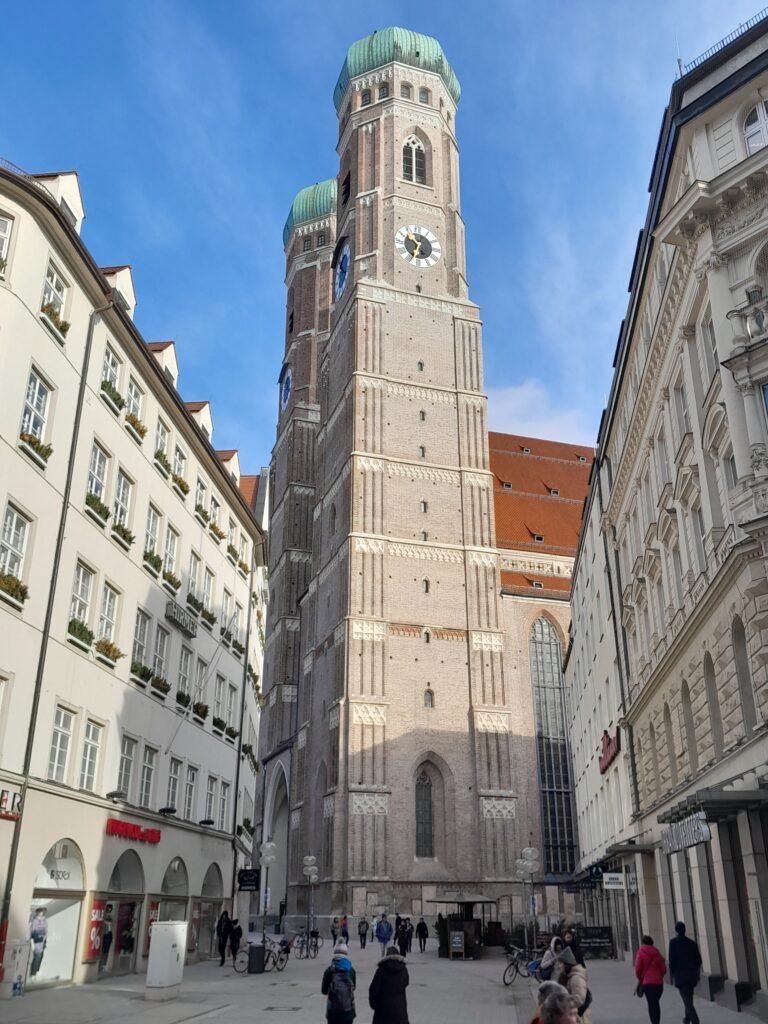 Is Munich worth visiting?  The Top 11 things to see and do
Take a free walking tour: This is always our go-to way of getting an initial feel for any city and learn a lot of the local history, and pick up some useful tips. Although free walking tours are indeed free, please tips your guide at the end of your tour – they will be worth it.
Eat like a local: Bavarian food is wholesome and delicious and no visit to Munich would be complete without sampling the local delicacies such as bratwurst (sausages), currywurst (curry and sausages), sauerkraut (pickled cabbage), pretzels (salty and buttered, with or without a traditional cheesy dip).
Watch the Glockenspiel: Every day at 11am and noon, tourists and locals alike are entertained for a few minutes by the life-size dancing figurines located at the front of the New Town Hall in Marienplatz square. There dance tells of a royal wedding, a joust and traditional dancing from Bavaria's past.
Visit the English Garden: The 'Englischer Garten' comprises of nearly 80 kilometres of trails, this massive park offers numerous places to walk, relax or even have a beer, while you watch the river 'surfers' ride the rapids.
Visit the museums (on a Sunday): On Sunday's Munich basically shuts up shop, so it is a very quiet day if you are visiting the town, but it's a great day to visit some of the many museums.  On Sundays, many museums offer a one euro admission, including the Museum Brandhorst, the Bavarian Museum, Alte Pinakothek, Pinakothek der Moderne,  and the Sammlung Schack.  Some of the other museums offer free entry on other days, for full details visit Munich's tourism website.
Explore the markets: Viktualienmarkt is a farmers market, and as you would expect offers a wide range of locally produced fruit and vegetables, along with flowers and food-based souvenirs. The market is open Monday-Saturday from 8am till about 8pm.
Have a beer (or two) at the Hofbräuhaus: Originally build in 1607 as a brewery, this is now one of the most famous beer halls in Munich.  It was badly damaged during World War II, but completely restored to its former glory in in 1958.  Well worth a visit if you like beer and a great atmosphere. 
Visit Dachau concentration camp: Dachau was the location of Germany's first concentration camp, and so marks the start of a dark era for Europe. It is a sad and haunted place, located 10 miles outside of the city, and is reachable by a 15 minute train ride.  The site is open to visitors daily from 9 am to 5 pm and entry is free. To Dachau Munich Hauptbahnhof.  Visits Dachau can also be booked with Viator.
Take a day trip to Neuschwanstein Castle: Day trips to this famous 19th century Neo-Romantic castle (the inspiration for Sleeping Beauty Castle at Disneyland) usually depart around 9am, returning in the early evening and tours must be booked in advance – this is one of Europe's most popular tourist attractions. 
Walk in the Devil's footsteps: One local legend has it that the architect of the Frauenkirche (a gothic cathedral officially known as "Zu Unserer Lieben Frau" or Cathedral Of Our Dear Lady), made a deal with the Devil.  The Devil would provide funds for the building of the church as long as it remained a celebration of darkness and no windows were built into it.  The architect, Jörgvon Halsbach,  tricked the Devil, however, by placing windows behind columns to block the Devil's view.  When the Devil realised he'd been tricked he stamped his foot in a fit of rage and left the imprint of his foot to this very day.   There are a few different variations to this legend and how the footprint came into existence, but maybe you'll just have to visit to find out the truth.
Watch the surfers on Eisbach River:  Located at the entrance to the

Englischer Garten, rain or shine, you'll find surfers of all abilities practising their skills on the artificial waves here. 
Where to eat
For traditional Munich meals, it is always a good bet to visit one of the beer halls throughout the city such as the Hofbräuhaus or the Augustiner Braustuben.  The Haxnbauer restaurant is another well-known eatery for hearty Bavarian food.
Munich is not all about traditional Bavarian fare, the town is a cosmopolitan mix of bars and restaurants such as Bar Centrale in the heart of the old town, which serves a delicious range of Italian pasta dishes.
There are also many vegetarian-friendly restaurants in Munich such as Blitz or the long-established Tushita Teehaus.  The vegetarian/vegan scene has flourished over the last decade in Munich so you won't be short of places to try.
Is Munich worth visiting if you are a foodie, we think so!
Top Tips – Munich
Use Omio to compare buses versus trains, very useful.
For Hotels including self-catering apartments we use Booking.com, where you can filter by review score and many properties have a pay later/late cancellation policy should your plans suddenly change.
Check our resources page for more budget tips and discounts from our days in transit! 
Is Munich Worth Visiting: When to visit
Is Munich worth visiting all year round? Yes, Munich is a great town to visit all year round, but things certainly pick up in the Spring as the gardens start to bloom, but it can still be cold and rainy, so pack the appropriate gear.
Summer is when the town is at its busiest, and the weather is generally hot, with an average of 24 degrees C.  Many people converge on the beer gardens and nearby lakes to make the most of the Summer days.
Autumn is also popular for visiting Munich, mostly because of the world-famous Oktoberfest which spans the end of September to the early part of October.   If you are planning to visit for the Oktoberfest book your accommodation well in advance as the hotels are full this time of year and the prices can double or even triple.
A Munich winter is generally cold, and it often snows, so dress appropriately.  The main draw in the Winter are the Christmas markets, and accommodation prices are usually cheaper in the Winter.
Main Festivals
If you want to coincide your visit to the city with a festival here's just a small selection of them:
Starkbierfest (Strong Beer Festival): Also known as the small Oktoberfest, this event takes place for 3 weeks in March every years and takes place over the many beer halls in Munich.
Tollwood festival:  This takes place in the Olympia Park in Munich and features an array of musical acts and theatrical performances.  It takes place from late June to early July for three weeks every year.  The easiest way to get to the Olympia park is to take the underground (U3) and exit at the station 'Olympiapark'.
Kaltenberg Knights Tournament:  This jousting, sword fighting and horsemanship festival celebrates all thing middle ages and takes place at the Kaltenburg Castle every July.  To get there take the S-Bahn (S8) from Munich Central Station to Geltendorf, then, once there,  follow everyone else to the shuttle bus, which will take you to the castle.  It gets busy and Kaltenberg is a small village, so I wouldn't recommend driving there, as you'll probably end up stuck in a traffic jam.
Oktoberfest:  Originating from 1810, this annual festival is held over a two-week period ending on the first Sunday in October. Find all the details here.
Staying Safe
Munich is a generally safe city, and crimes of violence against visitors are rare, but like many major cities petty theft and pickpocketing do occur especially in crowded tourist spots or busy public transport.  So keep your valuables safe and out of sight.
If you have an emergency, dial 112 for assistance.
Of course, the key thing is to have comprehensive travel insurance coverage to protect against, cancellations, theft, illness etc.  For this, we use and recommend using  Staysure – specialists in over 50's travel insurance, as we have always found them fair and easy to deal with.