Puglia, the land of the marvellous Trulli (traditional, dry stone dwellings with conical roofs), like all of Italy, loves festivals, and in Puglia, there is a whole range of festivals taking place every single year.  This article gives you the specifics on some of the festivals in the Puglia region of Italy by month and location.  Dates and locations are approximate, so always confirm dates and timings with the local tourist office before you make firm plans.
Due to Puglia's great climate, the majority of festivals are outdoor proceedings and take place in the warm Summer months, and often focus on the twin Italian passions of food and religion.
This post may contain affiliate links to things like hotels, tours or products.  These help us earn a small commission at no additional charge to you and help keep the lights on at Destination Someplace.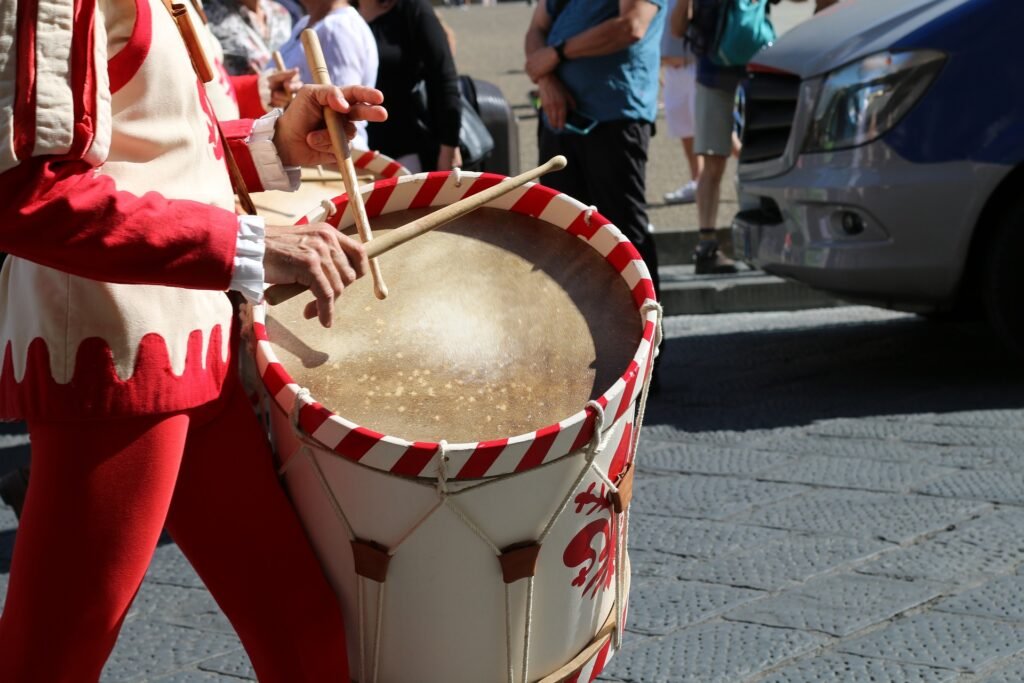 January
Lecce – Puccia dell'Ampa Festival:  In mid-January, the attractive town of Lecce takes an entire weekend to celebrate 'Puccia dell'Ampa', which is local wood baked bread, often stuffed with aged ricotta or pickles.  An excellent event for all the foodies out there. 
Putignano –Carnivale di Putignano: This is said to be one of the oldest carnivals in the world, this annual event is nothing short of spectacular, featuring processions of elaborate, allegorical floats featuring an array of over-the-top characters such as priests, nuns, widows, madmen and cuckolds. The festival officially starts on the 26th of December (but really gets into gear from January 17 th, with the feast of Sant'Antonio Abate, and finishes on Shove Tuesday.
February
Celenza Valfortore – Fest  della Pignata:  Puglia has a well-deserved reputation for being the best in seafood and this particular festival is dedicated to the eight-limbed mollusc – the octopus.
March/April
Easter is a massive celebration throughout the whole of the Italian peninsula, and this is equally true for the festivals in the Puglia region of Italy:
San Marco – "Fracchie" Procession: Taking place on Good Friday, the town of San Marco in the north of Puglia plays host to the 'Fracchie' procession, where the townsfolk split cone-shaped tree trunks in two and stuff them with kindling, splinters and dry branches, and turn them into enormous, fiery torches for a spectacular procession through the town and to illuminate the path of the Madonna.
There are too many festivals celebrating Easter in the Puglia region to mention here, so if you do find yourself in this part of the world over the Easter period, be sure to check in with the local tourist office to see what other festivals are happening locally.
Alongside the religious Easter celebrations, there are many other festivals in the region over this period including the ones below:
Vieste – Festival of San Giorgio:  This festival celebrates the humble 'frittato', which is an omelette a little similar to the Spanish tortilla.
Alberobello – Sagra dei Tarallucci e Vino: This festival, which usually takes place in late April, celebrates the traditional 'taralli',  ring-shaped biscuits – in either sweet or savoury variants and taken with wine.
Where to stay in Puglia
Puglia (aka Apuglia) is a diverse and geographically long region, so there are many options for staying in the area.
If you want to be near the beach, then the Hotel Sirena located near Peschici is a good option.
Or if you head South, then the Signuria Dimora Esclusiva which is in the provincial capital of Lecce could be a great base.  
If you are staying in Puglia for anything more than a few days, it may be worth considering booking two bases (North and South of the region) to minimise any long drives and make the most of Puglia.  As always we recommend Booking.com for maximum accommodation flexibility.
May
Bari – Festa di San Nicola:  This festival is in honour of Bari's patron saint (who also happens to be the patron saint of sailors).  This very popular event draws visitors from around the world with flotillas of boats, parades and of course, the obligatory fireworks.
Ortranto – Truffle Festival:  Yet another food festival, this time the focus is on that pungent, expensive and hard-to-find delicacy, the truffle.  No sniffer dogs (or pigs) are required for this festival, as the streets will have plenty of stalls dedicated to this delicacy.
Leverano, Conversano, Turi and many other towns – Sagra della Ciliegia Ferrovia Festivals:  Taking place in many towns throughout Puglia in May and into June, the region celebrates the wonders of the unassuming cherry.  The town of Turi is the epicentre of this Cherry-Fest, as it is home to the most cultivated cherry in Italy, known as the 'Railway Cherry' due to it being originally found growing close to the railway tracks heading south-east towards Sammichele di Bari. 
Getting to Puglia 
Fly:  At the last look at flights started from £20 from destinations including the UK to the main airport in Puglia – Bari (also known as Karol Wojtyła Airport), although not all flights are direct.  We generally check with Skyscanner for flights and if you are flexible with your travel dates, use the 'search by month tool' to find the cheapest flights.
Train: Train connections, like the rest of Italy, are generally good, especially between the major hubs. However getting to the smaller, out-of-the-way towns may not always be possible on trains. Use Rail Europe to search for trains in Puglia and Italy.
Bus: The Flixbus service covers the main towns and also can get you from/return you to the main hubs of Bari and Brindisi.  Otherwise, the local bus services are also very good and inexpensive.  
How to get around Puglia
Puglia is a very long, thin region, so we often find the best way to travel is by car.  That way you have the option of travelling to the less well-known spots in Puglia such as appear in this guide.  If we hire a car we tend to use AutoEurope as our first choice as this website compares car rentals across Europe and further afield.If you planning to visit the main towns then local buses or trains as above will generally suffice.
June
Brindisi – Negroamaro Wine Festival:  Usually taking place in the first half of June (but it does vary, so check with the tourist board), this festival celebrates with streets lined with wine tasting stations (of course), street food and live music and dancing.
Otranto – Festa San Pietro e Paolo: Featuring a series of events based around food (of course) and folklore, this festival combines fun and culture with great local food, and usually takes place towards the end of June.
July
Crispiano – Carnevale del Brigantino:  The Carnival of the Brigantino, takes place at the end of July (check locally for exact dates).  This festival features a masked procession that winds through the streets of the town, along with wine(of course), music art and local delicacies such as liver, sausage, snails and bread.
August
Felline – Sagra della Polpetta: This festival focuses on one of my Italian food favourites – Polpette! (also known as meatballs).
Sannicandro di Bari – Orecchiette:  This small town pays tribute to the local Orecchiette pasta (literally 'little ears' because, well, that's what they look like).
Melpignano – Taranta Festival: Involving around 15 towns of the Lecce province this month-long festival of dance culminates with a grand finale in the town of Melpignano.  Featuring late-night dancing in the streets and piazzas until into the early hours celebrating the region's unique folk music and dance known as the "tarantella" or "pizzica", whose origins are centuries old, and believed to date from pagan times.
Top Tips – Puglia 
Use Omio to compare buses versus trains, very useful.
For Hotels including self-catering apartments we use Booking.com, where you can filter by review score and many properties have a pay later/late cancellation policy should your plans suddenly change.
For travel insurance we use and recommend using  Staysure – specialists in over 50's travel insurance, as we have always found them fair and easy to deal with.   
Check our resources page for more budget tips and discounts from our days in transit! 
September
Bari – Sammichele: The port town of Bari celebrates its local sausage speciality in this festival, culminating in a great feast with mozzarella and plenty of vino rosso.
October
Muro Leccese and Ortelle  – Maisle Celibrations:  Both these towns celebrate roast pork (maiale), a traditional dish for many generations, now used to create speciality dishes in many Puglian restaurants.
Whenever and whichever festivals in the Puglia region of Italy take your fancy when you visit Puglia, always check dates and times with the local tourist boards when making your plans.  This is especially important due to the disruption over the last few years or so due to the Coronavirus pandemic. We endeavour to keep this list current and accurate, but it's always best to check before dates and locations locally.