How to Use the Italian Train Network
If you have ever visited Italy, you may know that while traveling the highways and byways of the Italian peninsula by car can be great, it also has some disadvantages. Car hire in Italy is currently some of the most expensive in Europe; whether this is down to the Italian drivers' reputation for speed and impatient hand gestures (all probably unfounded) or the random bumper-to-bumper stop/starting in cities such as Rome and Naples, who can say. So, although driving is probably one of the most flexible ways of getting around, it can also be one of the most stressful.
Using Italian trains can be a great alternative.
Here are the options for traveling around Italy without getting behind the wheel of a car, and letting the train take the strain instead.
This post may contain affiliate links to things like hotels, tours or products.  These help us earn a small commission at no additional charge to you and help keep the lights on at Destination Someplace.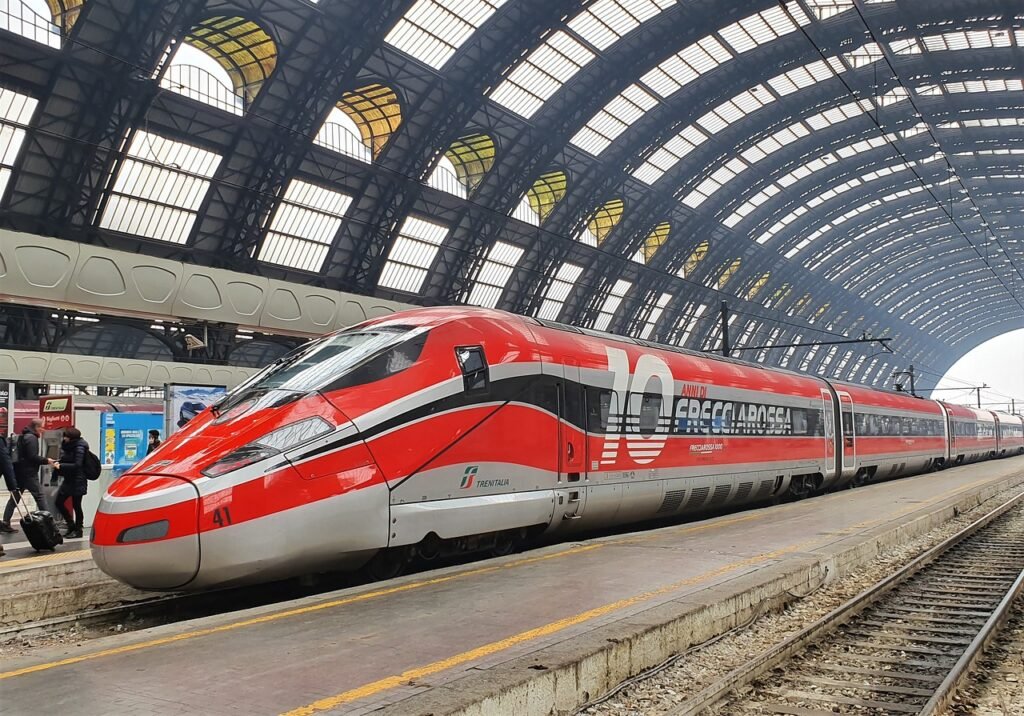 Italian Train Companies
There are two national rail companies operating in Italy, plus a few regional ones.
Formed in the year 2000, the primary national railway company is Trenitalia which is government owned and operates regional trains, plus the faster EuroCity, InterCity, FrecciaBianca (white arrows), FrecciaRossa (red arrows), and FrecciaArgento (silver arrows) trains. Note that for all the faster trains named above you will need to make a reservation, and this will need to be for a specific train and a specific seat.
The other main company is the privately owned Italo, which includes serving the major northern cities of Milan, Turin, Bologna, Florence, and Venice, along with lines stretching down to Bari and Naples.  At the last count Italo reaches 51 cities and 59 stations throughout Italy. If using Italo, definitely book your tickets in advance for the best prices, but compare them with Trenitalia before purchasing to ensure you get the best deal.  Italo is improving its services all the time, its latest route (at the time of writing) is a non-stop service from Milan to Rome taking a mere 3 hours 10 minutes – Trenitalia also do this route – so check both options to get the best price.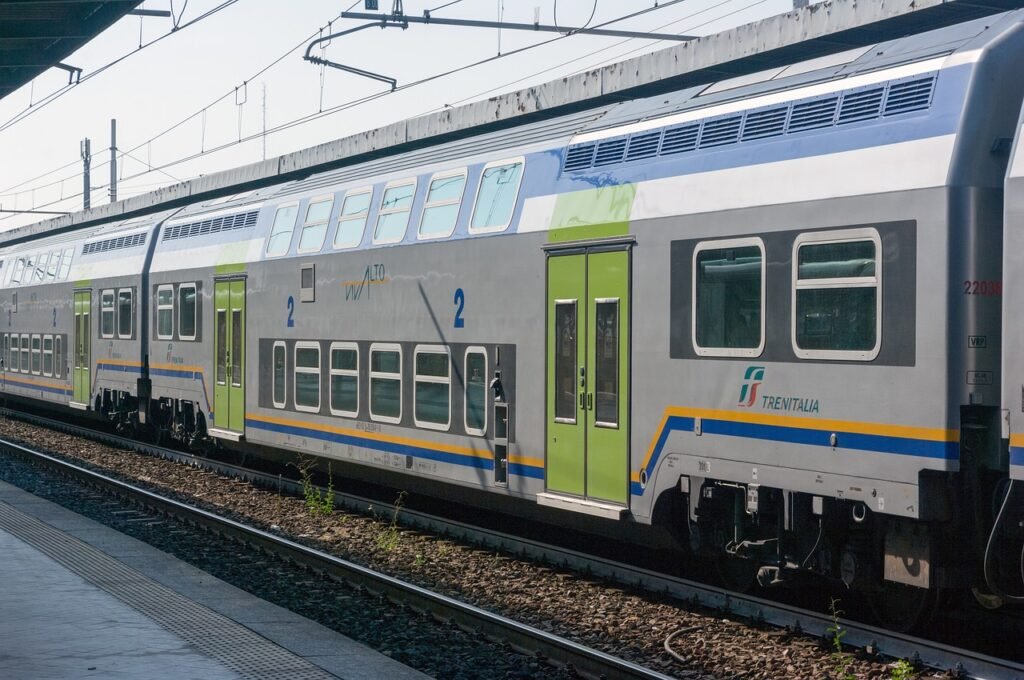 High-Speed Trains in Italy
Many years ago, Italy had a poor reputation when it came to its railway network; however, due to very significant investment over recent years, the infrastructure now supports several high-speed train routes that often enable you to travel between major Italian cities faster than you would be able to via plane. Also, you can now book tickets for high-speed trains online in advance, usually for a very reasonable price. This is a great way to get between the major tourist hubs while avoiding the hassle of sitting in a traffic jam or waiting in line at an airport.
Italy is a stretched-out country, so if you are planning a long journey such as Rome to Sicily, then it might be worth considering a sleeper train, which is both secure and comfortable and helps you save on flight and/or accommodation costs.
Using Local Trains in Italy
The local train network has a large number of branch lines enabling you to get to most places you might need to go. Obviously, by definition, this is a slower way to travel than the high-speed trains, but your choice of potential destinations expands greatly and these services are usually inexpensive. They are also a great way to explore the smaller Italian town and countryside.
All trains will generally deliver you right into the centre of your destination town. A few exceptions might be some of the hill towns where the gradient might be too steep. In these instances, a bus service will often connect you with the town centre, as is currently the case in Sienna and Perugia.
Note that you cannot always prebook a seat with local trains, so in very busy periods you might end up standing for a while.
How to Buy Tickets For Italian Trains
For local trains, you can generally buy your ticket at the station, using the counter or more likely the self-service machines on the platform or in the main foyer.
Regional train tickets bought in the station often have an open validity and no reservations, and so they will need to be validated to confirm when they'll be used so they can't be used over and over again. You must ensure that you validate your ticket using one of the self-service machines that are on the platforms before you get on the train (this prints a date and time stamp on the ticket). The validation machines are usually yellow (the old versions) or green and white (the newer versions). Failing to validate your ticket before boarding your train could result in a hefty fine, so please remember to do it.
A reserved ticket, whether bought online or at the station doesn't generally need to be validated prior to boarding the train.
For all trains including high-speed services, you can book your tickets through online via RailEurope which will always show the best options regardless of train company operates the service. The other option is to go direct to Trenitalia or Italo's website or app. Of course, you can always buy them directly at the station (at the counter or ticket machine).
Tips for Trains
If you book on the Trenitalia website, it will tend to show the more expensive (often the fastest) journeys first. When the screen pops up detailing the fares for your required journey, click on the 'Regional Trains' box and it will usually show you the cheapest fares.  Just something to be aware of.  The last time I checked, the 'Regional Trains' box wasn't appearing on the Trenitalia app, so stick to the website version to do this.
More Tips for Using Trains in Italy
You can do a similar thing if you are buying your ticket from a ticket machine in the station. Look for the button marked 'Show all connections,' and it will do exactly that, allowing you to take the cheapest routes if you don't mind a few changes.
Using the Metro Systems Within the Major Italian Cities
Unsurprisingly, Rome and Milan have the largest metro systems in Italy, but Naples, Genoa, and Turin also boast underground railway systems.
The metro systems in all these cities are cheap and easy to use and navigate, especially if you are used to the London Underground; you will find getting around Rome a breeze.
Buses and trams are often integrated into these urban transport systems and, in most cities, you will be able to purchase one ticket that can be used on the different types of transport. Take care—as like the trains, you will often have to validate your ticket prior to use – on most town buses the validation machine is usually on the bus.  Traditionally tickets for local buses can be bought at nearby tabacco (tabaccheria) shops, which often indicated by a big 'T' hanging outside the door, but the trend seems to be going that you can sometimes buy tickets on the actual buses themselves, especially in the major towns, and of course sometimes you may be able to using contactless (post Covid), but don't count on it.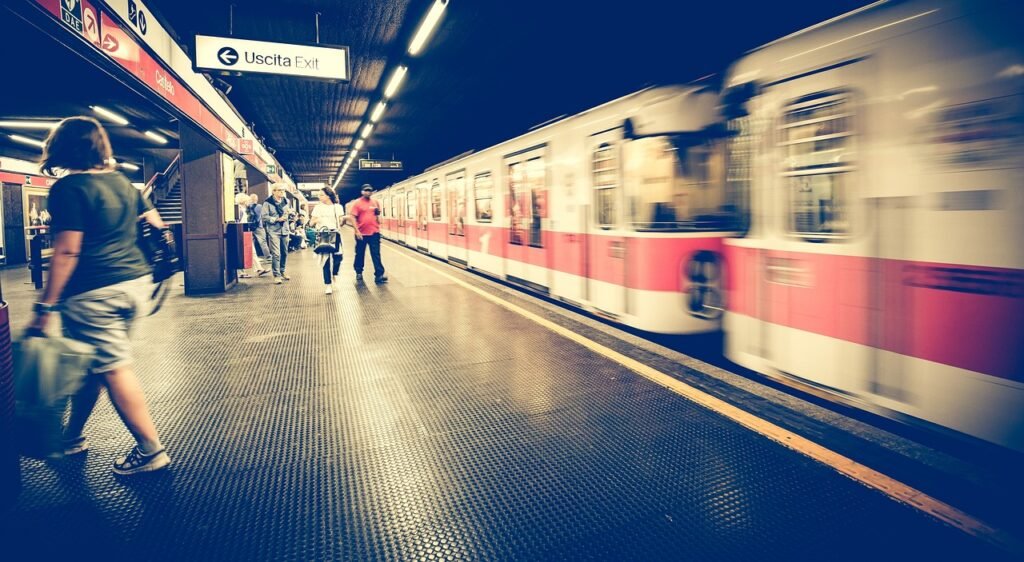 Useful Phrases
Parteze = Departures
Binario = Platform/track
Carrozza = Carriage
Prenotatazione = Booking/Reservation
Regionale = Regional (trains)
Regionale Veloce = Fast regional (trains)
Biglietteria = Ticket office
Biglietteria electronica = Electronic ticket machine
Biglietto cartaceo = Paper ticket
Biglietto elettronico = e-ticket
Good to Know
It is worth noting that all public transport in Italy including trains tend to run fewer services on Sundays, public holidays, and saints' days, so bear this in mind when planning your travel itinerary.
Be aware that train stations are often crowded and so can prove profitable hunting grounds for pickpockets, especially in the larger tourist hotspots, so be sure to keep your valuables safe and secure.
Note that larger cities such as Rome or Milan may have more than one railway station, so if you are going to the centre, make sure you purchase a ticket that takes you to the correct station. Often, the main station is the name of the town followed by the word 'centrale' (central)—an example would be 'Napoli Centrale'—but this is not always the case.
Staying Safe
Travelling in Italy by train is usually safe but as mentioned above, in  many major cities petty theft and pickpocketing do occur, especially in crowded tourist spots or busy public transport.  So keep your valuables safe and out of sight.
If you have an emergency, dial 112 for assistance.
Of course, the key thing is to have comprehensive travel insurance coverage to protect against, cancellations, theft, illness etc.  For this, we use and recommend using  Staysure – specialists in over 50's travel insurance, as we have always found them fair and easy to deal with.