Grand European Tour – Brussels to Berlin, What Could Possibly Go Wrong?
This is another in a series of blog posts detailing our 10-country trip around Europe on trains, buses, cars and ferries.  This post focuses on how we got from Brussels to Berlin by Train.  All the posts highlight what we got up to (without the boring bits) along with some tips and helpful overviews should you wish to visit the same destinations. You can see all the posts from this trip here.
After our brief sojourn in Brussels, we were heading for Berlin next.  So after a quick checkout from our hotel and even swifter a taxi back to the railway station to catch our 8.12 am train for Berlin via Cologne, we were on our way. 
Just over a couple of hours later we were in Cologne, however, our train for Berlin did not show, and we were left on the platform twiddling our interrailing thumbs, with no information appearing on the notice signs – two days into our trip and we were already dazed and confused by the European rail network. So for a while, we did not understand what was going on.  
On further investigation, all trains to Berlin had been cancelled for two days, including today, due to an accident.  The Deutsche Bahn desk at the station came to the rescue,  working out a different route via Dusseldorf, and even printing out which connections to get at what time, and the relevant platforms – thank you DB.  We were in a bit of a rush now to make our connections, so that certainly helped.
This post may contain affiliate links to things like hotels, tours or products.  These help us earn a small commission at no additional charge to you and help keep the lights on at Destination Someplace.
Berlin By Train – It All Goes Wrong Again
An hour or so later, having made the connection, we were on our last train of the day from Dusseldorf to Berlin – back on track and feeling pretty pleased with ourselves even if we were running a couple of hours behind schedule.
So far so good?
No, not really. At this point I thought I'd try and catch up with the notes for this blog, so I dug into the rucksack for the laptop.  It was gone! Queue sick feeling in the pit of our stomachs.   We couldn't believe it, we had been so careful.  The rucksack had not been out of our sight for the entire journey… except when we left it in the hotel room in Brussels while we went to dinner…
We had about 5 hours on the Dusseldorf/Berlin train that day, and we spent most of it changing passwords so whoever had taken the laptop, could not access our data, calling the hotel to report the theft and getting friends at home to check we hadn't left it at home in England.  After about 8 hours on trains/in railway stations our first full day out of the UK had turned into a bit of a nightmare. 
Nevertheless we had arrive at our destination.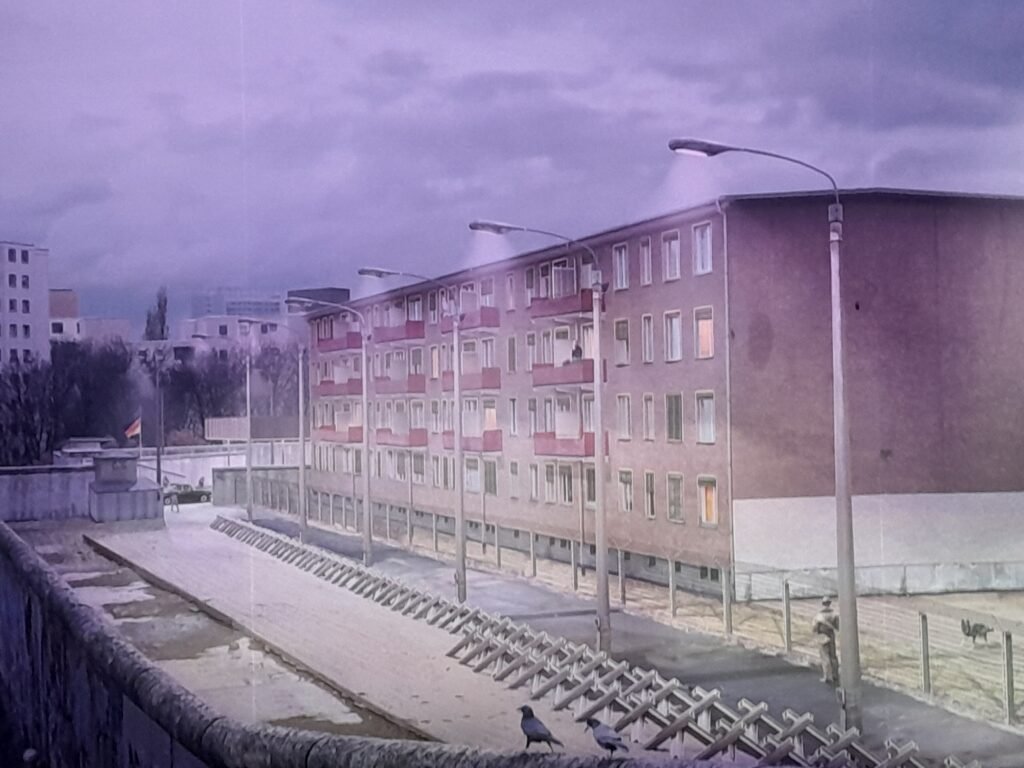 Berlin – A Walking History Lesson
We stayed in the Berlin Holiday Inn Express, which is within walking distance from Potsdamer Platz, the U-Bahn station and Checkpoint Charlie, so for us a good location.  The hotel was what you'd expect, cost-effective, clean and efficient.  However, because it was the Easter holidays it was also rammed to the gills, so breakfast was a bit of a bun fight unless you got there very early or very late.
Berlin is spread out, so we spent the first day there getting our bearings and visiting the more obvious tourist hot spots such as Checkpoint Charlie (where we visited The Asisi Panorama Berlin – an 18-metre-high complex that depicts life around the Wall in the 1980s courtesy of the Berlin artist Yadegar Asisi – it certainly draws you into that dark period of European history, and well worth the admission fee), the Brandenburg gate and the Reichstag.
In the evenings we ate close to the hotel at a local restaurant across the road from the hotel, the Ristorante Diomira, which did traditional German food along with the Italian staples of pasta and pizza and Mama Cook (Asian fusion cuisine), which were both great and not pricey.
Using The Public Transport System in Berlin and Visiting Cool Alexandre Platz
On the second day, we wanted to travel further afield so after sampling some mulled wine at one of the market stalls outside of Potdamer station, we got a day ticket for the public transport, and hopped on and off the U-Bahn for most of the day.
In between taking trains, we strolled through the beautiful Tiergarten Park which is dominated by the Victory Column (or Siegessäule) and its gilded Victoria, and then along the River Spree.
Public transport in Berlin like the rest of Germany is pretty straightforward to use and is based on an honour system, so there are no turnstiles/checks at the stations, but beware if you get caught without a ticket by an inspector as you will inevitably get an immediate and hefty fine.  Remember if you use public transport to validate your ticket (with date/time stamp) before boarding any transport.
On our final full day in Berlin, we took to our feet again and spent a relaxing day with coffee and ice cream, taking in a few more of the sights of this splendid city, ending the afternoon in the Alexandre Platz in the centre of East Berlin, where I failed to persuade Barbara up the iconic Berlin Television Tower.
Getting to Berlin
By Air: You can get to Berlin Airport easily from the UK,  as well as via international flights across Europe.  Try using Skyscanner to find flights into Berlin.
By Train: If you want to travel to Berlin by train, then Germany has a fast and efficient railway network including the IC and ICE high-speed trains, and Berlin is easily accessible from most parts of Germany as well as the rest of Europe.  Check out trains to Berlin here.
By Bus: Berlin is also easy to reach by bus, I would recommend Flixbus, which is a company based in Germany, but serves the vast majority of mainland Europe and offers cost-effective options to get to most major cities.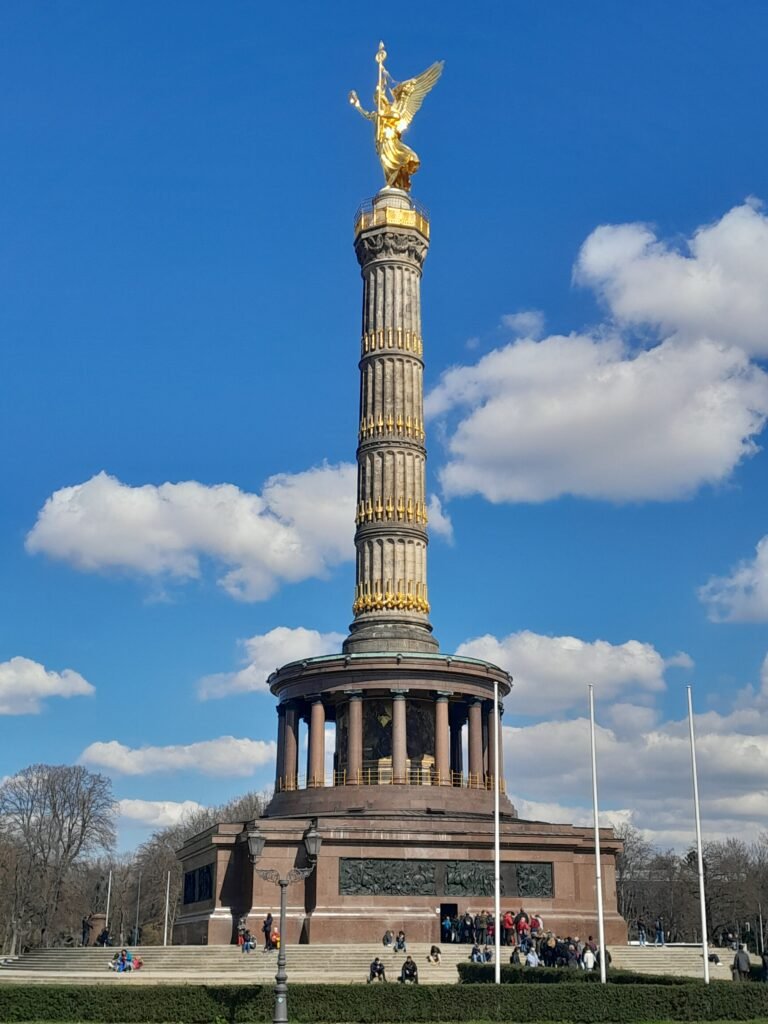 Berlin: Getting to and From the Airport
If you decide to fly to Germany, here are a few simple options for getting into Berlin (Berlin Brandenburg Airport) from the airport depending on your budget. They are:
Take the train: The airport has its own train station which you'll find is located in Terminal 1 on level U2.  From here you can get connections to all the major cities in Germany including, of course, Berlin.  The Airport Express plus several regional trains run regularly between the centre and the airport, along with the S9 and S45 commuter trains which run every 20 minutes to Berlin city centre. Full details can be found here.
By bus: Express buses depart from bus stops A 2 resp. A 6-7. These can be found on the arrivals level (E0) of Terminal 1; directly in front of the building. Full details are here.
Take a taxi:  If you arrive at Terminals 1 or 2 use the north and south taxi ranks in front of T1 on Level E0.  Always use official taxis which are clearly marked.
Hire a car:  Of course, if you want the flexibility of your own transport, to rent or pick up a vehicle at the Terminals 1-2 location, you can use the service counters of the various rental car providers on level E0 of Terminal 1.  If you book online we recommend AutoEurope for comparisons between providers to get the best deal.
Getting around town
There are lots of options for getting around Berlin.  The public transport systems are safe and reliable. Here are all the main options.  You can use a BVG (Berliner Verkhrsbetriebe) public transport ticket on all the public transport options: U-Bahn( Subway), S-Bahn (overground), trams and buses.  Along with one-way and short-trip tickets, you could also consider a one-day pass, or if you're in town for a few days a week-long pass might be the best and cheapest option.  Note, that Berlin is divided into three transport zones, so generally ticket prices increase the more zones you need to travel through.  You can purchase tickets from ticket machines at stations or via the BVG app.
Walk:  Berlin city centre is pretty flat and quite a lot of the main tourist attractions are within walking distance of each other in the city centre.  Although,  you may need to avail yourself of public transport if you want to go further afield. 
By bicycle:  Berlin has a great network of cycle paths making this a great way to explore the city.
The Underground:  Berlin's U-Bahn (Underground) system offers a fast and efficient way to explore the city. Tickets can be bought at all the stations before boarding, usually from ticket machines (remember to change the language to 'English' to make the process simple.  The U-Bahn covers the central areas of the city and links to many of the main tourist hot spots.
The S-Bahn: This is the 'above ground' internal railway system that works in conjunction with the U-Bahn, it also services the more far-flung (suburban) areas of the city.
By Bus or tram:  Berlin's local buses and trams service many of the areas not served by the U-Bahn/S-Bahn network.  
By taxi:  If you are feeling flush, then getting about by taxi offers an alternative to public transport, but it can be expensive.  Uber is now also available in Berlin, as is their competitor Lyft.
Where to stay in Berlin
Here are some accommodation options for a stay in Berlin.
A couple of hotels worth considering are the excellent Mandala Hotel  which is centrally located, or a bit further afield to the  Holiday Inn Express Berlin City Centre where we stayed on a recent visit (note: it's actually about a mile from the centre).
Top Tips – Berlin
Use Omio to compare buses versus trains, very useful.
For Hotels including self-catering apartments we use Booking.com, where you can filter by review score and many properties have a pay later/late cancellation policy should your plans suddenly change.
Check our resources page for more budget tips and discounts from our days in transit!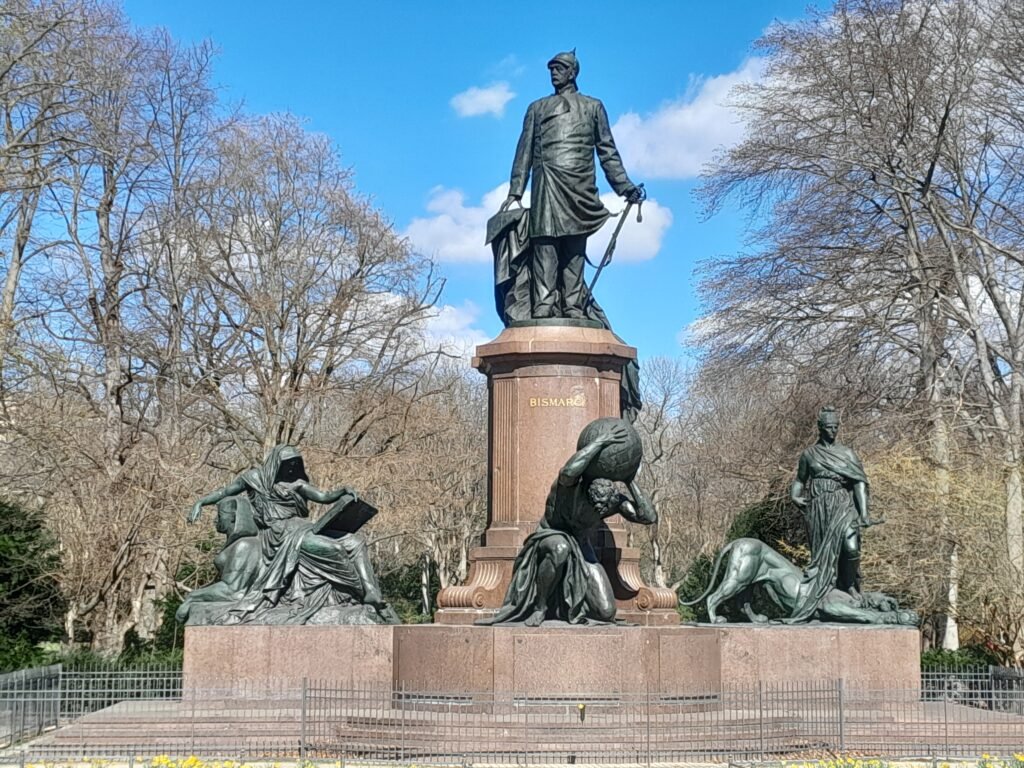 The Top 10 Things to See and Do in Berlin
There is no shortage of things to see and do in this magnificent city, here are just a few:
Brandenburg Gate: Originally constructed between 1788 and 1791, this 18th-century neoclassical monument needs little introduction as a symbol of a Berlin, first divided by The Wall during the Cold War,  and after the fall of The Wall, of a re-unified Germany – simply a must-see landmark. It is located in Pariser Platz, it's difficult to miss.

Berlin Wall: No visit to Berlin would be complete without seeing The Wall, which once divided the city for nearly thirty years and in many respects shaped it. 

Checkpoint Charlie: Also known as  Checkpoint C, this was the most famous Berlin Wall crossing point between East Berlin and West Berlin during the Cold War years.  It was a place of human drama, bravery and sadness during those years,  and you can almost sense that when you touch the remains of it today. 

Reichstag Building: This is the German parliament building, but was the national parliament of Nazi Germany from 1933 to 1945.  It features a stunning glass dome offering panoramic views of Berlin. It is best to book in advance if you want to visit inside the dome itself.

Holocaust Memorial: This striking memorial to the Jewish victims of the Holocaust, comprises a field of concrete slabs and serves as a sombre reminder of the enormity of the Holocaust. The information centre nearby provides historical context.

Tiergarten: This is a peaceful escape in the heart of Berlin, and is its largest park. Great for walking, cycling, or having a picnic. If you have a head for heights, don't miss (you actually can't miss it!) the Siegessäule (Victory Column), offering fantastic views from the top.

Museum of Natural History: If museums are your thing then a visit to the Museum für Naturkunde should be on your to-see list.  Home to Brachiosaurus brancai dinosaur which stands 13.27 metres tall and is currently the tallest mounted dinosaur skeleton in the world, who, incidentally, goes by the nickname of Oskar.  The museum also features many permanent and special temporary exhibitions on palaeontology, evolution, and biodiversity, among others.

Alexandre Platz: A cool and bustling square, known as 'Alex' by the locals. The square features the Berlin TV Tower, the World Clock, and the Fountain of Friendship between Nations – all icons of Berlin culture.  

Explore the East Berlin Neighborhoods: Dip into the cool charms of neighbourhoods such as Mitte, Prenzlauer Berg, and Friedrichshain. Brimming with trendy boutiques, cosy coffee shops, and the remnants of East Berlin's chequered history.

Charlottenburg Palace: The largest palace in Berlin, showcasing opulent Baroque and Rococo architecture.
Where to eat
To eat like a Berliner, you could try Zur Haxe, a traditional family restaurant featuring German/Bavarian fare. Or Schnitzelei Mitte, which, as you might have guessed focuses its menu around classic schnitzel options and German tapas.
German traditional food is often perceived as 'meat-heavy', but of course, there are many other options around this cosmopolitan city for eating cuisines around the world for lighter dishes, as well as many vegetarian-friendly restaurants such as Vaust Braugaststätte Berlin.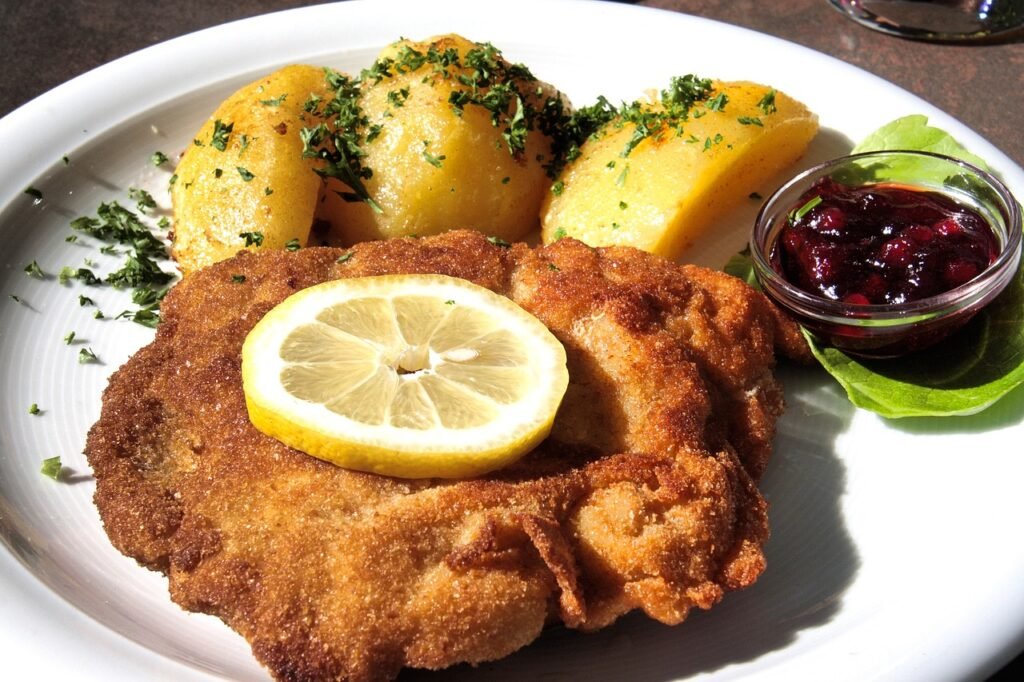 Staying Safe
Berlin is a generally safe city so the chances of being a victim of crime are low,  and crimes of violence against visitors are very rare, but like many major cities petty theft and pickpocketing can occur especially in crowded tourist spots or busy public transport.  So keep your valuables safe and out of sight.
If you have an emergency, dial 112 for assistance.
Of course, the key thing is to have comprehensive travel insurance coverage to protect against, cancellations, theft, illness etc.  For this, we use and recommend using  Staysure – specialists in over 50's travel insurance, as we have always found them fair and easy to deal with.