Grand European Tour – Or How We Wanted To Travel Like Teenagers Again
This is the first in a series of blog posts detailing our 10-country trip around Europe on trains, buses, cars and ferries.  All the posts highlight what we got up to (without the boring bits) followed by some tips and helpful overviews should you wish to visit the destinations. You can see all the posts from this trip here.
In this post, we detail how we got to Brussels by Eurostar.
In the very distant past, when I was young, I got my first taste of Europe. 
Sixteen years old and having left school with a clutch of very mediocre exam results, and finding myself at a loose end looking for work at the butt end of a recession (yes, they've always been around), I was offered the opportunity to travel.  I seized the opportunity.  Three months later, I returned to England a changed (young) man.
Like the traditional journey, often taken by the young nobles of Europe in the 17th and 18th centuries, I had experienced my own Grand European Tour.  Although I, of course, wasn't noble, or even grand, I believe that first Grand Tour opened my young mind as only travel can.  I have never forgotten it.
Now on the wrong side of sixty, it seemed like the right time to experience Europe like that again (although this time we would take small wheeled suitcases rather than a rucksack weighing the same as a small Volkswagen!).
My wife, Barbara, as always, was up for it (as we say in Yorkshire). 
That is when synchronicity came into play.
This post may contain affiliate links to things like hotels, tours or products.  These help us earn a small commission at no additional charge to you and help keep the lights on at Destination Someplace.
Interrail – Also For The Young At Heart
Interrail offer travel passes that allow individuals to explore Europe by providing unlimited train travel within specific time periods and across multiple countries.  A flexible and cost-effective way to travel Europe in an affordable and environmentally friendly way.
Last year was the 50th Anniversary of the Interrail, the organisation initially set up to help students travel around Europe on a budget.  To celebrate the anniversary, Interrail were offering passes with 50% off their usual list price  – it seemed like an offer too good to resist  – so we didn't.
For a straightforward explanation of how Interrail Passes work, I suggest you head over to The Man in Seat 61 – which is a long-established website for everything railway related and was invaluable in planning our trip.
So in Spring this year, after some substantial planning we set off on our own, personal Grand European Tour.
In my mind, on that first day of travel, l wondered what my 61-year-old self, could learn from the experience.  It had certainly changed me at the age of 16.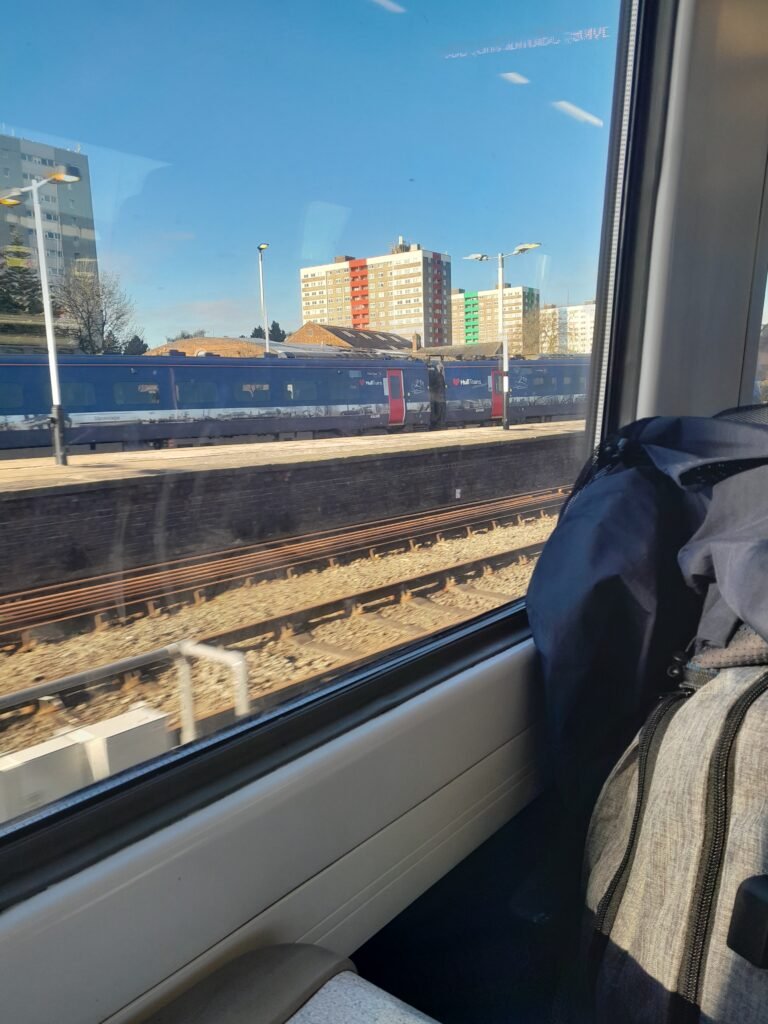 Swopping Yorkshire For Europe – Or How The Man in Black Sent Us On Our Way
Every journey starts somewhere, and ours started with a taxi driver, smartly dressed all in black who appeared to be a cross between Billy Connelly and Johnny Cash – anyway he was a very nice chap and delivered us to our local train station in time to start our journey proper.
This was our first chance to use the Interrail app we had both installed on our phones.  This was the key to our entire trip and would become our 'go-to' software for all our travels by train.  The interrail pass we bought was the global version, which meant we could use it all over Europe.  We could even use it for travel in Britain on our way to Europe and way back, as long as we did Britain to Europe trains in just one day, so we had to get from Yorkshire to Brussels on this first day in one go with no overnight in London (we were a little nervous about this, given that at the time of travelling we were in the midst of some of the worst UK train strikes in years). 
Anyway, thanks to the 'Man in Black' we made our first train and were in London by midday.  
England to Brussels By Eurostar
After a quick walk from King Cross over to St Pancras International, we prepared to board the Eurostar to Brussels.
This was our first experience with Eurostar, and to be fair it was a very similar experience to boarding a plane (apologies if this seems a bit obvious to readers who have already travelled on Eurostar), baggage checks, passport and ticket inspections and the obligatory metal detector dance-through.
Once through all that, we waited in the departure lounge, and just like at an airport, kept our eyes on the departure boards.
We set off on our journey at the start of the Easter holidays, so maybe it would be quieter on other days, even so, be prepared for very busy times especially during the children's holidays.
To Brussels by Eurostar
On boarding our Eurostar train, we settled in for a very smooth and comfortable journey to Brussels.  Eurostar shunts along at speeds up to 300 km/h (or 186 mph), and travels underground/undersea for 31.5 miles – but to us it was just a pleasant train journey, although obviously there was nothing to see out of the window for 20 minutes of it.
Brussels – Great Beer and Small Hills
On arrival in Brussels, we underestimated the distance from the Eurostar at Bruxelles-Midi  station to our accommodation (1.6 miles). Under normal, unencumbered, circumstances no problem, but dragging heavy cases/rucksacks a bit more of an issue.  By the way,  unlike the rest of Belgium, Brussels is not completely flat, and those little hills make a difference.  We required a Brussels beer break halfway to our hotel (see pic).
The district around the hotel had plenty of bars/restaurants so no problem finding somewhere good to eat for the evening.
Tomorrow we head on to Berlin.
Getting to Brussels
By Air: You can get to Brussels Airport easily from the UK,  as well as via international flights across Europe.  I would recommend using Skyscanner to find flights into Brussels, and, if you are flexible when you go/return using the 'search by month' tool to find the most economical flights.
By Train: Although Belgium is a small country it has a comfortable and efficient railway network, and Brussels is easily accessible from the major towns of Belgium, as well as the rest of Europe.  And obviously, as discussed in this article Brussels is easily accessible by the Eurostar.  Check out trains to Belgium here.
By Bus: Brussels is also easy to reach by bus, I would recommend Flixbus, which is a company based in Germany, but serves the vast majority of mainland Europe and offers cost-effective options to get to Brussels.
Getting around Brussels
There are lots of options for getting around the capital of Belgium, depending on your fitness level and budget.  The public transport systems are safe and efficient. 
Note that Brussels has an integrated ticketing system which means that a single ticket can be valid for multiple types of transport within the city(including Metro, trams and buses).  You can purchase online or at the metro and tram stations.  Note, you will have to validate your ticket on your first metro, bus, or tram machine before your first form of transport – don't risk a fine.  For more info see here.
Walk:  Brussels city centre is relatively compact with many of the main tourist attractions within walking distance of each other.
By bicycle:  Brussels is very bike-friendly, so why not hire a bike to explore the city?  You can rent bicycles from many bike-sharing services such as Villo (or even rent an electric scooter from Lime).  Brussels has a good network of dedicated cycle paths making it a safe option if you want to explore the city on two wheels.
The Metro:  Brussels has a network of six lines that offers an efficient way to explore the city.  The Metro, or Métro de Bruxelles opens at 5:30 am and closes at midnight on weekdays. On the weekends and public holidays, it runs from 6 am – 12 pm.
By Bus:  Brussels has an extensive bus network for reaching the far-flung areas of the city, which you can't get to by the metro.  There is also a special night bus service, called the 'Noctis', which runs on Fridays and Saturdays from 12:15 am (midnight) until 3 am and leaves every 30 minutes from La Bourse.
By taxi:  If you are feeling flush, then getting about by taxi offers an alternative to public transport, but it can be expensive – Brussels taxis are probably amongst the most expensive in Europe.  You can hail or find them at one of the city's designated taxi stands, they come in sorts of models and colours but will always have the taxi sign on top for easy identification.  Uber is now also available in Brussels, along which its competitor Bolt.
By Tram: Brussels has one of the largest tram systems in the world, so utilising the extensive tram system is also a great way to see the city whilst travelling around it.
Brussels: Getting to and From the Airport
If you decide to fly to Belgium, here are a few simple options for getting into Brussels (Brussels Airport Zaventem) from the airport depending on your budget. They are:
Take the train: The airport has its own train station which you'll find on the lower level of the airport.  From here you can get connections to all the major cities in Belgium and further afield. You can obtain tickets at the station itself or online in advance.
Book an airport-to-city shuttle:  The Brussels Airport Express will take you straight to the centre of Brussels with stops along the way including the Brussels Midi/Zuid train station.  This service operates at regular intervals and tickets can be bought at the airport or online. 
Take a taxi:  Taxis will be found outside the arrivals hall and operate at fixed rates.  The journey time to the centre of Brussels is usually 20 to 30 minutes depending on traffic.  Always use official taxis and it is wise to confirm the fare in advance with the driver.
Hire a car:  Of course, if you want the flexibility of your own transport, then you will find a raft of car rental counters in the arrivals hall, or you can book in advance online.  The airport is well-connected to the Belgium road network, so you can soon be on your way to your onward destination.
Where to stay in Brussels
A couple of hotels worth considering are the cool The Hoxton which is centrally located, or the Hygge Hotel.
A private apartment could also be a good option if you want more space.
Top Tips – Brussels
Use Omio to compare buses versus trains, very useful.
For Hotels including self-catering apartments we use Booking.com, where you can filter by review score and many properties have a pay later/late cancellation policy should your plans suddenly change.
Check our resources page for more budget tips and discounts from our days in transit! 
The Top 10 Things to See and Do in Brussels
Take a free walking tour: This is always our go-to way of getting an initial feel for any city, learning a lot of the local history, and picking up some useful tips. Although free walking tours are indeed free, please tip your guide at the end of your tour – they will be worth it.
Dip into chocolate culture: You're in Brussels, so it would be remiss not to indulge in some Belgium chocolate sampling, wouldn't it?  You could even take a chocolate-making workshop or a chocolate tour, or simply buy some for delayed consumption at one of the many speciality shops in the city.
Visit the Grand Place: Situated in the heart of Brussels, this UNESCO World heritage site is an ideal place from which to explore the city.  The square looks particularly great when illuminated in the evening.
Visit the Atomium: This imposing and iconic structure, with over 600,000 visitors per year, symbolises the advances of scientific endeavour.  Built for the Expo 58 (1958 Brussels World's Fair) for which it was the flagship construction, it was completely renovated in 2004-2006 and now serves as a museum and art centre. It's certainly got the 'wow' factor.
Pay your respects to the Manneken Pis: No visit to Brussels is complete without a visit to this famous sculpture of a urinating boy – a quirky symbol of the city.  Usually, he's naked but he can be found occasionally wearing one of his fancy outfits.
Explore Mini  Europe:   Take a fast, miniature Grand Tour of Europe, by strolling through this minute park featuring suitably scaled-down versions of Europe's most famous landmarks.  Great fun.
Go Green in Brussels Park: This large park is the perfect place to get away from it all, or even have a picnic.
The Royal Museums of Fine Arts:  Exactly what it says on the label, here you'll find a complex of several museums housing some of the greatest European works of art from masters such as Peter Paul Rubens,  Auguste Rodin, James Ensor, Paul Gauguin, Fernand Khnopff, Henry Moore and René Magritte to name but a few.  Ideal for culture vultures.
Visit the Belgium Comic Strip Centre: Tintin, of course, takes pride of place here, but this museum also explores more of Belgium's extensive comic culture.
Eat like a local: It goes without saying that there is plenty of gastronomic delights to sample while in Brussels (apart from the chocolate), such as delicious Belgium waffles with a mind-boggling array of toppings, or moules-frites (mussels with French fries, or as we say in Yorkshire, chips!).  Or even Carbonnade Flamande, which is a Flemish stew made with beef and beer.  Perfect.
Where to eat
For traditional Belgium fare, you could try Le Local, where (you've guessed it) 80% of the produce used comes from local suppliers.  Or taking it up a notch is the aptly named,  La Villa in the Sky, this glass-clad restaurant perched 100m above Brussels has fantastic views and Michelin Star food.
There are also many vegetarian-friendly restaurants in Brussels such as Humus x Hortense (plant-based, Michelin Star) or Pois Chiche (Lebanese and Mediterranean fare).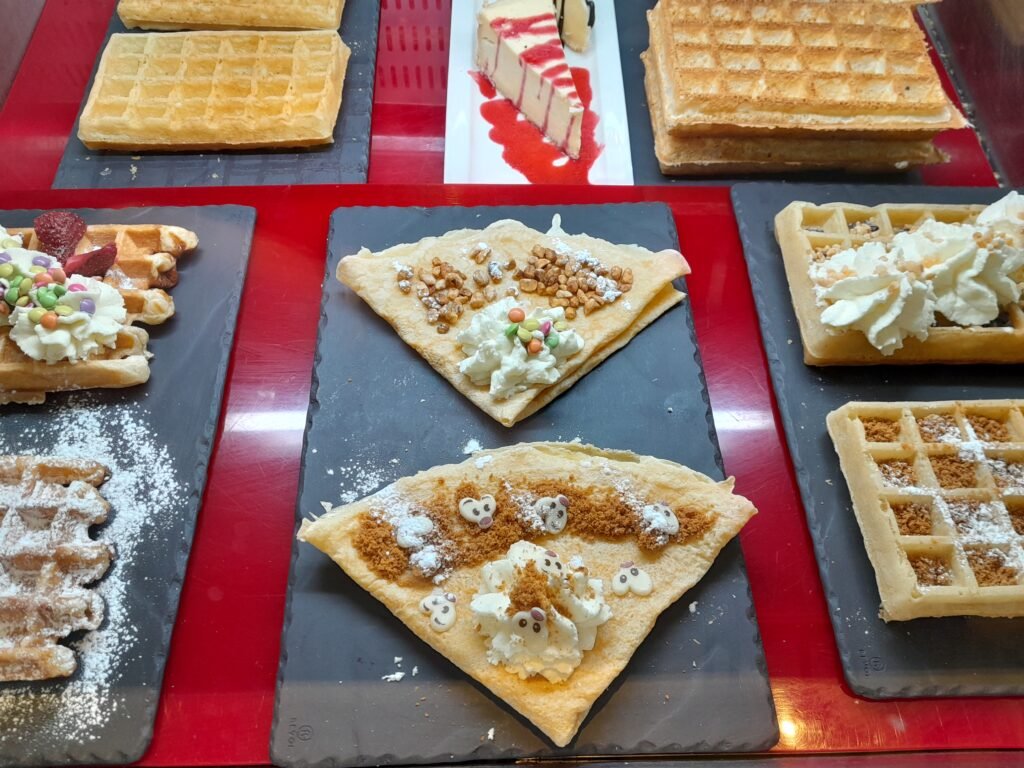 Staying Safe
Brussels is a generally safe city with crime rates on par with the UK.  Crimes of violence against visitors are rare, but like many major cities petty theft and pickpocketing do occur especially in crowded tourist spots or busy public transport.  So keep your valuables safe and out of sight.
If you have an emergency, dial 112 for assistance.
Of course, the key thing is to have comprehensive travel insurance coverage to protect against, cancellations, theft, illness etc.  For this, we use and recommend using  Staysure – specialists in over 50's travel insurance, as we have always found them fair and easy to deal with.